Earlier this month, I entered my first art contest since the Peru Merchants Halloween poster contest. It was as gory as a poster made by a middle schooler with a full set of Crayola markers could ever be.
Recently, a friend sent me a link for an art competition hosted by the Wisconsin State Fair. They were looking for someone to create a commemorative poster for this year's festivities. The top four finalists would get $400, and the winner $1,000. More important to me would be the exposure for my art. The thought of my poster being promoted at the Fair and being purchased by all kinds of people was very exciting to think about!
When I learned about the contest, the deadline was already only a few days away; I'd have to act fast. Fortunately, the judges only asked for a sketch. (The four finalists would eventually have the chance to do a color comp.) Unfortunately, my style and vision for the poster could not be fully captured without color. So I spent about four hours coming up with my "rough sketch" that was honestly about 30% away from being a final piece. I wanted to stand out. I struggled with the composition and the colors. I let other more "pressing" things slide by the wayside. I had to spend extra money to overnight the packet to make sure it arrived on time.
I was pretty happy with how it turned out and felt good about my chances. The fact that the four finalists would be announced on February 11 — my birthday — seemed like a good omen.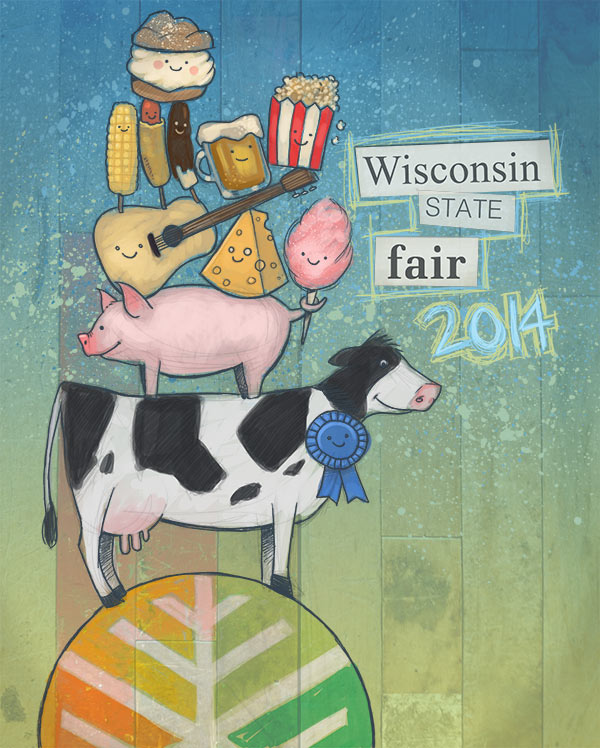 The first email I read the morning of my birthday was one informing me that I was not selected as a finalist.

Damn.

On the plus side, I did get 4 free tickets to the fair, on account of being deemed worthy of an honorable mention. So that's something.

But I'd be lying if I didn't say I was disappointed. I have been at this long enough to know that there is no such thing as an overnight success. Most big breaks are a series of little breaks built on a foundation of many years of hard work. I know that winning this poster contest wouldn't have catapulted me into rock star status in the art field. But it would have been a nice "little" break that let me know I was on the right track.

I could really use one of those.

They say that the people who succeed are the ones who got up one more time than everybody else. Rejection is always a fork in the road. Do you turn inward, cash in your chips and give up? Or do you keep plugging along, knowing that most yes's demand a certain amount of no's before they knock on your door.

I want to create the kind of art that inspires people and makes them happy; the stuff that gets hung in a kitchen or cubicle to remind their owners to stay childlike and persistent and hopeful. I dream of someday seeing my art on a national greeting card line, on pillows and coffee mugs in stores like Target, and on calendars like Mary Engelbreit.

Maybe none of those things will ever happen, but I can't stop trying. I am an artist. Making art is what I want to spend most of my life doing. And so onward (and upward?) I go, secretly expecting that someday, in the biography of an artist who ended up impacting millions of people, there will be an tiny anecdote about the time his State Fair poster got rejected.

<!— Begin MailChimp Signup Form -->