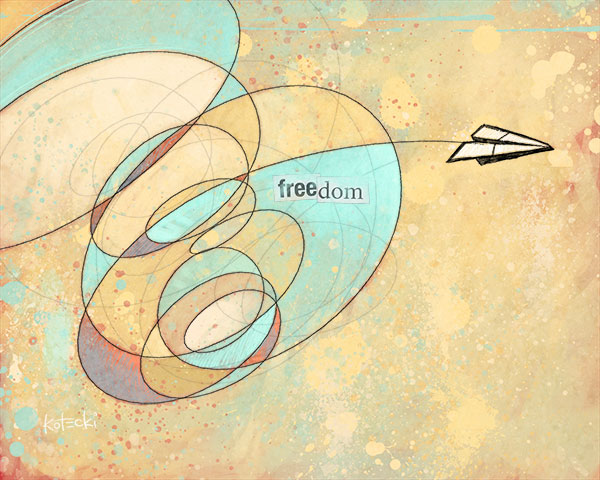 I saw Captain America: The Winter Soldier recently. It's a great movie, even if you aren't a superhero nerd, like me. The most chilling aspect for me was a scene in which one of the bad guys talked how history had taught them that people will not allow their freedom to be taken by force. They will rise up and resist. However, those same people will gladly give up their freedom in exchange for security. They passively allow themselves to be searched, monitored, and recorded so that they will be protected from danger. Of course, the people doing the searching, monitoring and recording end up having total control.
Just a movie, I know, but it hits a little close to home.
Lots of people willingly undergo a freedomectomy in exchange for the security of a guaranteed paycheck and health benefits, or the feeling that they are safe from the bad guys. They give up years of their life to be trained for jobs in industries that may not exist by the time they graduate. They give up slivers of privacy and freedom of choice in exchange for the flowery promises of government programs.
I love that Captain America places such a high value on freedom, which is what this country was built on. It's one of the most important values in my whole life. Here are some of the freedoms I hold most dear.
Freedom to work with my best friend.
Freedom from corporate bureaucracy. (And meetings!)
Freedom from a schedule set forth by school boards.
Freedom from a commute.
Freedom to spend most of my time doing what I love.
Freedom to be my own boss and set my own hours.
Freedom to work in my pajamas.
Freedom to make Monday and Tuesday my weekend if I want to.
Freedom to fail. (A gift that not many parents give their kids, by the way.)
Freedom to benefit fully from the fruits of my success.
As Captain America would tell you, freedom does not come easily. Some of the freedoms listed above were achieved by many years of hard work and sacrifice. Others came from making tough decisions to go against the grain, breaking a few rules that don't exist, and being willing to fail (and look stupid in doing so).

The freedoms above fall under the umbrella of my most treasured freedom, which is the opportunity to write my own story. Obviously, the way you choose to write you story may look way different than mine, and that's cool.

The important thing is being mindful of living the story YOU want to live.

We all have choices (and usually more than we think). Every choice — where you live, where you work, what you eat, who you hang out with, how you react to difficult situations, how you spend your money or even your Friday nights — contributes to your story. Following the crowd, or doing the things you feel like you "should" do or are "supposed" to do, are often the equivalent of giving up your freedom in exchange for security. Sometimes we feel more secure being in a boat with everyone else rather than being on an island by ourselves, even if that boat happens to be sinking.

The problem is that with each freedom you surrender, your story sucks a little bit more.

The freedom to write your own story is an amazing gift. Are you fighting for it? More importantly, are you using it?

<!— Begin MailChimp Signup Form -->