Today I wanted to start by sharing something that has the potential to scare off half my readers who aren't already aware of this little fact: I am Catholic.
I can promise you that am not interested in converting anyone to anything, and there will not be a sales pitch for cleaning products at the end. I just wanted to share where I'm coming from and relay a neat story. However, please be advised that the Internet is a big place and you're free to surf elsewhere if you are uncomfortable hearing viewpoints that may be different from your own.
Whether it be good, bad, or ugly, it is impossible to not have a opinion of the Catholic Church. I certainly have had my share over the years, with many being in the bad or ugly category. Most of the issues I have (and I suspect I am not alone) are with the actual PEOPLE in the Church. They can be idiots. Stubborn, misguided, hypocritical idiots.
Then again, so can I. And so too were all twelve of Jesus' best friends, at times.
But I like to think we are blessed idiots. Every last one of us, Catholic or not.
I have long been a fan of the rich history and beautiful traditions of the Church, especially after I have taken the time to push past the stereotypes and learn about the origins and meanings behind them. In the last few years, I've developed a particular fondness for Mary.
You know, Jesus' mom.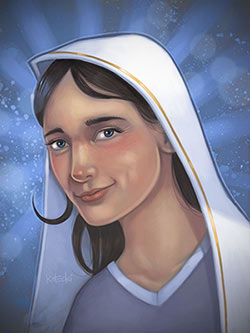 Lots of people think Catholics worship Mary. We actually don't. (We "venerate," which is different.) But there is no doubt, we do love us some Mary. Just like Jesus did. Because she is the best human example of what it truly means to love God. And also, JESUS' MOM. We often ask for her support in our prayers because Jesus has a habit of listening to her.
Again, blessed idiots have a way of using big words like "venerate," and otherwise complicating something that is not that complicated: Mary is one heck of a role model and someone I like having on my team.
Ok, so on to the story. [Read more…]