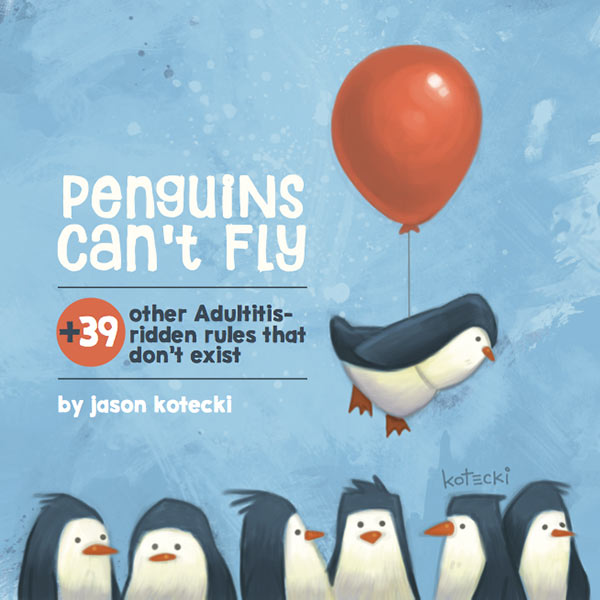 As of today, Kim and I have been married for 14 years. So it seems like a good time to share some super exciting news with you guys…
We recently finalized a book deal with a major New York publisher!!!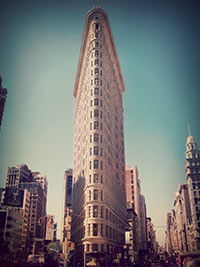 St. Martin's Press, which is owned by Macmillan Publishers, is headquartered in the Flatiron Building in New York City and is considered one of the largest English-language publishers. They loved the concept for my next book, "Penguins Can't Fly and 39 Other Adultitis-Ridden Rules That Don't Exist" (tentative cover above), and so we'll be working together to bring it to life!
An Itty Bitty Background on Self-Publishing vs. Traditional Publishing
For the most part, almost every single book we've published has been self-published. Meaning that we write, print, distribute, and sell our books on our own. Compared to traditional publishing, this is a very good way to go for making money, because even though you have to foot the whole bill yourself, all of the profits go back to you. We have been very happy with this route, and have been able to move a lot of books over the years. On the flip side, a traditional publisher usually gives you more street cred and has wider distribution channels that individuals and small publishers just don't have.
The trick is getting them to pick you.
An Unlikely Unfolding of Events
A little over a year ago, a friend of mine emailed me a link to a an article in Writer's Digest that gave a rundown of what big publishers look for in authors. I was surprised to see that the numbers for our email list and the number of speaking engagements were considered very favorable. I started to wonder if the time was right for us to pursue a traditional publisher.
A week later, out of the blue, a literary agent emailed me. I did not know at the time that she is the coolest literary agent in the history of ever. She said she'd seen one of my pieces of art on Facebook via a share from one of her friends, went to our website, and fell in love with our message. She told me about her roller coaster experience of clicking through our site, praying that we didn't have any books, being crushed when she found them, and then rejoicing upon discovering that they were all self-published. She sent off an email wondering if I had ever considered traditional publishing and hoped to set up a meeting to discuss the possibility of working together. [Read more…]