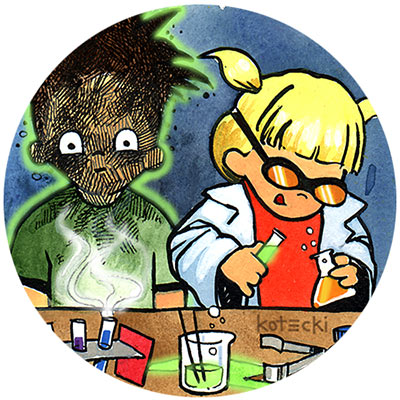 January 12 – February 6th, 2015
Only 150 spots are available. Deadline to reserve your space is Friday, December 12, 2014,
unless we sell out beforehand.
No dates present
What's the next Escape Lab all about?
Most of the details and objectives for this particular Lab can be found over in the sidebar (which might be down below if you're on a mobile device).
What do I need to participate?
Requirements for participating in an Escape Lab are few. You need an email address, access to the internet, and a shipping address where you can receive packages. After you register and complete payment using the form below, you'll receive an email that will fill you in on when to expect your Treasure Box, how to access our secure website, and any other details particular to this Lab.
How does this work again?
Right before the Lab officially begins, you will receive a Treasure Box in the mail. It will be filled with awesome things, including some items you'll need over the course of the Lab. Then, each weekday you will receive an email from us. It will contain a link to something new we've posted on our secret website. It might be a video, or an audio interview with an expert, or a super fun activity, or a secret mission to accomplish, or something else altogether. You'll be able to log in to the website with your username and password to access the material, and (hopefully) participate in the conversation. Keep in mind this is the bare bones format. We have a TON of magic and surprises designed to delight you every step of the way! :)
What kind of time commitment should I anticipate?
It really is as much or as little as you'd like, but if we had to make an estimate (if you want to get something worthwhile out of your experience), you could probably plan on investing about two hours a week over the course of the four-week Lab. And, other than the handful of totally optional live interaction opportunities, we've designed things so you can easily integrate the elements of Escape Lab into the times that are most convenient for YOU.
What if I miss a day or two? Will I be left behind?
The good news is that if you miss a few days, you'll easily be able to catch up. It's actually one of the reasons we don't send anything on weekends: to give everyone a little breathing room. We want this to decrease Adultitis, not add more of it. :)
Can I have friends or family members join me?
We'd love for you to include friends and family in on the fun that occurs over the course of an Escape Lab! Keep in mind, however, that each Treasure Box has supplies for one person. Some items will be easy to share, while others will be more "one use" types of things. So…if your friend or family member wants to FULLY participate in a Lab, you'll need to register separately so that you each get a unique user account (for commenting and sharing with the community) and your own Treasure Box. Unfortunately, we are unable to offer group discounts at this time.
What if I don't live in the United States?
We are happy to welcome our international friends to participate, too! If you live outside the USA, after you register, we will send you a Paypal invoice for an extra $10 USD to accommodate the additional shipping expense.
Any other questions?
Email us!
Sound Awesome? Sign Up Now!