This week's Escape Plan challenge (aka our Tip of the Week) is #8: Doodlesmile: Draw a funny picture and hide it in an unexpected place for someone else to find.
When I was teaching Kindergarten, on average, I probably received three pictures a day from individual students in my class. Usually, one of the three would be left on my desk at some point throughout the day, nameless. I would find it around 4PM while attempting to find my desktop. It always brought a smile to my face, even after the toughest of days. Kids love to make pictures for others, it's a simple way they show affection.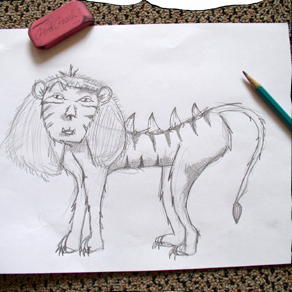 Yesterday at our niece's sixth birthday party, she came up to me and Jason at one point with a handmade card. On the cover it said, in her handwriting, "To Aunt Kim and Uncle Jason." On the inside was a large smiley face. After thanking her for the gift, I asked her, "What's this for?" She casually shrugged her shoulders, "I don't know," and she walked away.
When's the last time you doodled a picture for someone else?
As adults life is much to busy, filled with much more important things. There's no time for silly foolishness. Right?
Wrong!
Life is too short NOT to be silly. A simple way to do this is through doodles. So, grab that marker. Dust off your box of crayons. Get to work putting a smile on someone else's face.
Share with us about your doodle experience this week in the comments of the Escape Plan Blog.