🌼 Kim is leading a 4-week text messaging course to reawaken more wonder, peace, and joy in your life. 🍀
Starting Monday, October 4, 2021
---
Does your heart feel heavy right now?
Are you living in a constant state of anxiety and fear?
Do you feel emotionally exhausted, distracted, and on edge?
If you answered yes, you're in the right place. Grab my hand, we've got a little journey to take together, a journey back to your heart. A breakthrough is coming!
Together we'll look for beauty…and find it. We'll breathe slower…and savor it. We'll listen to the whispers…and delight in new insights that will reignite our tired hearts with new life. Peace and joy will be our companions. This inspiring adventure will reignite our senses with a richness that will bear fruit in surprising ways. Let us run wild with hope in this particularly stressful time in our lives.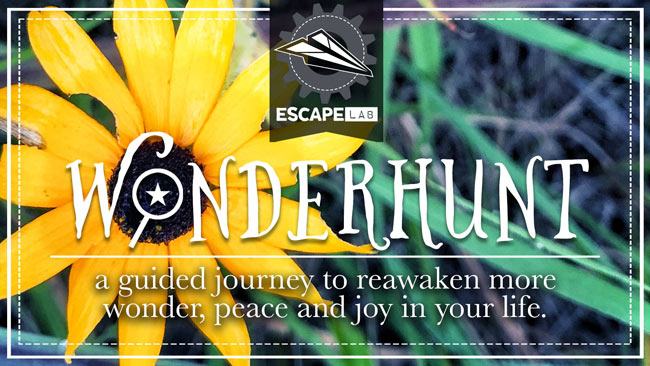 what is wonderhunt?
A Wonderhunt is a simple act of intentionally looking for wonder in an effort to reawaken your heart.
This is a 4-week journey we'll take together. At the start of each weekday, you'll get a text message with a fun photo prompt and a link to a short, inspiring message from me with a lesson and reflection to challenge you to get your creative juices flowing and help you see with new eyes. After completing the challenge, you're invited to post your photo along with any thoughts you want to share with the private community of fellow Wonderhunters (or not, it's your choice!).

This opportunity to share the experience with others will not only open your eyes and hearts to new perspectives but will also connect you with like-minded people who are also on this journey back to inspired living. We'll cheer each other along, supporting and encouraging one another as we share this experience of reawakening wonder, peace, and joy.

Your friend,

Frequently Asked Questions
How did Wonderhunt get its start?

Wonderhunt came out of a challenging season in my life. An encounter with a breathtaking sunset during a desperate walk in the woods rekindled a sense of wonder within me. In the days that followed, I continued spending more time in nature and found myself grabbing my phone to capture the beauty and the inspiration my heart was experiencing. I likened it to a scavenger hunt for my soul.

Several years and hundreds of photos later, I was grateful that my soul began singing a new song. I developed Wonderhunt as a way to share the rejuvenating experience with others.
Is this a photography course?

Not really, although you will learn some new tips. Think of the photography portion of this experience as a helpful tool to help you capture the wonder you discover. I will share a creative photo prompt each day, but it's much less about learning new photography skills and much more about seeing your life with new eyes.
Do I need a fancy camera?

Nope! A smartphone will be great.
Do I need to have photography skills/experience?

No. If you can push the button to take a picture, you're prepared. I will be sharing photography tips and prompts along the way, just for fun, but as I mentioned it's much more about what you see, versus what you technically capture. And if you are a seasoned photographer, the prompts will help you get your creative juices flowing in fun new ways.
I'm a pretty experienced photographer; will I get anything out of this?

This course uses photography as a vehicle to reawaken a sense of wonder within us. While you may or may not learn any new techniques, this course will spur you to use your skills in new ways, helping you recharge your creative batteries, and invite more wonder, peace, and joy into your life.
Do I need to be in nature each day to do this?

No. The challenges will all be open-ended enough to be accomplished wherever you are on any given day (even inside). For me, nature is a quick portal to wonder, so although I strongly encourage you to spend time outside during the course, nature trails are not a requirement.
My life is crazy. What if I miss a day?

No worries! You'll have access to all of the past lessons after the 4-week period in order to catch up at your preferred pace. Plus, we've built in the weekends as an easy way to catch up throughout, so you have a chance to revisit missed challenges throughout.
Can I spread the course out longer than four weeks?

Yes, you will have unlimited access to the daily lessons and community after the four weeks are completed. Feel free to set a schedule that meets your specific needs.
Will my pictures and comments be accessible to the public?

No, this is a private community that is password protected and limited to those participating in this course. Although I strongly encourage you to share your journey, you are not required to post anything. It's up to you how much you share with your fellow Wonderhunters.
I already have the Wonderhunt cards / I've already done a Wonderhunt…why should I sign up for this?

We've found that doing a Wonderhunt in real-time with a cohort of other Wonderhunters greatly adds to the experience by providing a community that offers accountability, inspiration, and encouragement. There's no substitute for being able to vent to someone who will listen or receiving a much-needed high five.
---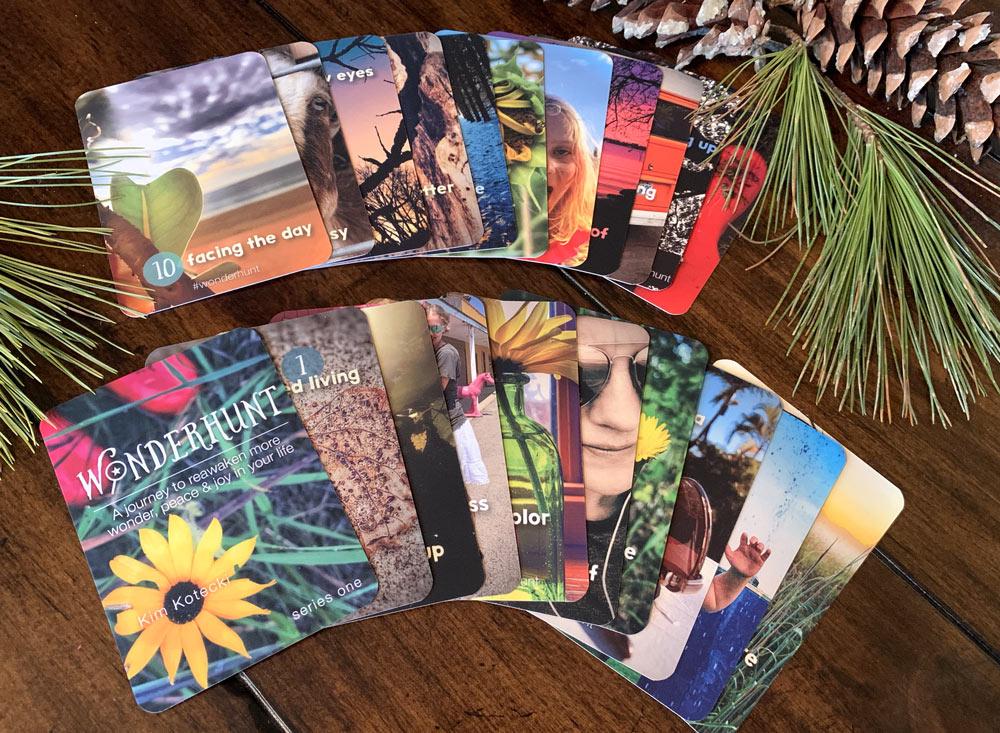 This Wonderhunt journey will begin on Monday, October 4, 2021, and end on Friday, October 29, 2021. You'll receive a text on your phone every weekday with a new challenge.
The course costs $14.99 – just seventy-five cents a day – and you have the option of upgrading your experience with a set of pocket-sized cards featuring all 20 photo challenges and reflections. Luxuriously printed in full color with a velvety soft-touch coating, you'll love keeping them close at hand to turn to again and again for inspiration and guidance.
Sign up below!
---