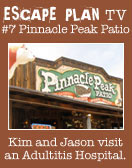 In this episode of Escape Plan TV, filmed in Scottsdale, Arizona, Kim and Jason demonstrate several fun and exciting ways to annihilate the Adultitis in your life. The ideas are all based on the world-famous Escape Plan.
The duo goes on a photo safari to find the most childlike place in town and end up at the Pinnacle Peak Patio, a place where neckties are never safe!
Become a K&J Insider and we'll let you know when new episodes are released!
Learn how to bring Kim & Jason in to speak to your group
for a dynamic, entertaining presentation about living life with less stress
and more fun that won't soon be forgotten!