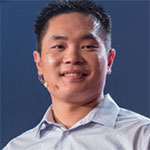 A few years ago, Kim and I attended the World Domination Summit in Portland. One of the highlights was getting to hear Jia Jiang share his enlightening take on rejection. Fear of rejection is one of the reasons our Regret-Me-Not lists are longer than they should be. Fortunately, his talk was posted online, and we are thrilled to be able to share it with you. You do not want miss his Krispy Kreme Olympic donut story!
You can learn more about Jia and his work at Fearbuster.com
---
Share
What tips do you have for being brave and facing rejection?