I believe that people prefer working with people who are having fun. I also believe that people do their absolute best work when they are having fun. And I believe that people have the most fun when their passions are engaged and they are doing work that matters.
Unfortunately, things like red tape, new regulatory requirements, never-ending piles of paperwork, and the constant demand to do more with less can distract us from the work that matters and lead to a debilitating condition called Adultitis. Left unchecked, Adultitis will eat your productivity, teamwork, and morale alive.
I believe that a simple shift in perspective can go a long way in reigniting passion, reducing stress, and eradicating Adultitis. We all need to be reminded once in a while about what really matters.
That's what I do. I am a professional reminder-er. I give people permission to take their work seriously without having to take themselves so seriously.
I deliver inspiring, humorous, and heart-warming programs that are packed with practical advice and pragmatic tips for dealing with the stress that plagues your people.
If you think Adultitis may be lurking in your organization, I'll help you annihilate it.
Let's do this.
A Speaker Unlike Any Other
Jason offers an unparalleled program that delivers the following five points of impact:
Inspiration, encouragement and affirmation.
Lighthearted entertainment, humor and fun.
Pragmatic and practical take-aways and tips that are relevant and easily implementable.
A visual feast for the eyes and senses. Jason integrates his artwork and photography, live cartooning, and original YouTube videos into each presentation.
Customized stories and tips based on your specific objectives.*
Where most professional speakers offer two or three of the benefits above, Jason has the rare ability to combine all five, which really sets him and his presentations apart.
*Jason's highly intuitive style, mixed with our proactive methods of communication, help maximize customization on many levels. Some of the tools we utilize to help Jason address your specific objectives include our detailed pre-program questionnaire, a simple yet effective three question survey your attendees answer for us, and a thorough phone conference to explore your distinct needs and requests.
"Jason was wonderful! I was very impressed on how easily he added in things specific to our members. It's actually rare for speakers to do that. We try to get them too but more often than not they still give their set speech with maybe just a line or two at the beginning specific to the audience. Jason really made it sound like the entire speech was written just for them, we couldn't have asked for more."
- Patricia Dischler, National President of NAFCC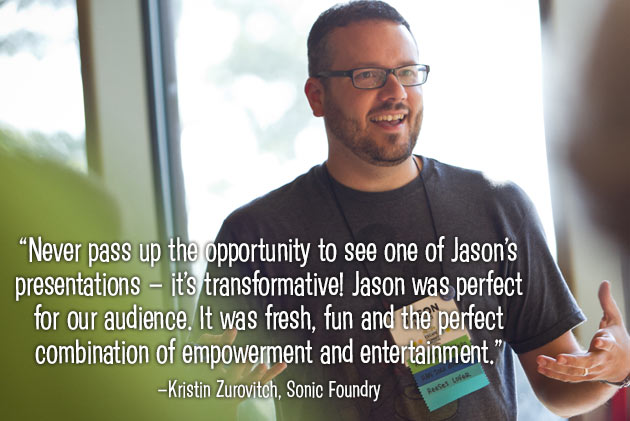 How Do I Know If Jason Is Right for Our Event?
For over 9 years and with over 300 organizations, he has offered real-world strategies and practical ideas to help individuals realize Adultitis-free lives with less stress and more fun. The core of Jason's message is something that everyone can relate to no matter what culture, race, or creed, because it's a universal language — childhood. If you've ever been a kid, this program is perfect for you! And with experiences with audiences ranging in ages from 5 to 105, Jason has a remarkable ability to simultaneously engage all ages. He includes a variety of pop-culture references that entertain and connect with different generations, bridging them together.
If you are considering Jason for your event, here are some questions to ask yourself:
Is your group constantly asked to do more with less?
Would you like to rid their day of unwanted stress and overwhelm?
Do you suspect that they might like to be healthier, more flexible, balanced, productive, and happy?
Would you be interested in a presentation jam-packed with relevant and practical inspiration coated in fun?
If you answered no to each of the questions above, or if your people are not fond of laughing or generally feel like they are not stressed enough, we're sorry, it's probably not going to work out. However, if you answered yes to any of those questions — hooray! — we're going to be a good match. Jason will help you transform your next event into an exciting and memorable one!
Take a peek at Jason's programs here.
How Can I Use Jason?
Jason is an artist, author, and professional speaker who is uniquely qualified to help your people become more productive by turning stress into laughter and having more fun each and every day. With the majority of people today being visual learners, Jason's presentations say adios to boring, bad PowerPoint by using rich imagery that includes live cartooning as well as his own original artwork and photography. His masterful ability to combine powerful images, hilarious anecdotes, and uplifting stories makes Jason a perfect fit for a number of situations.
Here are a few ideas on how you might use Jason:
A high-energy, engaging, and invigorating start to a full day of programming.
The much-needed break for fun, levity, and perspective amidst a day of intense content.
An upbeat and heartfelt after-dinner program that helps people feel refreshed and inspired.
The perfect way to end on a high note, leaving attendees affirmed, encouraged, and equipped for challenges ahead.
Book Jason for your next event. Have fun. Lighten up. Let your audience know you mean it when you tell them your next meeting is going to be something special. Check out the specific program titles available here.
What Are The Benefits of Jason's Programs?
Many stress management and productivity speakers focus on treating symptoms. Jason's approach is unique because he skillfully empowers his audiences to fundamentally shift their perspective and focus on the bigger picture. This helps foster real, permanent change. The truth is that most of our stress comes from the details of life. But when you have a broader understanding of and sense of control over the wider "Story" you are living, most stress melts away and the bigger challenges become more manageable.
Jason's refreshing insights and audience interaction leaves program participants encouraged, entertained, inspired and motivated. This enables them to explore new opportunities and strengthen the team dynamic to achieve financial success and accomplish what was once thought impossible.
When people walk away from Jason's program, they have…
more passion and optimism for their work.
inspiration and ideas to have more fun while getting more done.
a treasure trove of tools to melt away built-up stress and fatigue.
a richer, more balanced life amidst the busyness.
Time and time again, people rank Jason as one of their favorite speakers they've ever heard, and often wish friends and family members had been there to hear his powerful message.
But don't take our word for it; read our list of 101 Testimonials from Happy Clients or watch the video below to hear what people think about Jason's programs.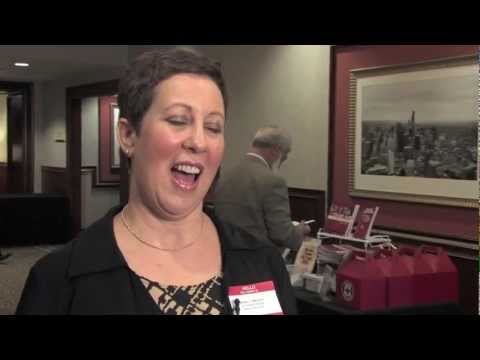 Contact Us
Kim, aka The Director of Everything, is Jason's wife, partner in crime, and the rock star who will work with you on all the details like dates, budget, and what Jason will need to deliver a program that makes you a hero.
Life balance is a top priority for Kim and Jason. With a young family, Jason only accepts a maximum of 52 invitations to speak each year. That being said, his schedule fills up fast, so use the form below to drop Kim a line to learn more about bringing him to speak to your organization.
You can also reach her at 608.843.9880 and connect with her on LinkedIn.