We have a hunch about you. We think that if you made it to this site, you might be one of those "young at heart" people. You see life as a great adventure. You still get excited about the little things. And you know the power of a good chocolate chip cookie.
If this sounds a lot like you (or the person you'd like to become), welcome home. We saved a space just for you. Join us in our rebellion against Adultitis and the doo-doo heads who embrace its ideals.
This page is filled with fun ways to get involved and connect with our tribe. We're glad to have you!
---
Escape Adulthood Insider

If you're ready to join the fight against Adultitis and its unadventurous version of adulthood, you should sign up to become an Insider right this minute.
Each week we send out an email dispatch with simple instructions for creating a life with less stress and more fun. Along with links to our best blog posts and a Kim & Jason comic strip, every issues contains insider information you won't get anywhere else — including this web site! It's a great way to keep your Adultitis at bay and stay up to day with all we have going on. Plus it's FREE! Sign up here!
---
Escape Adulthood Adventure Club

Belong to the growing army of freedom fighters who are making memories, making a difference, and making Adultitis mad! Every month, we sponsor officially-sanctioned challenges called "Small Rebellions" that are designed to give Adultitis a swift kick to the shins. We bestow rad stickers — sort of like modern-day merit badges — to people who share their exploits online. Joining the Escape Adulthood Adventure Club is easy and FREE. The only question is: how many stickers can you earn? Learn more here.
---
Adultitis Fighters of the Month

An Adultitis Fighter is someone who rallies against rules that don't exist and engages in ruthless, senseless acts of silliness that undermine Adultitis and its unadventurous version of adulthood. Once a month, we shine a light upon the most remarkable among us, holding them up as a dazzling example of what we should strive for in this epic battle against a formidable enemy. See some here.
---
Escape Adulthood Summit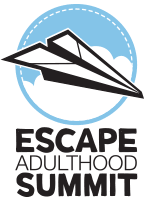 Part conference, part retreat, part mastermind group, the Escape Adulthood Summit is a one-of-a-kind event designed for people instilled with the soaring spirit of childhood. Held in picturesque Madison, Wisconsin, this transformative experience is your chance to connect with kindred spirits for a madcap weekend filled with fun and inspiration.
We talk about how to stay happy and hopeful in an Adultitis-ridden world that's increasingly more noisy, cynical, and stressful. We share simple, fun, and practical ideas for creating memorable scenes with the people we love. We brainstorm creative ways to break rules that don't exist. We explore the elusive concept of life balance and discover ways to make life less stressful and more fun. Learn more here.
---
Meet the Rebels

This community is comprised of all sorts of people from all walks of life. They are a playful group of escape artists who share a joyful, indomitable childlike spirit and are not afraid to let that spirit come out to play! They're united by a common goal of fighting Adultitis and the doo-doo heads who embrace its ideals. Quite frankly, they're pretty much the coolest people on the planet.
We regularly highlight these folks and you can meet some of them right here. You can officially join their ranks by subscribing to our free newsletter, and who knows, maybe we'll feature you someday, too!
---
Escape Adulthood Street Team

The Escape Adulthood Street Team was created to leverage the awesome power of an elite group of remarkable people. It's a volunteer army made up of individuals instilled with the soaring spirit of childhood who know that we can accomplish more together than we ever could alone.
Perhaps you have what it takes to join the ranks.
As an Escape Adulthood Street Teamer, you will work with Kim and Jason and other Street Teamers on special behind-the-scenes projects. What kind of projects, you ask? The secret kind, of course. But like any good small rebellion, these projects will be humble in manner but mighty in impact. Learn more.
---
Connect on Facebook
[facebook-page-plugin href="escapeadulthood" width="625″ height="700″ cover="true" facepile="true" tabs="timeline" cta="false" small="false" adapt="false" link="true" linktext="" ]