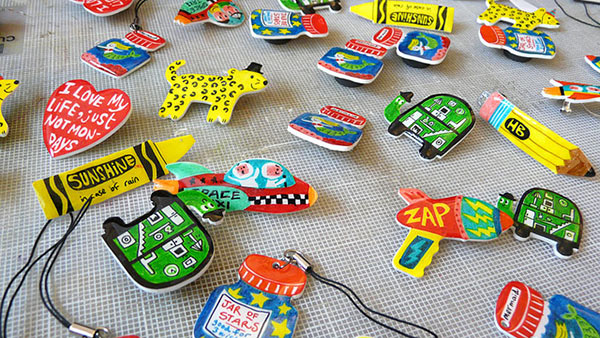 After a few days of deep thoughts, today is a day to have some good old fashioned fun!
It's also the day you get to open your first envelope (the one marked January 14, 2015). Inside you will find what appears to be a mild-mannered sheet of plastic. But this in no ordinary piece of plastic, friend! It's the exact kind of plastic you need to make Shrinky Dinks! Woot!
Shrinky Dink Instructions
Step 1: Create your work of art.
You can make anything you want, whether it's a freehand drawing or a tracing of a coloring book page or something downloaded from the interwebs. Draw on the rough side using any of the following materials: permanent markers, colored pencils, acrylic paints, or rubber stamps using alcohol-based permanent inks.
Step 2: Cut out your designs.
After you've finished your art, cut out your designs with scissors or a die-cutting tool. (You can even use a standard sized paper punch if you want to make jewelry.)
Step 3: Bake
A toaster oven is ideal for baking shrinky drinks, but your conventional oven will work too.
Preheat the oven to 325º F (163º C).
Cut a rectangle shape out of a brown grocery bag. (You could use construction paper, too.) Place your shrinky dink pieces, colored side up, on brown paper and place paper in tray or on a cookie sheet.
Put your shrinky drinks into the pre-heated oven.
Watch with delight as your shrinky dinks start to shrink. Bake approximately 1 to 3 minutes. After pieces lay flat, allow an additional 30 seconds of baking time to complete the process.
Remove the paper from the tray or cookie sheet and lightly press flat with folded paper or a pad of paper until the pieces have cooled (approximately 15 seconds).
Helpful Tips
– Upon baking, your creation will shrink to 1/3 of its original size and become 9 times thicker.
– Occasionally, a piece may stick to itself. If this happens, CAREFULLY reach into your oven and pull pieces apart. Allow piece to complete the baking process.
– When plastic is removed from the oven, it can be shaped or twisted (i.e. a napkin ring) You have about 10 seconds before the plastic hardens.
– If, after baking, you are not happy with the shape created, you can return the shrink dink pieces to the oven. Bake until the piece re-softens and lays nearly flat. (Approx 2-5 minutes.)
– You can etch designs into the plastic AFTER baking. Use the tip of an Exacto knife or etching tool. Sweep artist pencils across the surface of scratched areas. Wipe pencil dust off. Seal with clear acrylic spray.
– Shrinky dinks will NOT work in a microwave oven.
– Do not use crayons or water-based markers.
– You are limited only by your own imagination!
---
Share
Share photos of your creations with us! You can upload photos that are under 1 megabyte. If you need to make your pictures smaller, this website will help you.
Share your Shrinky Dink masterpieces below!