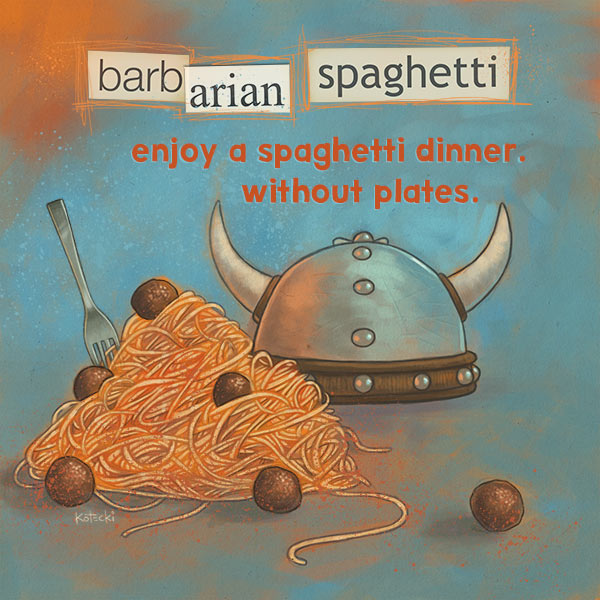 You may or may not have known that spaghetti has Adultitis-fighting superpowers. As long as you keep it off of plates, that is.
This is one of the more polarizing ideas I've shared in many of my speaking programs. The thought of eating a spaghetti dinner sans plates either causes people to roll their eyes in disgust or exuberantly start planning when to do it.
As you might expect, children, who are weary from always being reprimanded to be more "civilized" at the dinner table, love Barbarian Spaghetti immensely. But it is a great gift to give grown-ups, too. We spend way too much time worrying what other people think, and that can be pretty exhausting. It's fun to give others the permission to have fun, be a little silly, and not take themselves so seriously.
We've done this a few times, including Ben's first birthday party and at a previous Escape Adulthood Summit. I am pleased that many audience members embrace it, and send me photographic proof. Here's another.
I can assure you that in each case, the only one disappointed with the outcome is Adultitis.
Your challenge is to host a Barbarian Spaghetti dinner. If not tonight, then sometime soon. And if you find yourself completely opposed to the idea, you might want to ask yourself why. It could be evidence of how important it is for you to try. By the way, if you think of another meal that is on par with spaghetti, go for it. (But let's just say cold cut sandwiches don't count. :)
And now, please open the third mystery envelope (the one marked January 29, 2015). Inside you will find something to help keep Adultitis from spoiling your dinner.
---
Share
Of course, we'd love to see your photos of your Barbarian Spaghetti dinner, but it would also be interesting to hear your thoughts on the experience, too, and the response of others you invite to join you!
Share your Barbarian Spaghetti experience below!