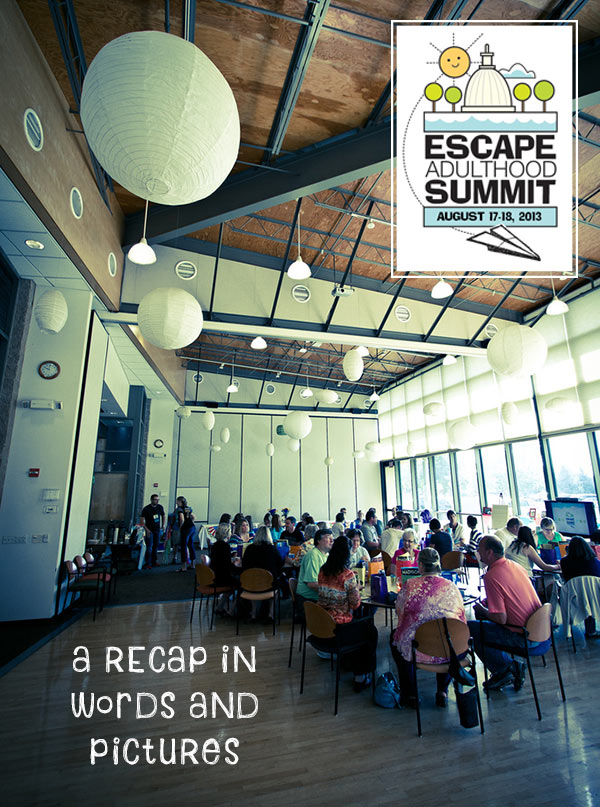 After a year of planning, the week before an event like the Escape Adulthood Summit is always filled with a mix of excitement (I can't believe it's finally here!), anticipation (They're gonna love all the surprises!) and a bit of self-doubt (Did we add in enough magic? Have we forgotten anything?)
I am happy to report that the second annual Escape Adulthood Summit was a rousing success!
This year's theme was "Redefine Possible." We explored the idea that in order to escape this self-limiting box that we call "adulthood," we need to revisit what we consider possible. What rules can we break? What new things can we add to our story? What things do we need let go of?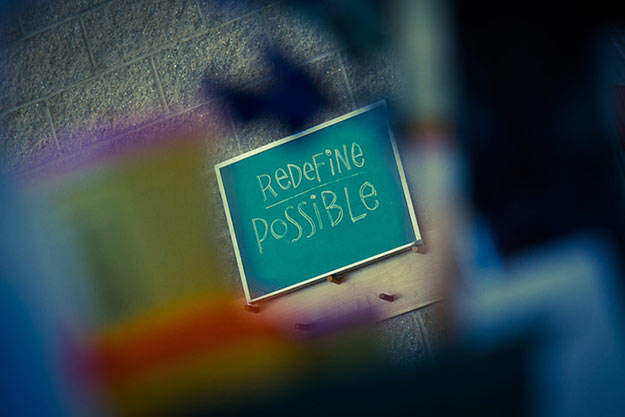 This year's Golden Ticket was wrapped around a jar of bubbles, which served as a hint for the events to come. Everyone was instructed to bring their tickets, and were required to perform a bubble "test" in order to gain entry to the Summit.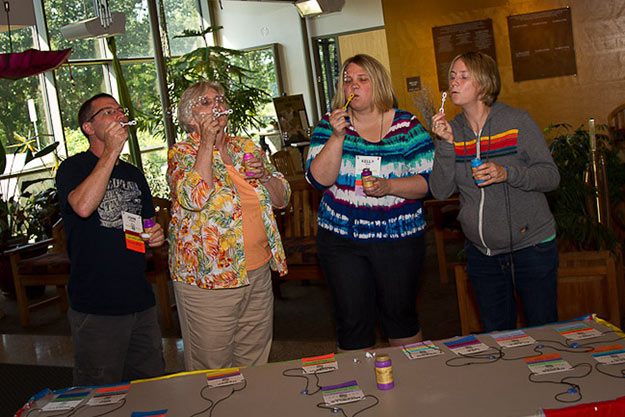 We had over 40 guests this year, representing eight different states, including Texas, Utah, and California. Many came with one or more "partners in crime." We had sisters…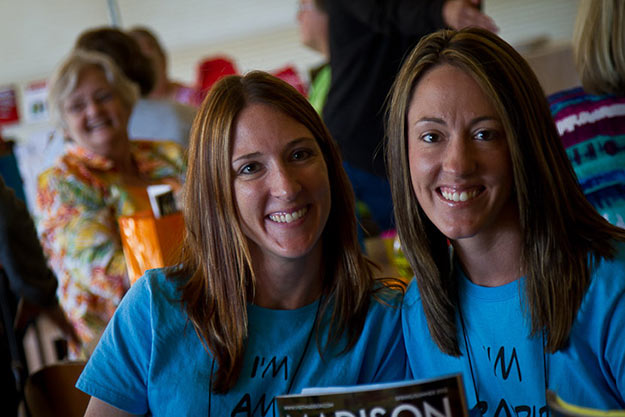 …spouses…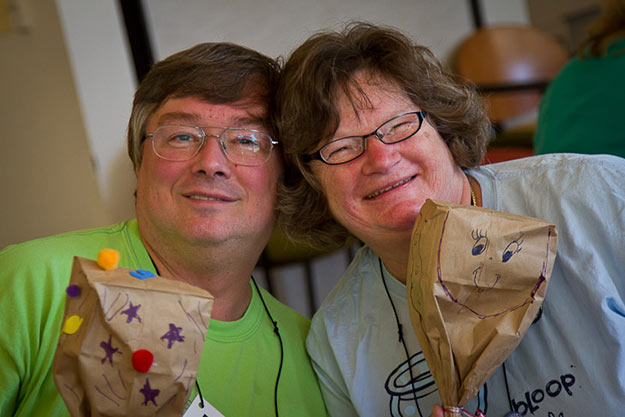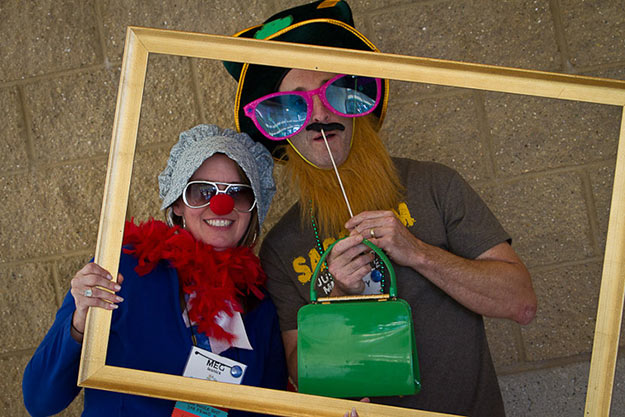 …a threesome of siblings who came with their mom…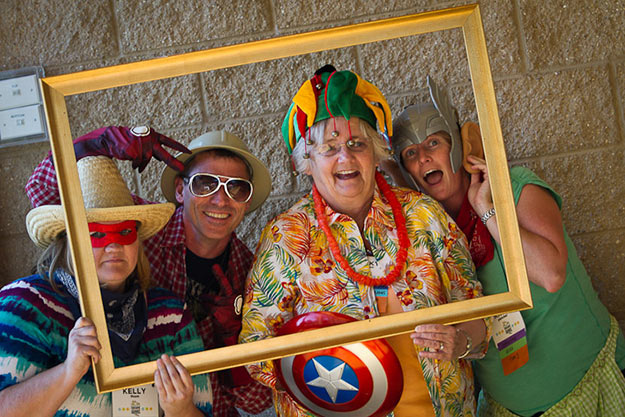 …and long-time friends who used the Summit as the destination for their annual "Ladies Weekend":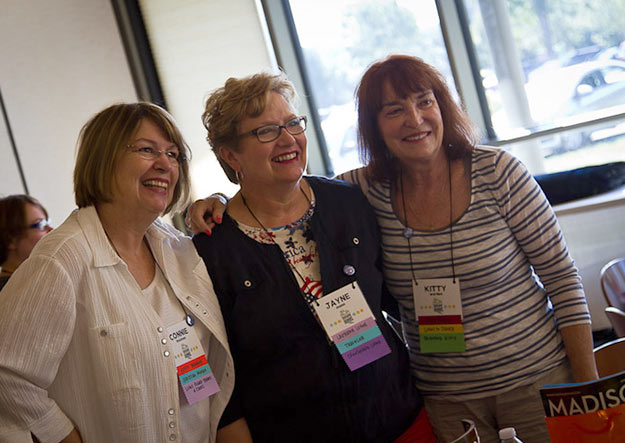 One of my favorite parts is Show & Tell. Everyone is invited to bring something special to them that they share with the group, just like in kindergarten.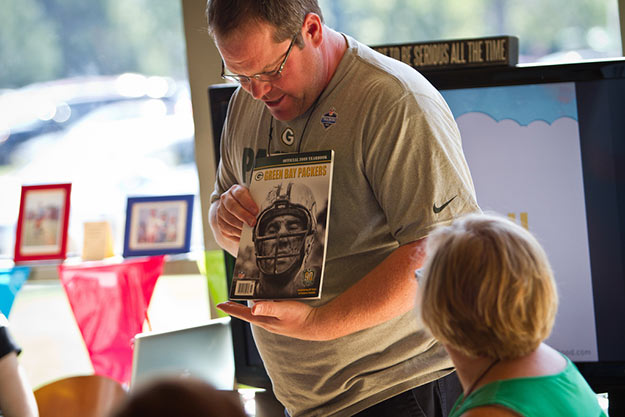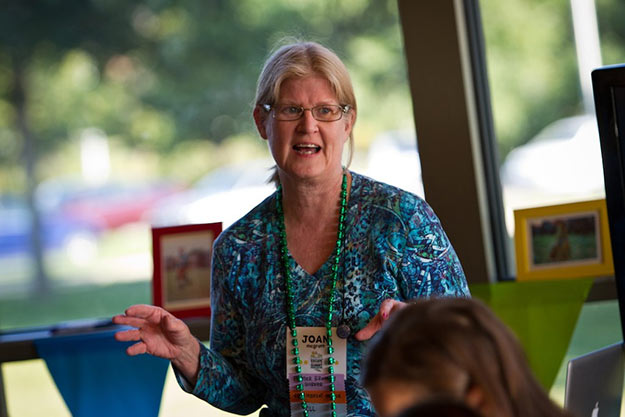 There were many highlights, including an amateur rap, and amazing handmade miniature, and a ukelele serenade.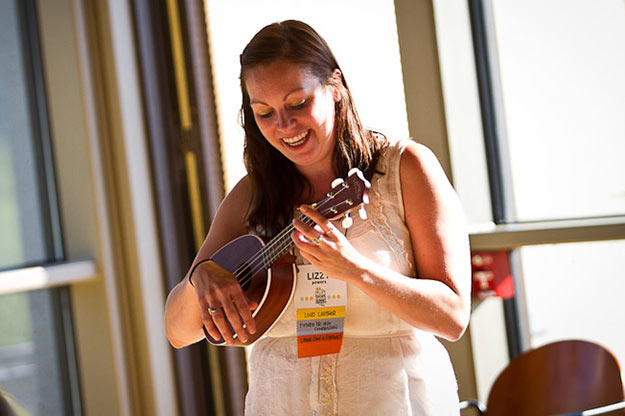 We also like having some sort of a group craft project, in which everyone makes something fun and gets to know each other a little bit more. This year, each table was given supplies and instructions for creating a different instrument, from a glovaphone to rainmakers to homemade harmonicas.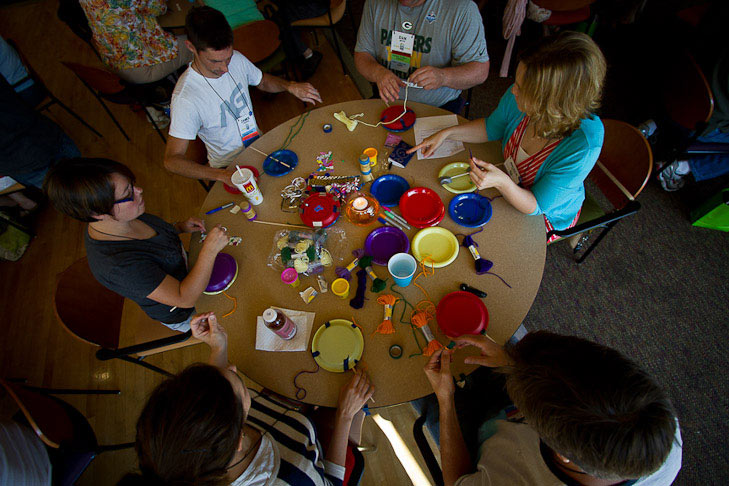 After they were completed, everyone used them in the wildest rendition of Hokey Pokey I have ever seen. Here are some of the creators and their creations: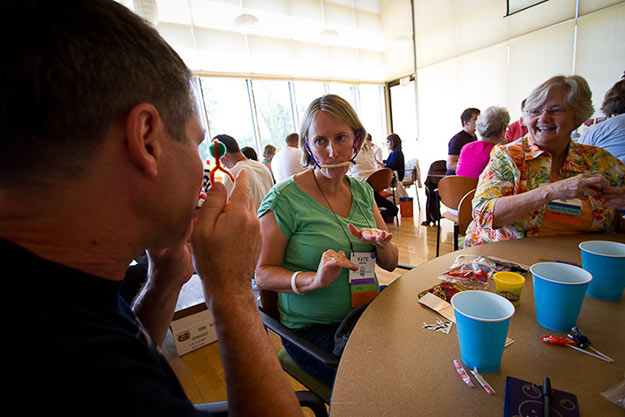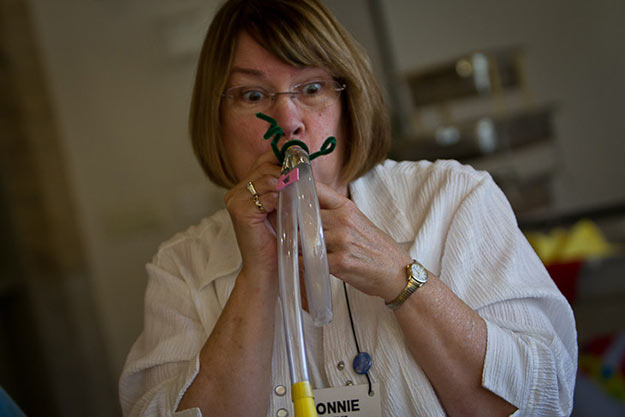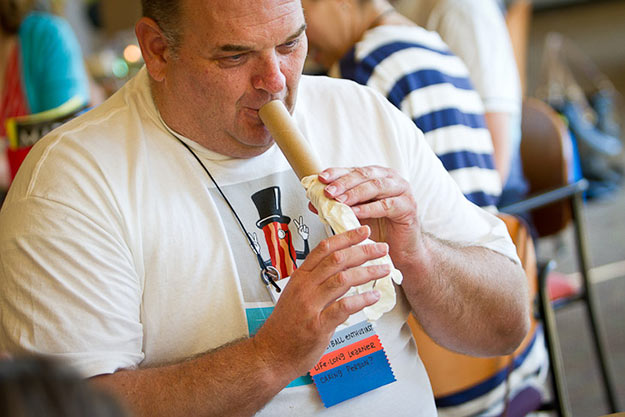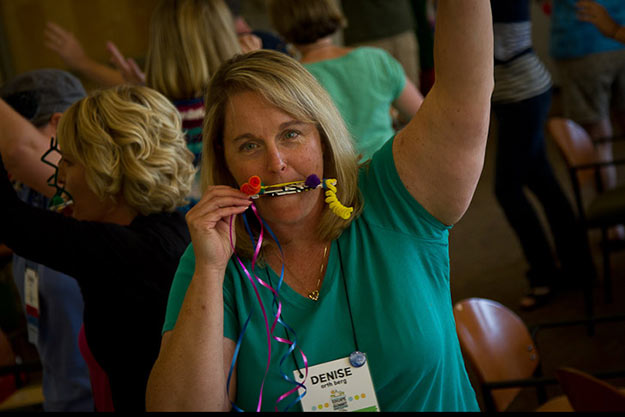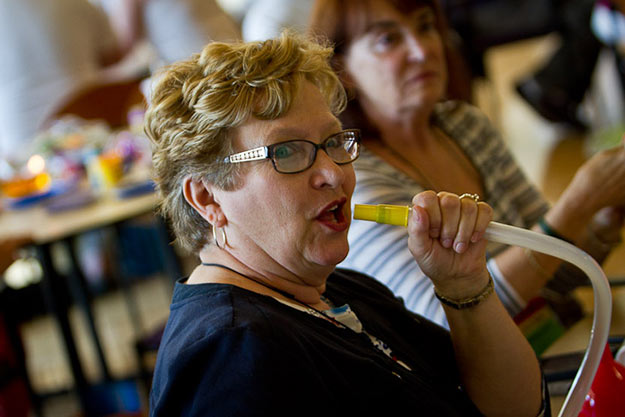 I will say that I heard some noises in that room that I've never heard before.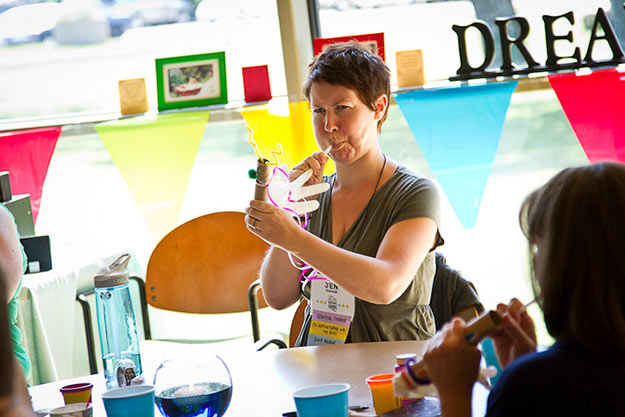 Over the course of the weekend, Kim and I had a chance to talk about how we've inadvertently built our lives on the idea of "redefining possible." We shared some of the low points of our journey, but we also talked about the more humorous episodes as well.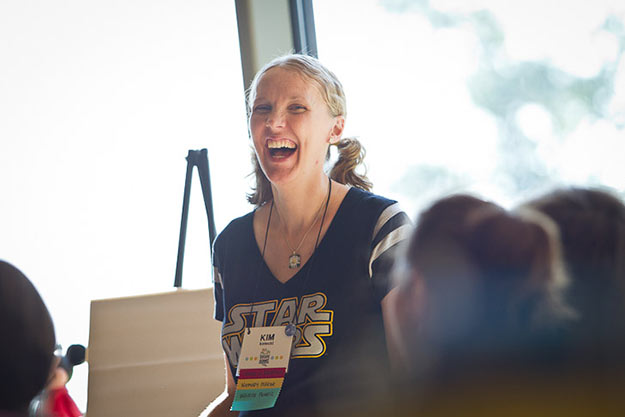 It was about an even split of people who had heard me speak before versus those who hadn't, so along with sharing some thoughts on rules that don't exist, I also got to present some material that I've never done for an audience before. Which was cool and fun.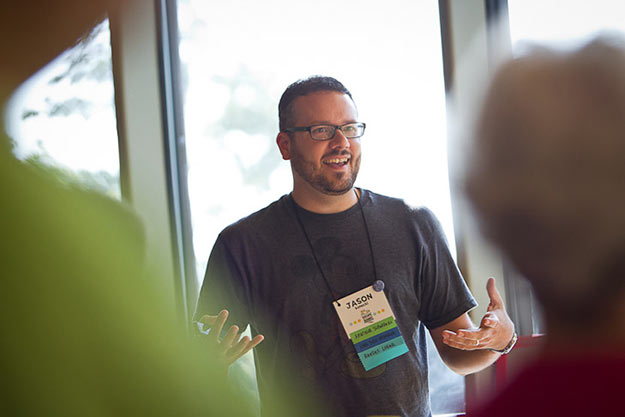 One big difference over last year was that we added some special guests to help us out. We saw last year's effort as a nice, cool glass of lemonade. We thought it might be neat to add a different voice to the mix — a different flavor, if you will — to help take things to a new level. We were fortunate that Geoff Akins Hannah and Jen Hannah accepted our invitation, as their contributions were profound.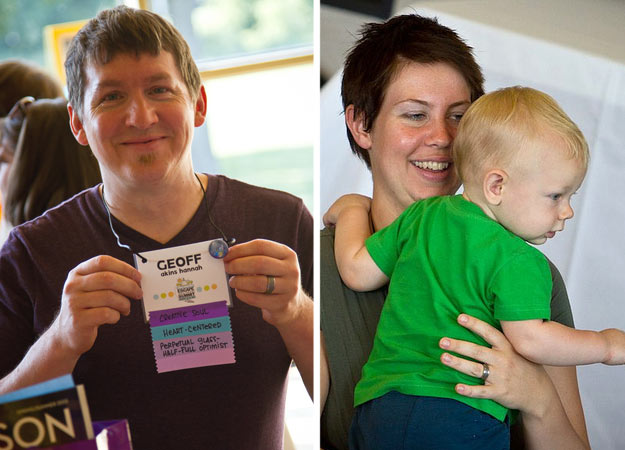 Geoff, also known as the Bubble Man, delighted everyone with his magical Bubble Wonders show. It was so cool to experience grown adults oohing and ahhing with wonder as he captivated us with some ridiculously awesome bubble tricks that helped drive home the message that anything is possible — including making a square bubble!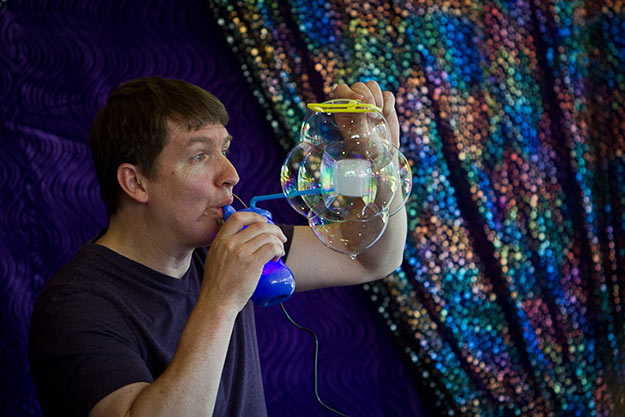 We learned that bubbles don't pop if you're wearing gloves.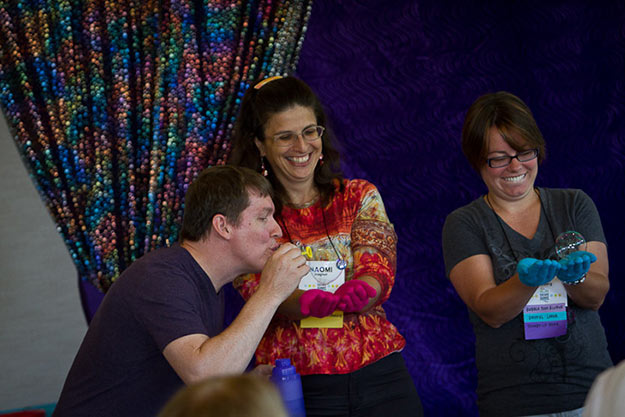 And here we see Angela (and her inner child) bouncing a vapor-filled bubble.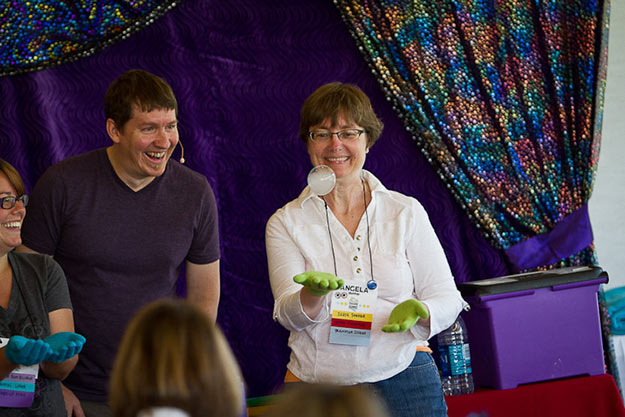 I even got to stand inside a giant bubble!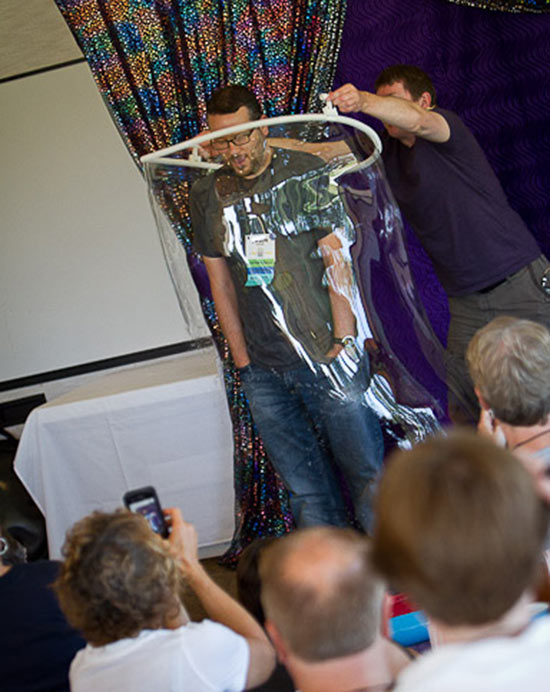 During recess, Geoff surprised everyone — including Kim — as he strolled past the window with his giant Zorb ball. He'd remembered seeing it on Kim's Bucket List and thought it would be cool to make a dream come true.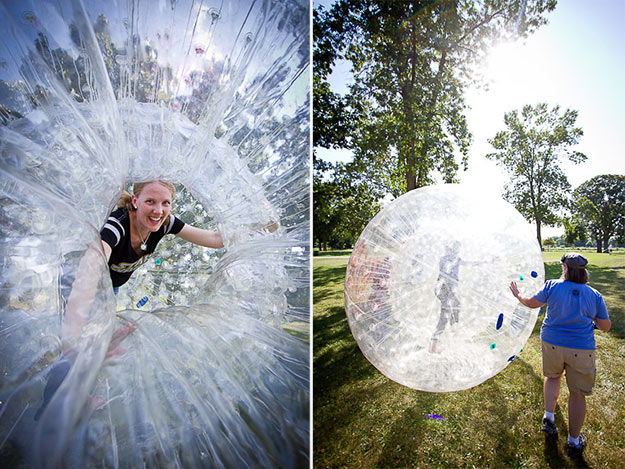 Everyone who wanted to was able to take a spin inside the big bubble. (Here's a video of the Zorb in action!)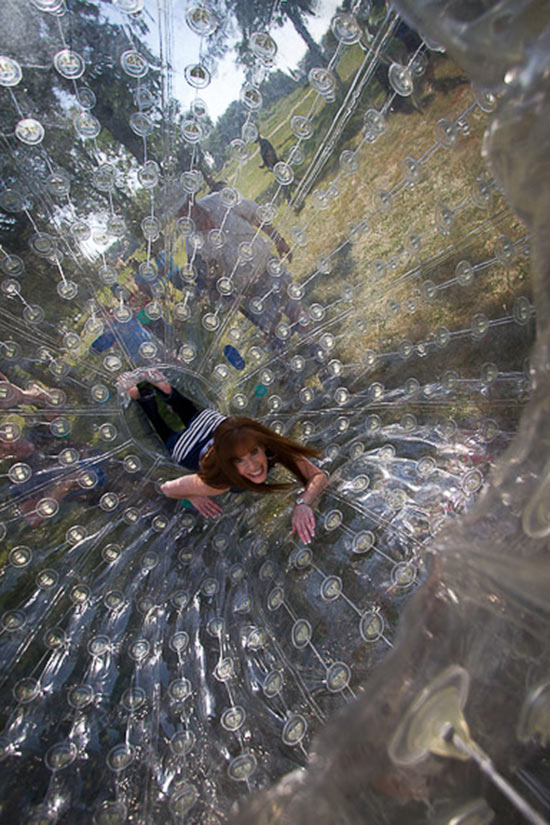 Recess was a great opportunity to enjoy the beautiful weather that we ordered. :)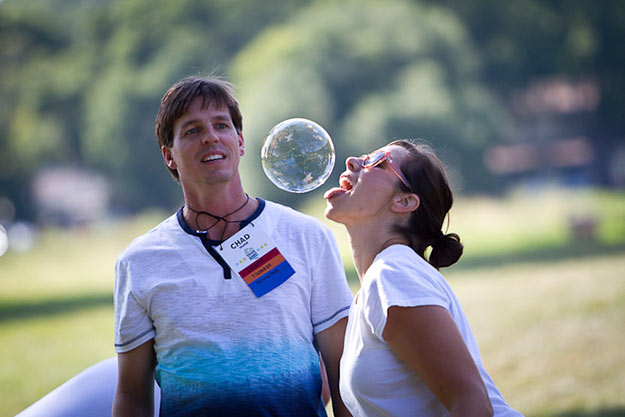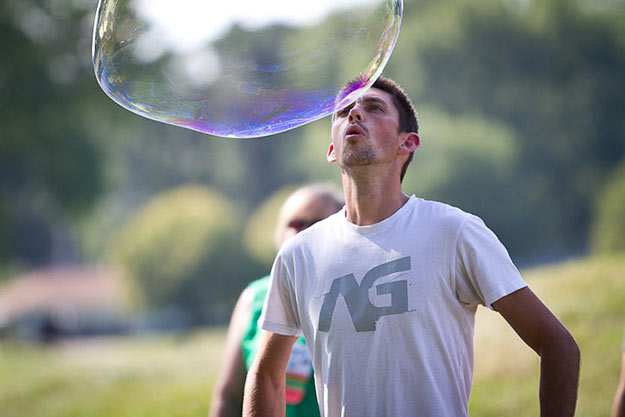 Besides experiencing the Zorb, guests had a chance to play with a variety of sweet bubble toys that Geoff brought.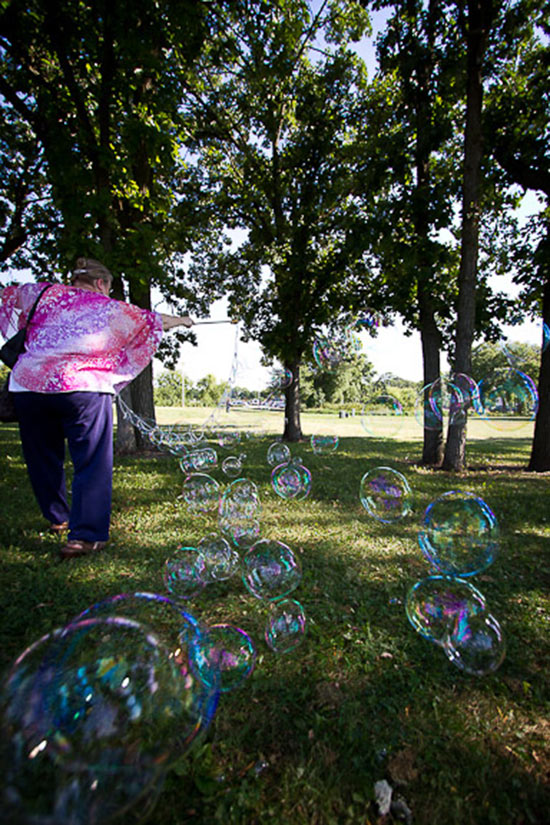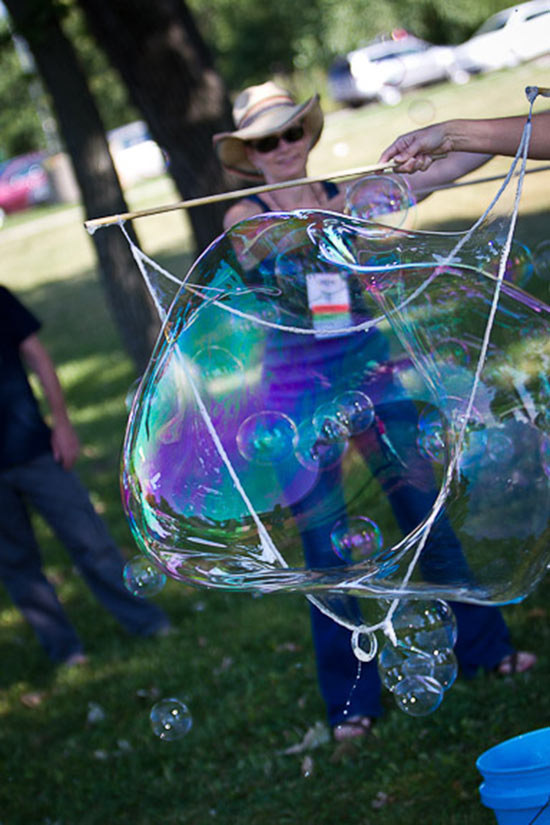 Beyond bubbles, folks also had fun playing around with other stuff. One group used to knowledge they learned from Geoff's Bubble Show to actually fly a toy airplane through a bubble without popping it!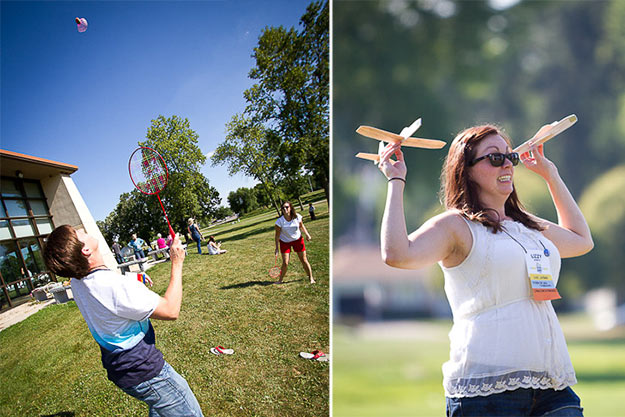 Geoff's wife Jen is an extraordinary musician and song writer. We were treated to some live performances and we adopted her award-winning hit, "Anything Is Possible" as our theme song for the weekend.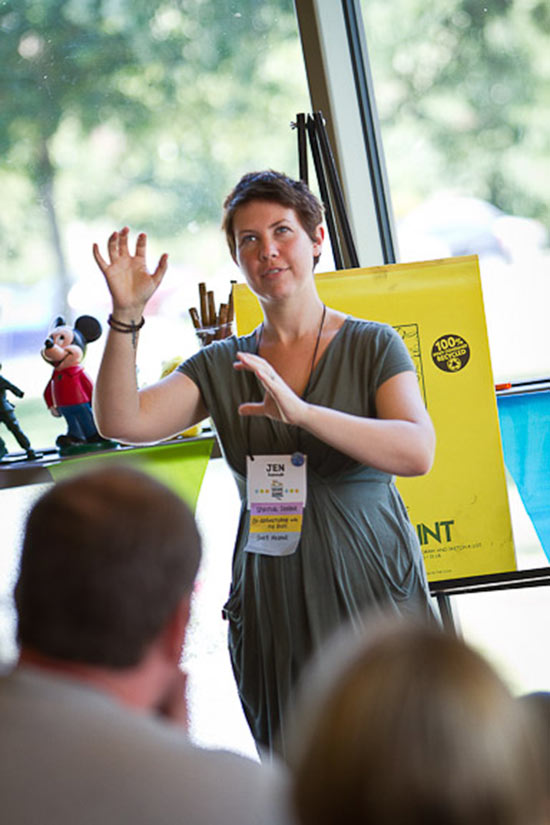 She also walked us through a Passion Test, which provided a lot of insight on how to make our stories better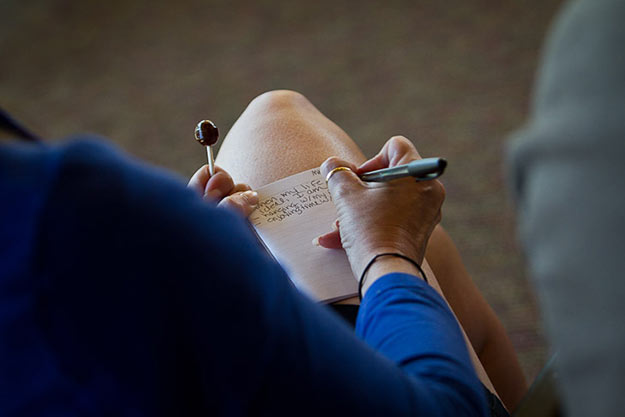 As was the case last year, the food was a big hit. When we met with the caterer, our instructions were simple and unique: we want childhood classics with a grown-up twist. They took the challenge with gusto and we had three themed meals.
For lunch on the first day, we went with a carnival motif. Amidst a backdrop of calliope music, attendees dined on giant hot-dogs, soft pretzels, cheese curds, and fruit salad. Cotton candy and boxes of popcorns were the perfect add-on.
Last year we got feedback that we needed to provide more healthy options. Although we see this weekend as an opportunity to indulge your inner child, here is proof that we do in fact listen: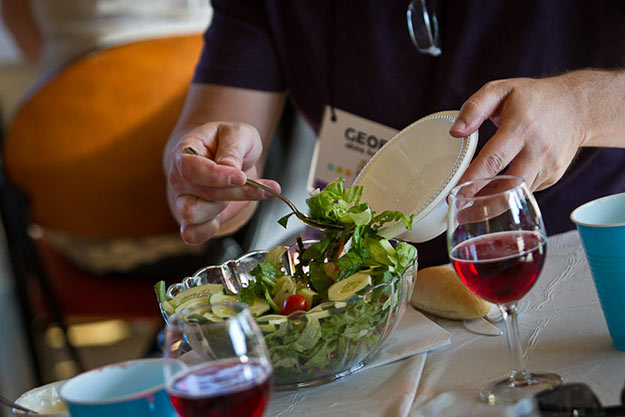 That evening, we took a risk by serving Barbarian Spaghetti, which is basically spaghetti and meatballs without the plates. We knew that most of the people in attendance had a healthy childlike spirit, but we still weren't sure how they'd respond to having Kim and I dump large vats of spaghetti onto their tables.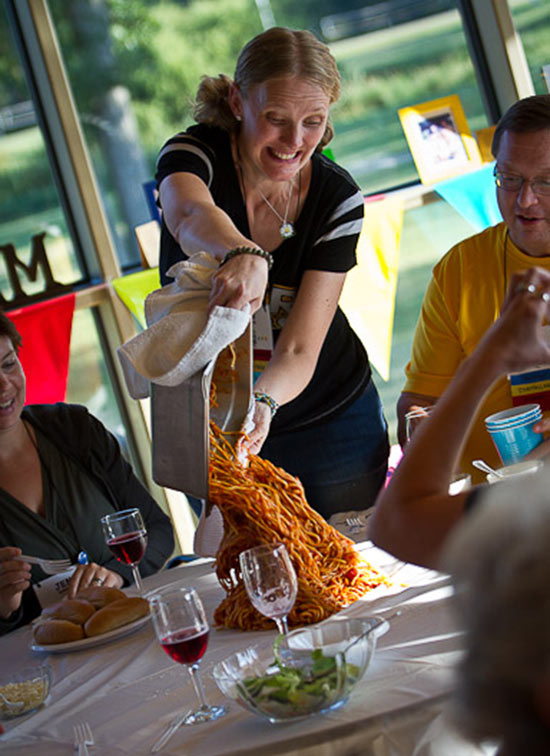 I will say that it created a juicy, oh-so-satisfying SPLURP.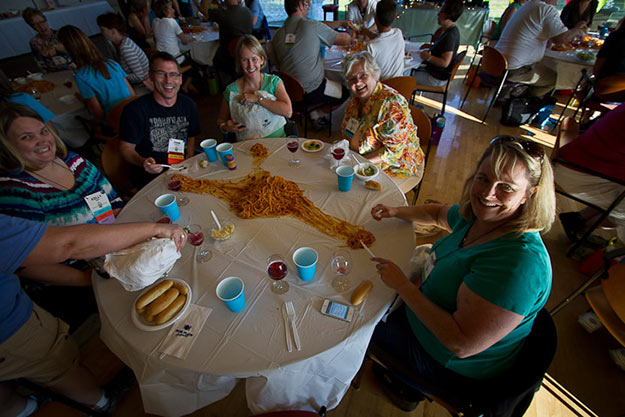 And fortunately, it seemed that most people appreciated the chance to experience something different and be given permission to let loose.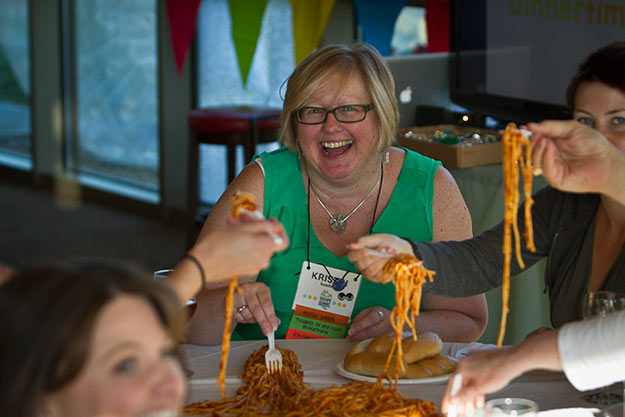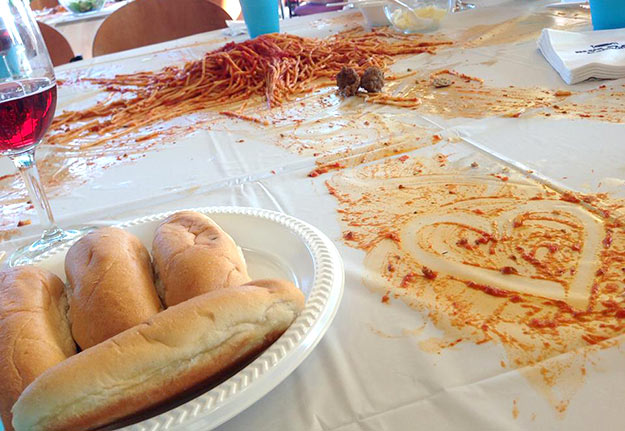 On Sunday, we did a school lunch theme, which was my personal favorite. It featured mini pizzas, sloppy joes, and chicken tenders with a variety of gourmet dipping sauces. We included fun details like cafeteria trays and ice cream scoops for the sloppy joes and apple sauce.
Of course there were also tots, applesauce, and sticks of celery and carrots. A highlight was when Jenna, who served as a behind-the-scenes MVP in preparing for the event, donned a hairnet and plastic gloves and, in a thick lunch lady accent, delivered instructions.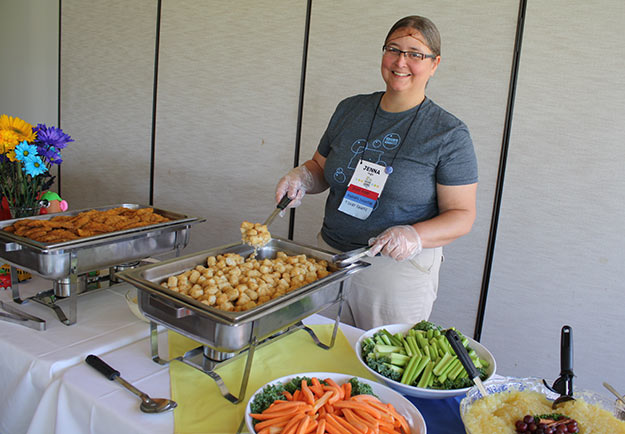 The only major departure from school lunches of old was permission to eat dessert first! Last year we had homemade whoopee pies; this year's treat were an assortment of colorful cake pops.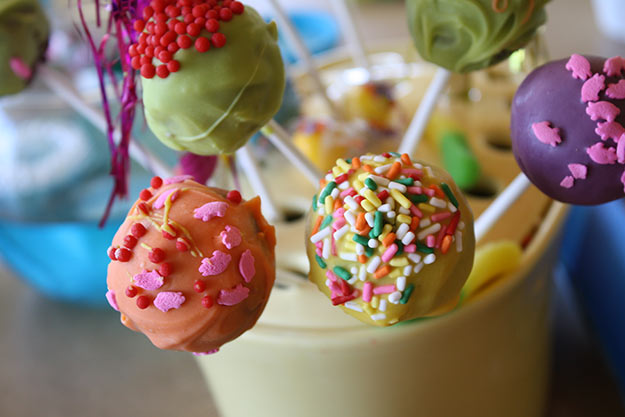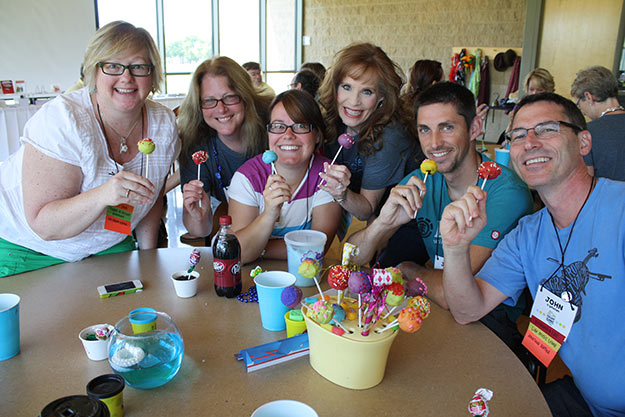 On the second day, with his bubbles packed away, Geoff shared his riveting story of how he became the Bubble Man, and gave everyone some practical and powerful tips for identifying and following their on dreams.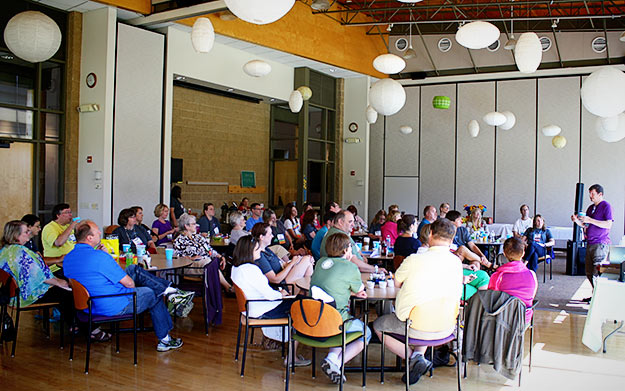 The content part of the experience concluded with a giant group mastermind in which we honestly discuss some of the most perplexing life balance issues and gain insight from the collective wisdom in the room. It's my favorite part of the whole weekend.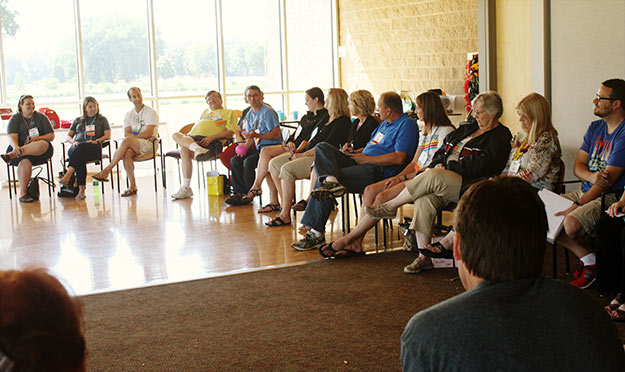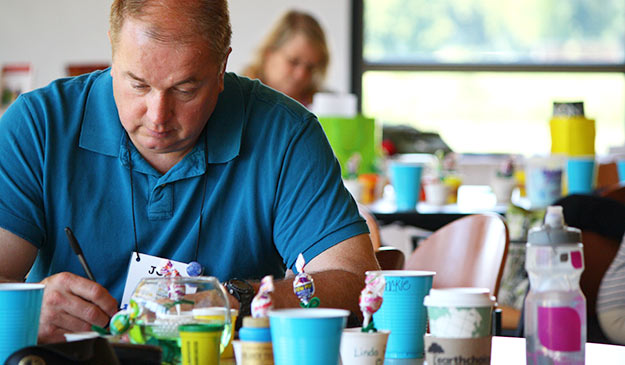 As is our tradition, we took a group photo at the end. We thought it would be cool to do a "before and after" sort of thing, so we did one with everyone acting like they had Adultitis…
Followed by one in which everyone was magically cured. Adultitis be gone!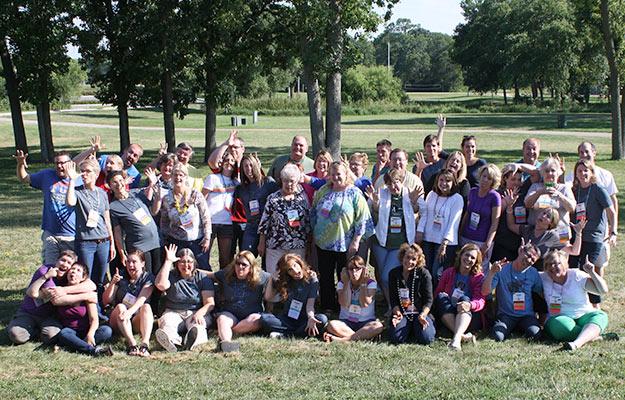 Although there is definitely room for improvement — there always is, isn't there? — I think the weekend was a big hit.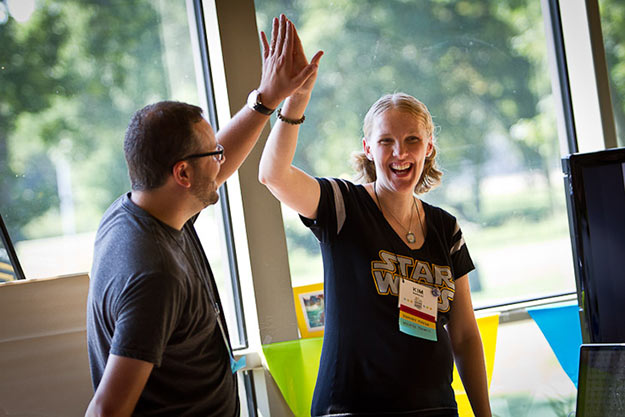 I would like to thank my best friend and wife Kim, for managing all of the details that made everything run so smoothly. I'd also like to thank Geoff and Jen for sharing their amazing talents and giant hearts. And of course, nobody really knows how much behind-the-scenes work Sue and Jenna did to make this happen, but I was thrilled that they both got a well-deserved standing ovation at the end.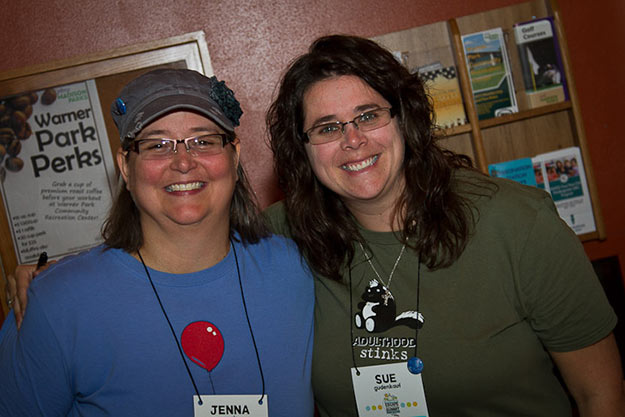 Most of all, I would like to thank everyone who attended the 2013 Escape Adulthood Summit. It takes a lot of courage to sign up for an event that intentionally keeps a lot of the agenda in the dark. Thank you for your trust in us, as well as your openness, playfulness, and generosity.
You guys brought the real magic.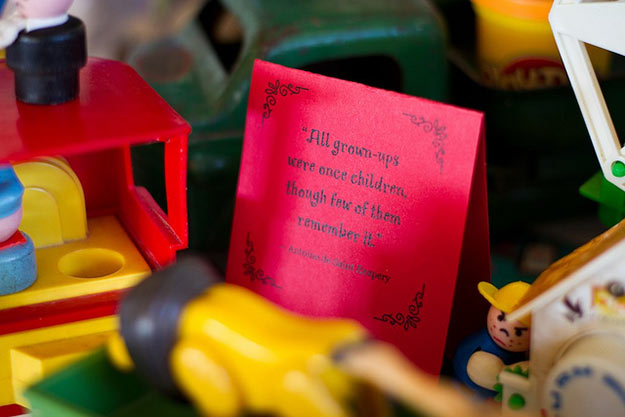 P.S. Most of the photos here were taken by Quinn Paskus, a young photographer with a keen eye and a bright future. We wanted to find someone who could do this event justice with a camera, and we hit a home run with Quinn!
You can check out all 400 photos from the Summit here!
And if you want to make sure you're among the first to hear when tickets go on sale for the 2014 Summit, make sure you are subscribed to our newsletter. :)