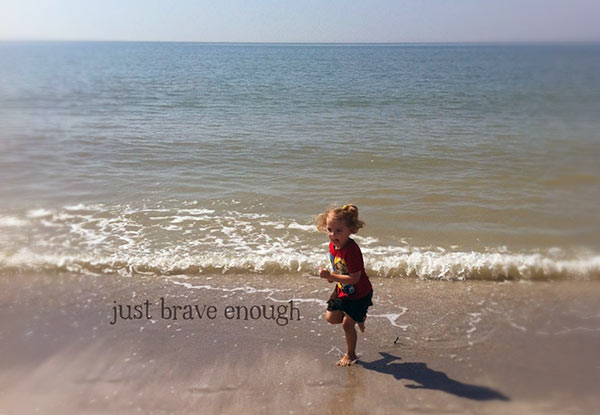 We have come to the last day. Thank you for joining us on this grand experiment we call Escape Lab. We really hope it was a fun, insightful, and valuable experience for you.
We covered a lot of ground over these past four weeks, and you may have noticed a common thread weaving through it all. It's a theme that might be best summarized in one simple word: Tinker. Whether we're talking about how to make more time for the people and projects that are important to us, what we should opt-IN to or opt-OUT of, or how to whittle down our Regret-Me-Not lists down to nothing, it all boils down to that one first step. As we've seen again and again in the past month, a tiny but bold experiment can change everything. Sometimes the conscious decision to just freaking start is the most important step of all.
I, for one, spent a lot of my childhood being afraid. I was afraid of new experiences. Of meeting new people. Of the unknown. Of drowning. Of looking stupid. Of the future. Of being a colossal failure in life. I was afraid the thunder, the lightning, and the firetrucks. There have been many moments in my life when I have been afraid and, like Susan Jeffers advises, "felt the fear and did it anyway." Those brief moments of bravery have increased my resistance to fear and bolstered my courage to keep going.
If you haven't already, we HIGHLY recommend watching We Bought a Zoo starring Matt Damon. It's a fun little true story about a guy with two kids who literally bought a zoo after his wife died. It also features one of my favorite movie quotes of all time:
"You know, sometimes all you need is 20 seconds of insane courage. Just literally 20 seconds of just embarrassing bravery. And I promise you, something great will come of it."
It's a pretty strong line by itself, but in the context of the movie, it's profoundly powerful.
I don't know about you, but to me, there is great comfort in remembering that I don't have to be brave and courageous every minute of my life.
20 seconds here and there will do.
And so, silly things like sticking a cup to the top of our car or eating spaghetti straight off the table do more than make us smile; they are safe but powerful ways to practice embarrassing bravery.
Now. Although this is the last day of the first Escape Lab, it's still a Friday, which means it's time for one more Secret Mission. It may be the most important one yet.

Your challenge, in the next few days, is to do something that requires 20 seconds of embarrassing bravery. We can't tell you what that might be, but we suspect that in your heart, you may already know. Then report back here, and share what you did and what came of it.
In closing, we leave you with this music video. If we had an official theme song for this first Lab, this would be it.
Oh, and now you can open the final secret envelope marked February 6th, 2015.
---
Share
Report on your 20 Seconds of Embarrassing Bravery!