Adultitis is coming hard after all of us each and every day. Are you ready to start kicking its butt? You've come to the right place.
We've made a commitment to making a boatload of free content available to assist you. The blog has nearly 2,000 posts, including interviews, videos, and even 12 fun things to do with food coloring. And of course, if you're not already, you'll want to become an Insider to keep up on all the new stuff we launch. But if you need some next-level weapons, we've got you covered:
---
The Adultitis Fighter Arsenal
This secret area of the site is where we've collected some of the most powerful Adultitis-fighting weapons known to man. Like an eBook that contains 15 of the most powerful Adultitis antidotes ever. A how-to guide on throwing your own Escape Adulthood Party. A digital copy of There's An Adult In My Soup. And even wallpapers for snazzing up your computer and Facebook profile. We are regularly updating the cache. Want in? Become an Escape Adulthood Insider – it's free!
---
The Escape Plan
The Escape Plan is a proven program designed to help you safely and effectively treat Adultitis. Starting as a very public experiment in 2006, The Escape Plan is like a key, designed to unlock our minds and free our spirits.
It's pretty simple, really: it is a series of 40 challenges designed to get you thinking and acting in a more childlike way. Warning: This project is quite challenging. But it's also a TON of fun. We invite you to follow The Plan and see what happens. What would your life look like with a lot less Adultitis?
---
Escape Adulthood Wondernite
Escape Adulthood Wondernite is an amazing evening of art, food and storytelling! Get all gussied up and join us for a special collecting event where Jason premieres never-before-seen originals and limited edition artwork. This unforgettable evening that includes a delightful plated dinner, wine, dessert, and an extra helping of magic. As he reveals his new pieces, Jason will entertain and inspire you with the stories behind his work.
---
Escape Adulthood Summit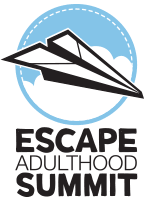 Part conference, part retreat, part mastermind group, The Escape Adulthood Summit is a one-of-a-kind event designed for people instilled with the soaring spirit of childhood. Held in picturesque Madison, Wisconsin, this transformative experience is your chance to connect with kindred spirits for a madcap weekend filled with fun and inspiration.
Each year, a small group of people gathers to talk about how to stay happy and hopeful in an Adultitis-ridden world that's increasingly more noisy, cynical, and stressful. We share simple, fun, and practical ideas for creating memorable scenes with the people we love. We brainstorm creative ways to break rules that don't exist. We explore the elusive concept of life balance and discover ways to make life less stressful and more fun. Learn more here.
---
The Escape Lab
Escape Lab is a one-of-a-kind guided experience that artfully combines immersive online content, a vibrant community, and a curated treasure box of supplies and surprises.
Reminiscent of an online course, an Escape Lab is an experience infused with delight, inspiration and adventure. Each Lab is completely unique, with an engaging combination of virtual and physical elements, thoughtfully crafted around a specific theme or area of study. The content, activities, and secret surprises are always different. It is our premier solution for defeating Adultitis and making your life way more amazing. Click here to find out the specific details of our next one.
---
Escape Adulthood Party Guide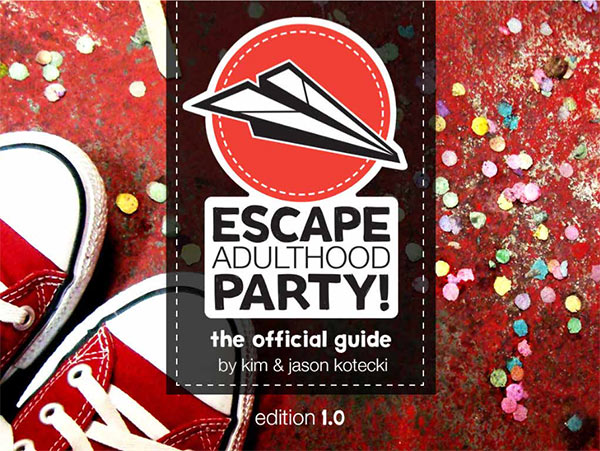 A woman named Joan attended an Escape Adulthood Summit and wanted to bring back some of the magic she experienced to her friends. So she hosted the first ever Escape Adulthood Party, and a great time was had by all. We've taken the concept of Joan's original party, combined it with standard elements of a Summit, and sprinkled in tons of ideas provided by people like you. Get it here!
---
Kim & Jason Guide to Cheap Family Fun
In today's modern world, it's really easy to have a week jam-packed with activities and yet emerge having collected very few — if any! — memorable "scenes" with the people we love most. The sad part is, creating a great scene is not very hard at all. Sometimes all you need is a reminder and an idea. A reminder to take a break from your hectic pace, and an idea that's easy and simple and actually fun.
The Kim & Jason Guide to Cheap Family Fun is a series of 52 videos highlighting fun and easy ideas for turning good intentions into family memories. In short, we've taken out all of the thinking and most of the expense, but kept in all the memory-making fun. You can buy the 2-DVD set, or get free access to all the videos right now in the Adultitis Fighter Arsenal if you are subscribed to our newsletter.
---
Book Jason to Speak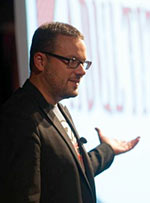 Jason is an accomplished professional speaker who accepts a maximum of 48 speaking engagements a year. You can hire him to deliver an inspiring, humorous, and heart-warming program that's packed with practical advice and pragmatic tips for dealing with the stress that plagues your people.
Left unchecked, Adultitis will eat your productivity, teamwork, and morale alive. If you think Adultitis may be lurking in your organization, Jason will help you annihilate it. Learn more here or read testimonials from happy clients.
---
The Lemonade Stand
Finally, The Lemonade Stand is our neat little store filled with cool stuff for the young at heart.
It's always open and its virtual shelves are stocked with original art and prints, books, DVDs, Fun Capsules, and the world famous Adultitis First Aid Kit!