don't settle for the life you've been told to live.
create the one you were made for.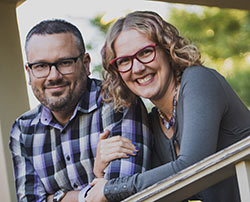 Greetings and salutations! We are Kim and Jason: best friends, husband and wife, parents of three kids, entrepreneurs, authors, retro t-shirt wearers, and partners in crime on a crusade to annihilate Adultitis in ourselves and the world! Kim is a former kindergarten teacher and noodle junkie. Jason is an artist, professional speaker, and cereal aficionado.
After falling in love, graduating college, and getting married, we entered the "real world" and quickly noticed a few things. Like the fact that a shocking number of grown-ups are inflicted with a disease we identified as Adultitis, which is the reason so many people "lead lives of quiet desperation," as Thoreau astutely observed.
We lack adventure when we blindly adhere to rules that don't exist.
We lack meaning when we settle for the status quo.
We lack joy when take ourselves too seriously.
This discovery led to the founding of The Cure Adultitis Institute and the creation of Escape Adulthood, a company and lifestyle brand that helps people rediscover the secrets of childhood in order to build better lives, businesses, and teams.
We started this movement because it's hard to defeat Adultitis alone and there is power in numbers. In community we can borrow courage, affirmation, and inspiration from one another.
Escape Adulthood? I wish!
Escape Adulthood is a rallying cry. It's not about escaping responsibilities or reality. Nor is it about paying your bills with Monopoly money, eating a strict diet of chicken nuggets, or putzing around with Play-Doh all day long (although we do love that smell!).
Rather, the "Adulthood" we recommend you escape from is the cynical, joyless, unadventurous version with all the stupid rules, the one that insists we always play it safe and take ourselves way too seriously. We actually believe the crazy notion that there is more to life than the busyness, stress and melancholy that is typical of most modern lives.
Escape Adulthood is the antidote to Adultitis and the cure for the common life.
On a Mission to Annihilate Adultitis.
That includes working with organizations to deliver speaking programs that drive innovation, prevent burnout, and achieve new levels of productivity. We also develop tools, host events, and make things to help individuals design lives that are less stressful and more fun. Everything is fueled by Jason's whimsical artwork and it all began with a humble comic strip. (Download the amazing technicolor Escape Adulthood Brand Book for a more in-depth tour.)
We consider ourselves to be "professional reminderers." The stuff we talk about is not rocket surgery, but these important principles are easy to forget amidst the hectic deluge of daily life. We ALL need reminders from time to time. Our greatest desire is to use our talents to share God's love and impact lives by inspiring, entertaining, and encouraging people to rekindle their childlike spirit and create the life they were made for.
The Sappy Love Story
Now before it was an idea or a rallying cry, this all began as a simple love story. Jason first drew his lovable characters for his girlfriend Kim sometime before the turn of the century. They shared a kindred childlike spirit, and Jason used the drawings, which represented the couple as children, on many homemade (aka cheap) gifts designed to win Kim's heart.
Luckily for him, this downright sappy ploy helped him to not only win her heart, but also her hand in marriage. The characters took on lives of their own and became stars in a comic strip. In 2000, we decided to build a company to share the comic strip and its inspiring message. The strip was officially retired in 2007, but the wild ride to rid the world of Adultitis has continued on at full speed.
Meet the team that helps us keep Adultitis on the run, peruse our bucket lists, and check out a brief timeline of the tumultuous and thrilling tale of a dream that turned into a movement that's changing the world. Click here for a look at what we're working on right now.
Giving Back
We are all about helping grown-ups of all ages to escape adulthood, but we are über passionate about making sure that the awesome, magical, and happy version of childhood we champion is never lost. That's why we pledge 5% of all gross merchandise sales to an organization that helps improve the lives of kids all over the world.
Don't Settle for a Paint-By-Number Life
We've spent our life together doing unconventional things. We moved to Madison without either of us having a job. We unschool our kids. Our daughter was on 34 flights during her first year of life. We do book tours at zoos and ice cream parlors.
This is where we live online. We want to help you eradicate Adultitis by offering real-world strategies, practical ideas, and permission to create a life filled with passion, wonder, and joy. We hope to spark intentional thinking that leads you to become who you are uniquely created to be and have as few "I wish I woulda's" as possible.
We're so glad you're here.
Your friends,


P.S. Make your Escape!
Break free from the vile clutches of Adultitis and join the Escape Adulthood League, a vibrant, positive, and encouraging community that serves as a respite from the noise and negativity that dominates our world today. Besides meeting and connecting with other people just like you, you'll find inspiration, thought-provoking conversations, and valuable perspective each and every day.
Meanwhile, join our small rebellion of freedom fighters by signing up for our free weekly dispatch filled with tips and inspiration for turning your life into a thrilling work of art.
Enter your email to enlist!

Kim's Bucket List
Eat fresh pasta in Italy •
Get my picture taken with 101 mascots
• Own a home with a whirlpool hot tub • Eat chocolate and licorice in Germany •
See Phantom of the Opera on Broadway
•
Take a Zumba class
• Witness the launch of a spacecraft •
Learn to yodel
• See Great Wall of China •
Keep fresh flowers on the kitchen table
•
See the Grand Canyon
• Take a ride in a stunt plane • Hot air balloon ride •
Make something on a potter's wheel
•
Eat Key Lime Pie in Key West
• Attend the Olympics • Stomp grapes • Ride a gondola in Venice •
Run a (fake) marathon
• Take a surfing lesson in Hawaii • Ride an elephant • Jump into a pool of noodles •
See U2 in concert
•
Walk across the Brooklyn Bridge
•
Swim with dolphins
•
See the Statue of Liberty
• See Dave Matthews in concert • Host a living room or backyard concert •
Organize a conference for K&J Nation
•
Have a natural childbirth
• See the pyramids in Egypt at sunset •
Witness the Northern Lights
•
Visit a fortune cookie factory
• Have a croissant at a French cafe •
Learn how to make pasta from scratch
• Visit the Colosseum in Rome •
Ride a San Francisco cable car
• Establish the Save The Day Foundation to help children all over the world • Stay in a glass bottom bungalow in Tahiti •
Have some "afternoon delight"
• Have hot chocolate at the top of the Alps •
Help build a house for Habitat for Humanity
• Ring in the New Year in New York City •
Go horseback riding on the beach
• Eat at the underwater restaurant in the Maldives •
Eat clam chowder in Boston
•
See Jerry Seinfeld and Bill Cosby perform live
•
Eat fish tacos in San Diego
•
See the pandas at the San Diego Zoo
• Go on a sea plane island picnic • See a kangaroo in the wild in Australia • Go on a European cruise •
See Niagara Falls
•
Hug Michael W. Smith
•
Tour Alcatraz
•
Jump into water from a fairly high cliff
•
Meet Andrew Peterson
• Drive the Great Ocean Road in Australia • Go skiing •
Check out the view from the Space Needle
• Write a children's book with Jason • Stay at the Plaza with Lucy and have a New York City weekend • Stay at a Secrets on the Lake treehouse at Montville • Go whitewater rafting • Stay at Bedarra Island Resort •
See the sunrise AND sunset over the ocean
• Eat at a Gordon Ramsay Restaurant • Eat at a Bobby Flay restaurant • Go to Hawaii •
Try Zorbing
• Own a pontoon boat •
See the Constitution and the Declaration of Independence
• Own a lake house with a wraparound porch surrounded by tall pines •
Be a part of a Sumo Dance off
• Open a Kim & Jason themed restaurant •
Kiss giraffes
•
Get a hot stone massage
•
Host a charity event
• Book Andrew Peterson for a private concert • Take a retreat at Hollyhock • Ride on a Harley • Visit the Holy Land •
Visit the Redwood forest
• Explore Yosemite National Park • Create a painting that I'd be proud to hang in my home • Stay overnight at the Ice Hotel •
Witness the changing of the guard at Arlington National Cemetery
• Visit all 50 states • Ring a church bell •
Attend a Joel Osteen Sunday service
•
Have a personal chef
• Donate a million dollars to each of the Big 6 •
See the original Wright Flyer
• Zip line through a jungle canopy • Attend a Cirque du Soleil show •
Experience Times Square
•
Listen to a band play "When the Saints Go marching Home" in New Orleans
•
Drive down Lombard Street
•
Boston in the Fall
•
Listen to live music at the Bluebird Cafe
•
Enjoy Mexican food at the San Antonio's River Walk while being serenaded by a mariachi band
•
Learn how to start (and maintain) a fire in our backyard
•
Go to Disney World with best friends
• Visit our sponsored child through Compassion •
See the inside of the Wienermobile
•
Visit Mount Rushmore
• Have romantic dinner with Jason in Idaho • Be a Disney character at Disney World for a day • Go snorkeling in tropical waters •
See the Rocky Mountains
• Display my life list at my funeral with as many things crossed off as possible
Jason's Bucket List
Marry someone awesome
•
Photograph the Northern Lights
•
Keep fresh flowers on the kitchen table
•
Become a Dad
•
Invent an ice cream flavor
• Ride in a hot air balloon •
Sit at the edge of the Grand Canyon
• Find a four leaf clover •
Learn how to make an omelett
e • Ride an elephant • Attend the Olympics •
Walk across the Brooklyn Bridge and the Golden Gate Bridge
• Eat fresh pasta in Italy • Ride a gondola in Venice •
See U2 in concert
• See the Mona Lisa at the Louvre and Paris from the top of the Eiffel Tower in France •
Swim with dolphins
• Witness the launch of a spacecraft • See the Great Wall of China •
Ride a San Francisco cable car
• Host a living room or backyard concert •
Organize a conference for K&J Nation
• See the pyramids in Egypt at sunset •
Run a (fake) marathon
• Visit Victoria Falls • Photograph fireworks •
Witness the changing of the guard at Arlington National Cemetery
•
Learn how to make pasta from scratch
•
Experience Times Square
• See Stonehenge • Dive with a Great White shark • Visit the Colosseum in Rome •
See Jerry Seinfeld and Bill Cosby perform live
• Eat at a Gordon Ramsay restaurant •
Try eating alligator
• Establish the Save The Day Foundation to help children all over the world • Stay in a glass bottom bungalow in Tahiti •
Have some "afternoon delight"
• Have hot chocolate at the top of the Alps •
Help build a house for Habitat for Humanity
• Ring in the New Year in New York City • See Dave Matthews in concert • Eat at the underwater restaurant in the Maldives • Cook 101 gourmet dishes •
Eat Key Lime Pie in Key West
•
See the pandas at the San Diego Zoo
• Tour Skywalker Ranch •
Attend Comic Con
•
Meet Seth Godin
• Visit Australia and see the Sydney Opera House • Learn to speak Australian • Send my parents to Alaska (for vacation) • Go deep sea fishing with my Dad and brothers •
Go whale watching
•
See Niagara Falls
• Attend a Super Bowl •
See the Constitution and the Declaration of Independence
• Attend baseball games at
Wrigley Field
, San Francisco, Camden Yards,
Fenway Park
•
Go parasailing over the Gulf of Mexico
• Meet Ryne Sandberg •
See the Statue of Liberty
•
Eat clam chowder in Boston in the fall
• Drive the Great Ocean Road in Australia • Write a children's book with Kim • Own a jet black Porsche convertible • Stay at a Secrets on the Lake treehouse at Montville • Eat at a Bobby Flay restaurant • Stay at Bedarra Island Resort •
Have coffee with Phil Vischer
• Go to Hawaii • Own a pontoon boat •
Eat a fresh crab in Seattle
•
Meet Sam Butcher
•
Eat gumbo in New Orleans
•
Design my own font
•
Beat Kim in a Sumo Dance off
• Own a lake house with a wraparound porch surrounded by tall pines • Take a cooking class • Open a Kim & Jason themed restaurant •
Host a charity event
•
See the original Wright Flyer
•
See Pearl Jam in concert
• Meet George Lucas •
Enjoy Mexican food at the San Antonio's River Walk while being serenaded by a mariachi band
• Book Andrew Peterson for a private concert •
Host a cartooning workshop in our own space
• See the bioluminescence • Give a keynote speech at a World Domination Summit •
Give a TED talk
• Travel to outer space • See a tiger in the wild •
Go to Disney World with best friends
•
Ride on a Harley
• Visit the Holy Land •
See a T-Rex skeleton
•
Meet Michael W. Smith
• Stay overnight at the Ice Hotel • Eat Lobster in Maine •
Visit the Redwood forest
• Explore Yosemite National Park • See the world's biggest ball of twine •
Visit the Corn Palace
• Have an art studio with hardwood floors and a lake view • Visit all 50 states •
Check out the view from the Space Needle
• Give a waitress a $100 tip • Own a home theater •
Visit a fortune cookie factory
• Attend a silent retreat • Eat at 101 Madison (non-chain) restaurants • Donate a million dollars to each of
the Big 6
• Zip line through a jungle canopy •
Eat fish tacos in San Diego
• Build a private basketball court • Get a t-shirt quilt made • Publish a full color coffee table book of Kim & Jason Weekend strips • Attend a Cirque du Soleil show •
Tour Alcatraz
•
Listen to live music at the Bluebird Cafe
• Visit our sponsored child through Compassion •
Kiss giraffes
•
Visit Mount Rushmore
• Have romantic mountain view dinner with Kim in Idaho • Own a home with a whirlpool hot tub •
Pay for a surgery/treatment for a child I barely know
• Launch a line of Kim & Jason collectible figurines •
Hire someone else to cut the grass for me
• Own skyboxes at Soldier Field and Wrigley Field • Field grounders from second base at Wrigley Field •
Go snorkeling in tropical waters
•
See the Rocky Mountains
• Own at least one original painting by Normal Rockwell, J.C. Leyendecker, and Drew Struzan • Experience weightlessness • Visit the Acropolis in Greece •
Hold one of those really big checks
•
Visit the Charles Schulz museum
•
See the inside of the Weinermobile
•
Jump into water from a fairly high cliff
• Skinny dip • Write 10 books (6 so far) •
Dance on the floor piano from Big
• Make a pie from scratch using cherries I picked myself