Make Your Next Event a Masterpiece.
When it comes to event planning, it's a challenge continually coming up with something new and exciting. We have an opportunity for you that will make your next meeting memorable and have your people saying, "WOW!" Not only is Jason Kotecki a world-class speaker, he is a world-class artist who can do live painting at your next conference, social event or trade show!
For the last 15 years, Jason has been hired by some of the largest organizations in the world for his skill as a talented keynote speaker who connects with audiences and delivers relevant content. In fact, he has earned the Certified Speaking Professional (CSP) designation, an honor held by less than 10% of speakers worldwide.
But he's been an artist for even longer, and his work has been collected and licensed all over the world. (Check out his artist statement and portfolio here.) Jason loves making you look good by captivating crowds with his live painting demonstrations. You can take advantage of this rare combination to make your next event something special!
Give your people the gift of watching a painting come alive.
Jason's colorful, whimsical style and personable, friendly approach really draw people in, creating memorable interactivity with guests of all ages and backgrounds. When he's working on a painting, Jason becomes a magnet, capturing the short attention spans of passersby. He can start and finish a painting in just a few hours, giving your guests the satisfaction of seeing it come to life. Plus, the subject of the painting can incorporate a theme that is meaningful to your people, company or event.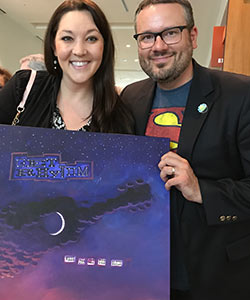 A true professional, Jason takes care of everything. You won't have to worry about set-up, clean-up or anything in between. He arrives early, brings his own supplies and equipment, and can solve problems on the fly. You don't have to concern yourself about any noise, smell, or messes. Jason uses acrylic paint, which is odorless and non-toxic, cleans up with water, and dries fast, enabling him to finish a painting in just a few hours.
Plus, you have the option to purchase the finished art to give away, present as an award, auction off, or serve as the coolest door prize ever.
"I'm so glad I invited Jason to paint live. His presence and colorful artwork was like a magnet to those passing by, stopping traffic. We found people coming back throughout the evening to check on the progress he had made. Jason was warm, sincere and engaging with everyone who stopped by. I felt like my booth really stood out and invited a fun vibe that attracted media and sales."
–Amy Moore, Owner of Little Luxuries, an award winning gift shop in the heart of Madison, WI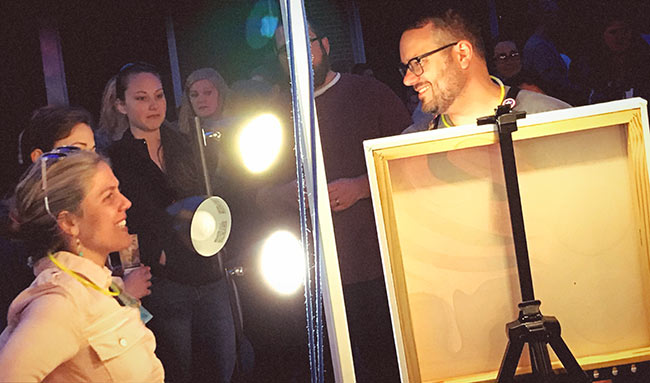 How can I use Jason?
Jason is a great fit for all kinds of events, including:
Private / Corporate Parties – your guests will love interacting with Jason as his painting comes to life before their very eyes!
Professional Development Conferences – In events where Jason is also serving as your keynote speaker, inviting him to paint live creates layers of impact that significantly increases the value of attendees' overall experience, providing a truly memorable and meaningful connection that is long lasting.
Sales Meetings – reward your top performer with the finished painting!
Trade Shows – no one will be able to pass by your booth without stopping to look, and ensure return visits from people checking in on the progress!
Charity Events – get high bids in your auction as guests fight for the chance to bring home the original that Jason tied into the mission of your organization!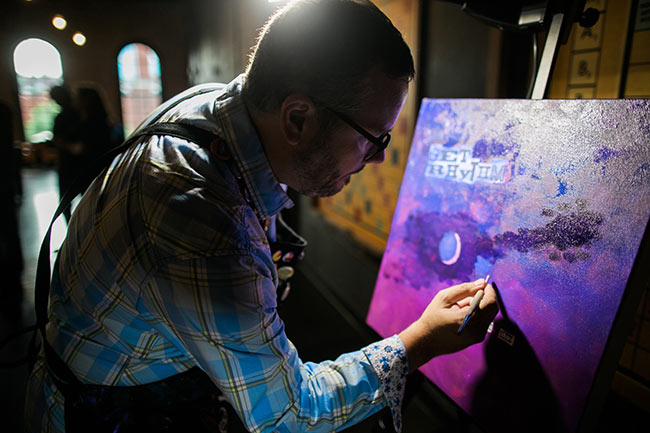 A unique combination that delivers powerful results
Sometimes, Jason is hired to deliver a keynote speech. Sometimes he's hired to do a live painting. The real magic happens when you bring him in to do both.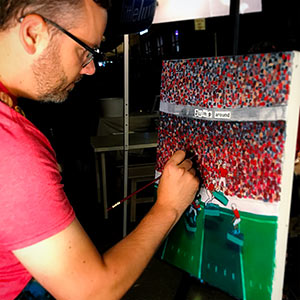 Imagine a scenario in which your pre-event promotional materials, featuring Jason's fresh, compelling art, captures the attention of your potential attendees and send the message that this event is not to be missed. Your opening networking social starts with a buzz as Jason draws a crowd and spurs conversation as he paints live amongst your guests. Meanwhile, the event program, signage, and name tags also feature Jason's art, serving as a power anchor for your theme in the minds of attendees. The next day, your people are captivated by this artist who combines his brilliant visuals with well-crafted stories to deliver inspiration and insight in the keynote. And think of the impact that will be made when you are able to use that painting — the one everyone saw come to life — as a one-of-a-kind door prize, silent auction item, or award to a VIP or top sponsor.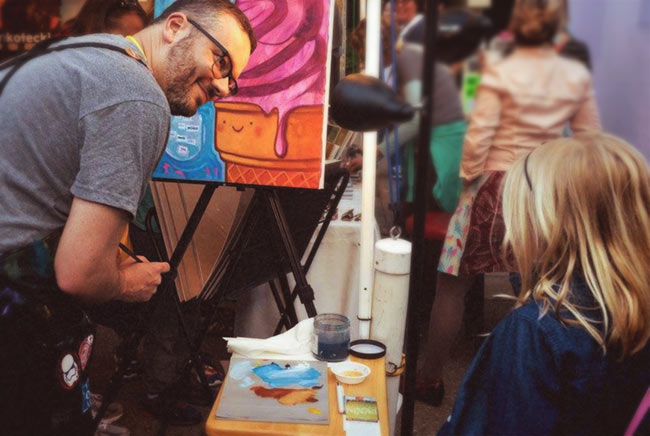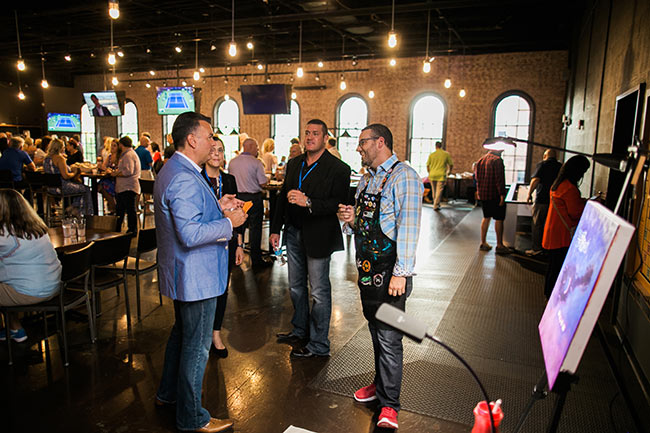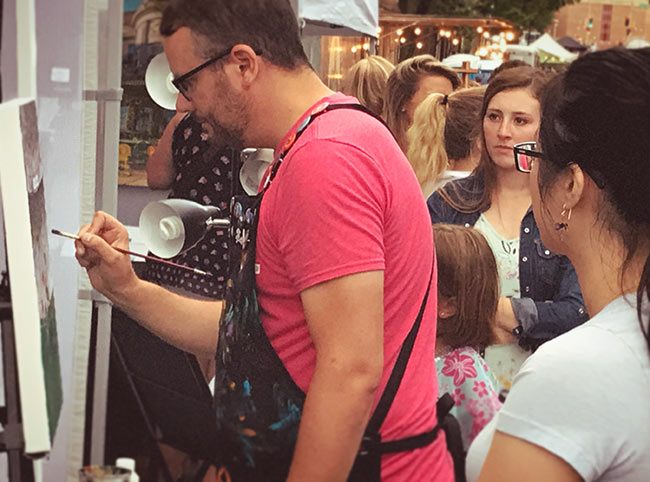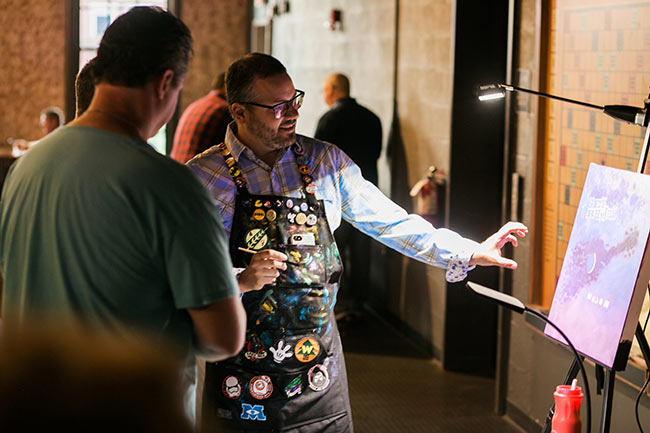 *Click here for more photos!
Please don't miss the opportunity to give your people this experience. It's surprising to hear how few people have witnessed a painting come to life in person; the comments constantly astound us at how rare this is for most people. The unique combination of this experience, mixed with having the chance to hear Jason speak is a gift that attendees will be talking about for years to come.
contact us
Kim, aka Little Miss Details, is Jason's wife, partner in crime, and the rock star who will work with you on all the details like dates, budget, and what Jason needs to deliver something that makes you a hero.
Life balance is a top priority for Kim and Jason. With a young family, Jason only accepts a maximum of 48 bookings each year. That being said, his schedule fills up fast, so use the form below to drop Kim a line to learn more about bringing him to paint live at your next event.
You can also reach her at 608.843.9880 and connect with her on LinkedIn.