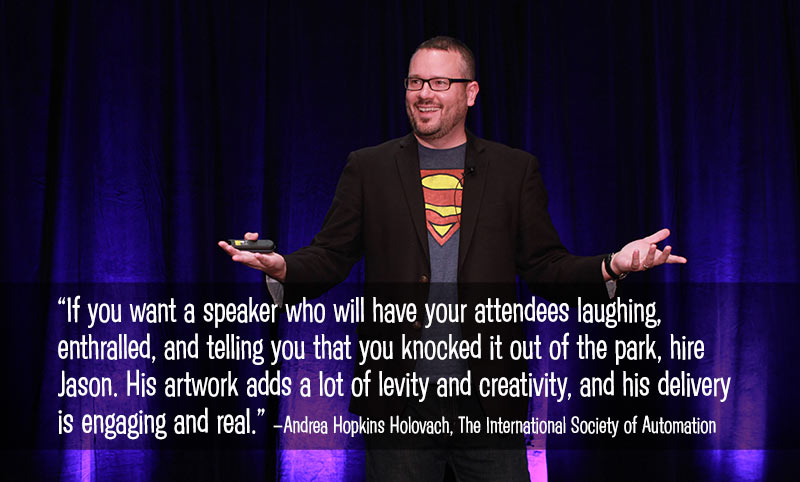 KEYNOTES
The programs below can be delivered as a 45-90 minute keynote and are fine-tuned to the specific needs and challenges of the audience.

Curing Adultitis: Your Prescription for Less Stress and More Success
Topics: Stress Management, Life Balance, Employee Engagement & Retention
Perfect For: Corporations, Associations, and Non-Profit Organizations.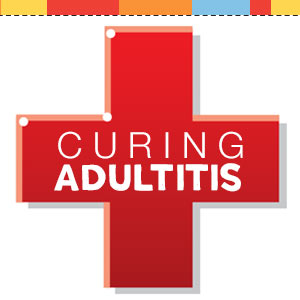 Adultitis is an epidemic that is coming hard after us every single day. It can infiltrate even the best working environments, producing stress and instigating burnout. Left unchecked, Adultitis will eat your productivity, teamwork, and morale alive. Surrendering need not be an option, however. In this light-hearted but hard-hitting program, Jason will arm your people with the fresh perspective they need to reclaim their passion and create a better harmony between work and home. He provides witty observations, humorous anecdotes, and real-world techniques that will entertain and inspire the audience to live a richer, more balanced life. They'll learn easy, practical tips for bringing more fun and less stress to the job at hand, contributing to a workplace that's more enjoyable and engaging for themselves AND those they serve. Adultitis may be a formidable foe, but Jason can help you annihilate it.
Jason has a vast palette of artwork, stories, and action items he draws from in order to create a customized message specially tailored for each audience. Truly, Jason never gives the same speech twice.
Although we will work with you to develop the best program for your event based on your unique theme, terminology, and daily challenges, here are some examples of how Jason tailors his message for a few specific types of audiences that regularly hire him:
Business / Corporate
Jason tends to gear his programs toward improving employee engagement and helping attendees to achieve breakthrough levels of innovation, while providing concrete strategies for creating a more positive, productive, and cohesive work environment.
Healthcare
Jason places a special emphasis on dealing with compassion fatigue, creating a stronger team dynamic with colleagues, and increasing patient satisfaction.
Non-Profit / Education
Jason focuses on common challenges they share, helping to revitalize their passion for making a difference amidst the burden to do more with less while navigating the ever-evolving landscape of change and regulatory requirements.
"Jason provides a content-rich program interspersed with humor and emotion. Jason's presentations are very well balanced with humor and great, workable ideas for bringing balance into your life. He's funny, approachable and presents great content in a program that ebbs and flows naturally. It's evident that he practices what he preaches. His collaboration with Kim, his creative (and life) partner in fighting Adultitis, shines through every interaction with them. They are true professionals with excellent follow-up and follow thru. As a bonus, they are just fun to work with!"
-Terry Estness, Executive Vice President at T. Estness Ltd.
"Never pass up the opportunity to see one of Jason's presentations – it's transformative! It was fresh, fun and the perfect combination of empowerment and entertainment. I liked the fun, DO-try-this-at-home examples sprinkled throughout his program. Rather than a theoretical how-to list to fighting Adultitis, these time-tested, successful ideas were just what we needed to get our creative juices flowing again. I wouldn't change a thing. The combination of Jason's delivery, supporting visuals, sense of humor and audience involvement techniques made for an incredible experience. It's been a pleasure working with you and from all that I've seen and heard, Jason's session definitely exceeded all expectations."
-Kristin Zurovitch, Director of Marketing, Sonic Foundry

#Notarule: The Art of Winning at Business and Life by Breaking Rules That Don't Exist
Topics: Innovation, Business Growth, and Leadership
Perfect For: Businesses and organizations looking to accelerate growth and innovation in order to increase profits, improve efficiency, and create amazing customer experiences.
Note: This program can be delivered with the alternative title of "Penguins CAN Fly: The Art of Breaking Rules for Fun & Profit"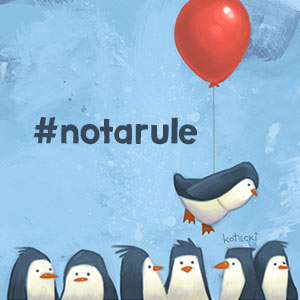 The business world is moving faster than ever and the only constant is change. What worked yesterday probably won't work tomorrow. In order to survive — and thrive — in this environment, we need to see the world with new eyes and identify the old ways of thinking that are holding us back. In this light-hearted but hard-hitting program, Jason works with participants to uncover and annihilate these so-called rules that don't exist. He'll reveal some surprising principles from childhood that provide a powerful competitive advantage, foster breakthrough levels of innovation and profitability, and accomplish what was once thought impossible.
Thanks to his uncommon combination of humor and pragmatism, this program provides an impressive array of inspiring and practical takeaways. With fresh perspective that is free from stale corporate lingo and business buzzwords, Jason will share several commonly held rules that don't exist. By the end, the audience will be armed with tools for getting better at identifying rules that don't exist, and tactics for breaking them with confidence. In addition, they will be inspired to discover opportunities to improve customer and employee engagement. Ultimately, your people will leave empowered to utilize their strengths to increase your organization's impact (and have fun doing it!)
"In order to innovate you have to break some rules. And if you want to have a great life, you need to create a widely diversified portfolio of unforgettable memories. Jason Kotecki will help you do both."
–Daniel Burrus, Author of The New York Times best seller, Flash Foresight
The Grilled Cheese Sandwich | 1:20
Oftentimes, we get so set in a certain way of doing things, we don't even consider an alternative. But there is always more than one way to look at things.
"I would highly recommend Jason's program for any size business – large or small – to motivate employees and keep them centered on a personal front. Jason effectively connecting personal stories to big ideas and relatable concepts. No room for improvement – Jason was great!"
–Ben Sussman, Vice President, Forest Lawn Funerals, Cremations, and Cemeteries, CA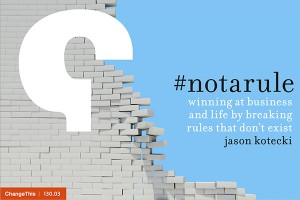 For a great primer on the content of this talk, check out this free ChangeThis manifesto available here.

Adultitis Strikes Back: How to Find Balance, Beat Burnout, and Work Happy
Topics: Stress Management, Life Balance, Employee Engagement & Retention, Innovation
Perfect For: Corporations, Associations, and Non-Profit Organizations.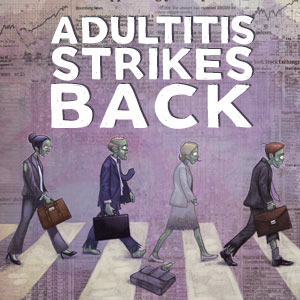 This program serves as a great follow-up program to "Curing Adultitis" for clients who loved Jason and want to have him back with different content. It provides just enough "review" for people who've never experienced one of Jason's programs, but the bulk of this presentation features new stories and insights. As always, Jason carefully chooses his images, anecdotes and actionable steps to match the tone and objectives of your specific event.
"We had Jason two separate times. His presentation was wonderful as usual! Even though Jason had addressed this audience before, he had new material to make the keynote fresh. His style is inviting and connected to the participants."
–Donna Jonas, Conference Coordinator, McCormick Center for Early Childhood Leadership, IL

The Art of Tinkering: Tiny Ways to Transform Everything
Topics: Small Business, Innovation, Business Growth, and Leadership
Perfect For: Corporations, Associations, and Non-Profit Organizations.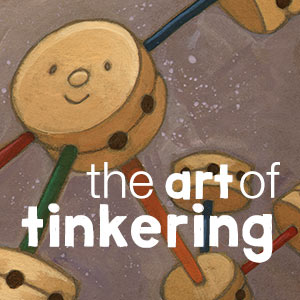 Sometimes in life and in business, taking things to the next level requires making a big, scary change. The good news is that most of the time, we can drive innovation, achieve new levels of happiness, and uncover hidden opportunities for fun and profit just by being open to the art of tinkering. The dictionary says that to tinker is "to repair, adjust, or work with something in an unskilled or experimental manner." The key words are "unskilled" and "experimental." Although kids tinker all day long, adults often act like they have to master something on the first try or know exactly how something will turn out before they even take the first step. In this funny, fascinating and practical program, Jason will introduce you to the art and benefits of "tinkering," while addressing how tiny steps can overcome the giant fears that hold us back. He will demonstrate how tinkering is the perfect tool for strategically uncovering amazing opportunities hidden in plain sight. As a result of this program, you will be reminded that in times of uncertainty, the small things really do make the biggest difference, and you'll be tinkering your way to new levels of awesome.
Here's a sneak peek:
"WOW!!! is what Jason's last presentation was. Absolutely fantastic! So thrilled we filmed it! The feel good energy and laughter Jason spread is a true gift to each and every guest. I love hearing from folks who experience Jason for the first time, I had one guest share that Jason was the best speaker they'd ever heard…talk about WOW! Thank you for another moving and incredible presentation and experience!"
–Jackie Ford, Dream Curator, American Family Insurance

A Chance of Awesome: How Changing the Way You See Changes Everything
Topics: Change Management, Perspective, Inspirational, Personal Development, Motivation
Perfect For: Organizations experiencing transition who are looking to increase resiliency and navigate change with enthusiasm and positivity.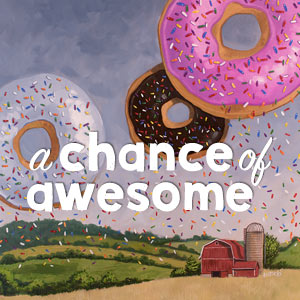 Sometimes in life, you just feel … stuck. When you're stumped by a seemingly unsolvable challenge, sometimes all you need is a little nudge from an outsider with a fresh perspective, someone who points out the answer that was there the whole time. This presentation is that little nudge and great fit for organizations experiencing transition or in a season of intense change. You'll learn how to recognize opportunities in road blocks and how to see dead ends as new beginnings. Because the difference between success and failure is not luck, it's looking at your world in a whole new way! So come ready to spark some new ideas — and grab onto them.

Must Be Nice: Uncovering Your Unfair Advantages Hidden in Plain Sight
Topics: Innovation, Perspective, Business Growth, Inspirational, Personal Development, Motivation
Perfect For: Organizations in a competitive landscape who are looking to find hidden opportunities to stand out while fostering a more positive work environment.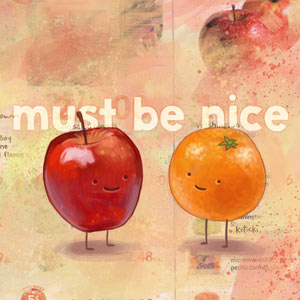 Comparison may be the thief of joy, but it sure is hard to ignore people who have bigger paychecks, better health, more talent, less debt, longer vacations, larger homes, thinner waists, or nicer mothers-in-law than us. Make no mistake, envy is an enemy at home and work. In this program, artist and author Jason Kotecki reveals a foolproof way to turn the tables on envy that also lowers stress, raises productivity and makes for a way more positive workplace. With his trademark wit and wisdom, he'll help your organization uncover unfair advantages and remind you of all the ways you rock while giving you a roadmap for leveraging overlooked opportunities. Jason will show your people how to find their own "must be nices" and use them as the building blocks for success.

Courageous Growth: Leading with Strength & Confidence
Topics: Leadership, Change Management, Inspirational, Personal Development, Motivation
Perfect For: Organizations looking to raise the level and quality of leadership of all their individuals while creating a solid foundation for growth and innovation.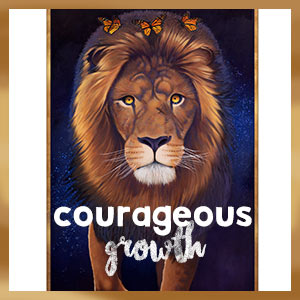 In this tumultuous era of ongoing change, strong leadership seems to be in short supply. The good news is that great leadership can be cultivated from within all levels of an organization. With insight and humor, Jason Kotecki will share the one trait the best leaders have in common and how everyone can develop it. He'll help attendees devise practical strategies to re-energize and reclaim their passion for doing their best work, allowing them to be more present with those they lead. This inspiring presentation will empower attendees to model positive behavior with lasting effects, providing a solid foundation for growth and innovation.


Lemonade Stand 2.0: Secrets from Childhood
for Succeeding in Business & Life
Topics: Small Business, Customer Loyalty, Life Balance, Stress Management, Vision/Purpose
Perfect For: Small Business Owners and Entrepreneurs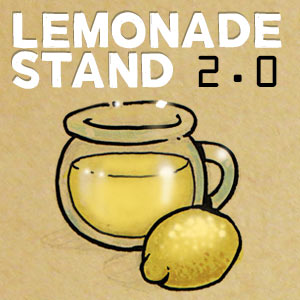 An entrepreneur since the day he graduated from college, Jason has built a profitable business that is bolstered by a tribe of raving fans and has sparked a worldwide movement. In this presentation, Jason shares 8 often-overlooked principles from childhood that have contributed to this success. These principles are crucial for delighting customers, creating growth, and cultivating enthusiastic employees. But this program goes beyond mere business. As the wearers of many hats, small business owners are famous for having abysmal life balance. Jason believes wholeheartedly in the importance of not just making a living, but in designing a life, firmly aware that the most important work we'll ever do will be within the walls of our own homes. Through witty storytelling, humorous observation, and real-world strategy, he delivers a powerful message that arms attendees with the tools to achieve bigger growth and better balance from their small business.
"Thank you for being part of our Annual Business Luncheon. Your message of avoiding "Adultitis" was spot on and certainly something I sure needed. Best wishes to you and your family and thanks again!"
– Mayor Shawn Pfaff, Mayor of Fitchburg, WI
Tinkering: Getting Better at Breaking the Rules | 4:10
Once you get better at noticing the rules that don't exist, you can get better at breaking them. It requires getting real with risk, but starting is not as complicated as you might think.
BREAKOUTS & WORKSHOPS
Want to keep a good thing going? These special workshops are delivered as follow-up programs to the keynote. They can each be customized from 60-90 minutes.
Balancing Act: Overcoming Adultitis Amidst the Stress of Everyday
You were not designed to live a life that leaves you stressed out, worn down, and constantly running on empty. But in the crazy, fast-paced, technology-driven, always "on" world in which we live, there is more change, more choice, and more demands than ever before, pulling you in a million different directions. Maintaining a mindful and meaningful level of life balance is HUGE. And messing it up can wreak havoc with your career, your health, and your relationships. In this session, Jason will share insights that get to the heart of the problem and simple ideas for designing a balanced life that is less stressful and more fun.
---
Breaking Rules & Starting Rebellions: Everyday Strategies for Overthrowing Adultitis
Did you know there are countless rules you're dutifully following every single day…that don't actually exist? Even worse, they're stressing you out, sapping your energy, and keeping you from living your best life. Jason will help you shed light on some of these surprising rules, and give you the tools you need for instigating what he calls small rebellions. Discover what small but mighty actions you can take today to turn your life into the fun, adventurous and exciting story you deserve.