a journey to reawaken more wonder, peace and joy in your life.
You can experience Wonderhunt in two wonder-filled ways. Choose your own adventure today!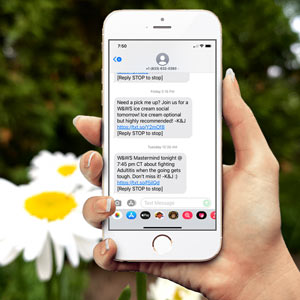 Take the course
Sign up for our 4-week text messaging course, being held October 4-29, 2021. (You'll also have the option of purchasing your own Wondehunt Card Deck.)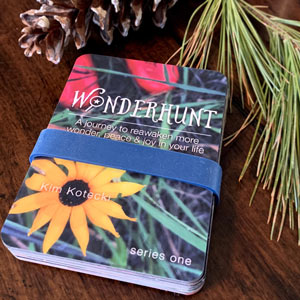 Get the cards
Reawaken your heart through wonder with this handy pocket-sized set of beautiful cards featuring 20 photo challenges and reflection prompts you can revisit again and again.
Already own the cards?
Once you have a card set, you can join the online community any time for free to share your photos and get inspiration from other Adultitis Fighters!
---
What is Wonderhunt?

Wonderhunt is the simple act of intentionally looking for wonder in an effort to reawaken your heart. It was created by Kim Kotecki in the midst of a challenging season in her life. An encounter with a breathtaking sunset during a desperate walk in the woods rekindled a sense of wonder within her. In the days that followed, she continued spending more time in nature and found herself grabbing her phone to capture the beauty and the inspiration her heart was experiencing. She likened it to a scavenger hunt for her soul.
Several years and hundreds of photos later, Kim was grateful that her soul began singing a new song. She developed Wonderhunt as a way to share the rejuvenating experience with others.
Why Wonderhunt?
Adultitis is a constant challenge. If you're feeling overwhelmed, distracted, or consumed by anxiety, if your heart is heavy or you find yourself in a rut, it's time to reawaken wonder!
How Do I Wonderhunt?
Commit to accomplishing the photo challenge at some point in your day. (No photography experience needed! It's just for fun!) As the day progresses, reflect on the "I Wonder" prompt and the photo you captured. Then, at the end of the day, we invite you to share your photo online, along with any thoughts or reflections on the challenge. Do this repeatedly for maximum results. ;)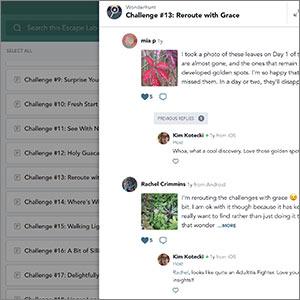 Access the FREE Online Experience!
To take things to the next level, you can join a private, supportive community to share your photos and thoughts about the challenges with fellow Adultitis Fighters. We'll cheer each other on, encouraging one another on this journey towards more inspired living to reawaken wonder, peace, and joy. Interested?

If you signed up for our 4-week text messaging course, being held October 4-29, 2021, you will receive a link to access the online community.

If you have the cards, fill out the form below!
---
Ready to Join the Wonderhunt Community?