Entertaining. Inspiring. Different.
"We have now worked with Kim and Jason twice – in both an in-person and a virtual format – and both times we were blown away! Their message of positivity, possibility, and perspective resonated with our diverse audience and left everyone with a pep in their step and a commitment to infuse more fun and play into their lives. We were especially impressed with Kim and Jason's ability to create a virtual format that was engaging and interactive. We can't wait to work with them again in the future!"

–Leila Thomas, Director of Development, Marbles Kids Museum
Many clients book the Escape Adulthood Virtual Experience as a standalone event. And with good reason: it's the ultimate antidote to virtual fatigue. (We all have a vast knowledge of how bad, banal, and boring online meetings can be.)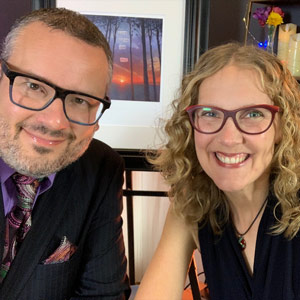 We will provide you with something DIFFERENT, an engaging experience that will have your people glued to their screens and still talking about weeks and months down the line. You get two for the price of one, as Jason is joined by his wife Kim, creating a refreshingly unique experience from their state-of-the-art video studio. Much more than your typical tired talking head, our interactive online programs are like a cold glass of water in a parched desert of blandness. They are energetic, fresh, and fast-paced.

When it comes to virtual experiences, the name of the game is engagement. With over twenty years of experience crafting keynote speeches, conferences, and other live events, the duo has created thousands of videos and hosted a weekly live show. They know how to create connections through stories, take people on a journey, and present information in compelling and sticky ways. Expertly produced with multiple cameras, dynamic graphics, sound effects, and video, our programs get – and keep – attention. Attendees feel a sense of belonging through lighthearted and meaningful interaction. It's a wonderful way to build community with your team while being apart.
"We SO enjoyed the lighthearted nature of Jason and Kim's presentation. It was the right amount of interactive, without folks feeling pressured to jump in. Instead they were encouraged to engage. This virtual event allowed us to be unplugged as a team and smile BIG. Thank you so much for lightening us up for a bit!"

-Jennifer Richmond, Executive Administrator, Capitol One
"Jason and Kim were really great and so easy to work with. I would love to work with them again in the future. Their shared energy in their presentation was amazing and so fun, time went by so fast because they were so engaging. Sometimes I dread attending trainings but not this time. They were an awesome boost and I will be sure to share their positivity and amazing ideas with my colleagues."

-Karla Mancini, Community Programs Director, Child Care Network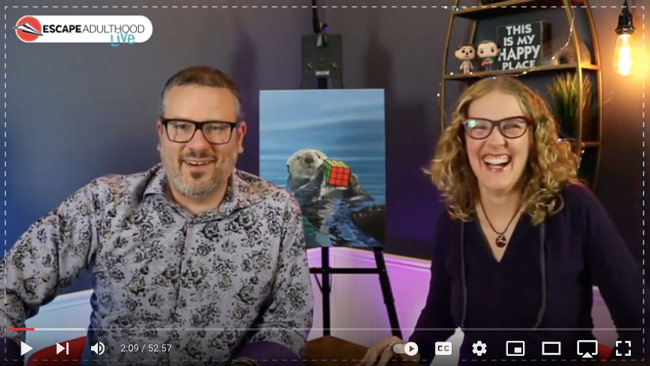 The Escape Adulthood Virtual Experience is ideal for organizations looking to maintain an active and vibrant conversation with their people while increasing morale, engagement, and resilient thinking in times of change.

As a result of this experience, your attendees will be…
armed with tools to maximize growth amidst change.
equipped to reduce stress and beat burnout.
energized to reclaim a passion for doing their best work.
empowered to develop more resiliency.
"I wouldn't change a thing! Both Jason & Kim were great to work with! The mood was light and fun. Thank you so much for doing your research and being so well prepared for this audience."

-Tina Sullivan, PHN Supervisor, Juneau County Health Department
Here's what makes our programs stand out: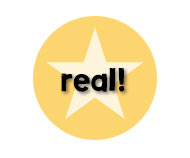 ⭐️ Original Talk Show Format.
Jason and his wife Kim are your hosts, which automatically creates a different vibe than your standard talking head. This down-to-earth conversational dynamic pulls people in and keeps them engaged. It's like watching a fun, hope-filled morning talk show, but with bonus layers of learning and interactivity. Their energy is refreshing and powerfully contagious.
---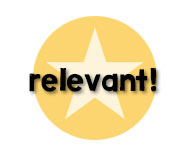 ⭐️ Customized to YOU.
We work hard to make sure each program is tailored to your unique culture and objectives. Our style features humor and entertainment expertly blended with practical, actionable content and easy-to-implement strategies. We include your logo, your language, and can even incorporate your leaders in a variety of ways.
---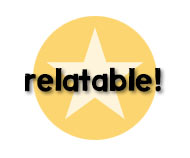 ⭐️ We Make Your People the STARS.
We love to further customize your program by including content from your people. We can highlight individual comments on-screen to share their insights and ideas with the whole group, as well as showcase photos of their accomplishments to empower them and deepen a sense of camaraderie.
---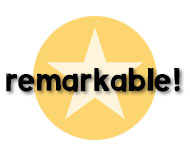 ⭐️ Unique Live Drawing Component.
As in his in-person presentations, Jason anchors his message with his distinctive artwork in order to deliver results that are memorable and meaningful. In addition, virtual attendees rave about a unique segment in which Jason provides a step-by-step drawing lesson tied to the central message. It's like Bob Ross meets Willy Wonka. Not only is it tons of fun, but it targets kinesthetic learners and helps crystallize the central theme so that it lasts long after the program is over.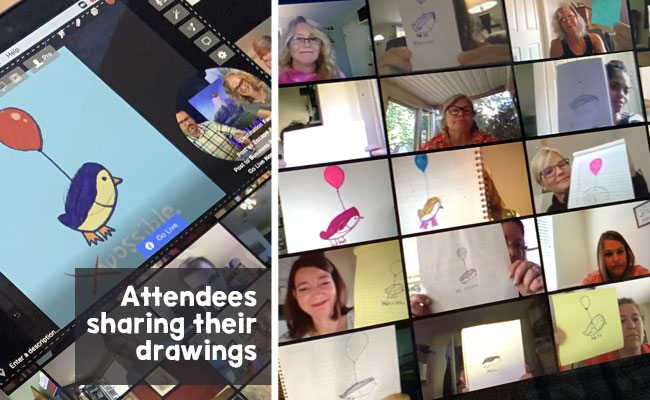 ---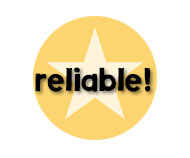 ⭐️ We Make Your Life EASY!
We are all about eliminating Adultitis and making things as easy as possible. After you schedule a call with us to talk about your specific objectives for the program, you can sit back and relax. No need to worry about wrangling an IT person or paying a tech support team to run anything. No worries about making sure everyone has the right software installed. We run everything privately through our website and the only software required is a humble web browser. We utilize top-of-the-line tools and operate with a reliable wired ethernet connection to ensure a high-quality experience. All you have to do is share a link with your people, tell them when to show up, and we'll do the heavy lifting, make you look like a hero!

Do you use Zoom, Microsoft Teams, or another virtual meeting platform? Not to worry – we can work with most solutions without any trouble!
The other overlooked benefit of a virtual experience? No big hotel contracts, food and beverage minimums, and no travel expenses!
"The message shared set a great tone of positivity and helped us remember our why. I think it helped to re-invigorate the 'passion' that some employees may have forgotten regarding their work. I think the messaging was spot-on for what our attendees needed at this point in time. It was a pleasure to work with both Jason and Kim. The booking process and prep ahead of the time was great."

-Betsy Braid, Educational Program Coordinator, Michigan State University Extension
---
How Can I Use This?
Even though the Escape Adulthood Virtual Experience is great on its own, it's even better when booked as a series of programs throughout the year or used as a pre-conference primer or post-event follow-up. If you really want to drive a message home with your people, this is the best way to go.

Here are a few options to consider:
A high-energy, engaging, and invigorating kick-off to your virtual conference.
An uplifting and heartfelt pick-me-up to accompany your required online meeting.
A refreshing membership or town hall meeting.
A pre-conference appetizer to get people fired up about your event.
A perfect way to end your online training on a high note, leaving attendees empowered, encouraged, and equipped for challenges ahead.
A series of follow-up programs after Jason has presented live to deepen the lasting effect of his message.
And don't forget to take full advantage of Jason's artistic skills. We love teaming up with creative, smart leaders who are eager to create enduring impact and change within their organizational culture. We are happy to fully equip you with license-free artwork to use in your promotional and follow-up communication to connect with your people in a meaningful and memorable way.
"Jason spoke at one of our conferences before, and he was just awesome, inspiring. Because of this, when we launched an online Zoom event during the COVID-19 crisis, when everyone needed a message about perspective and hope — and an entertaining speaker to deliver it — Jason was the first person that came to mind. He was as engaging online as he is in person."

–Adeline Lui, Director, Marketing and Communications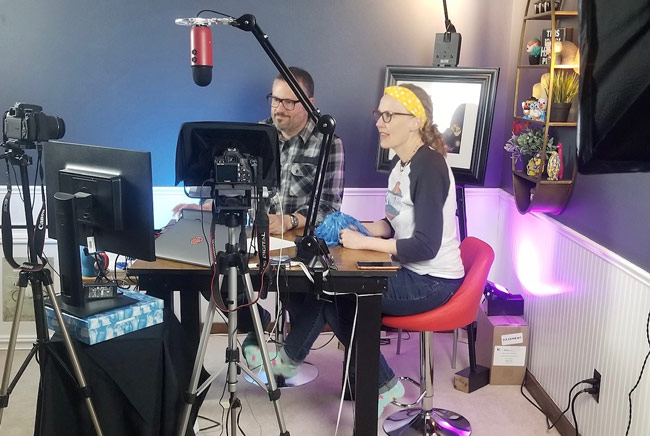 "Jason and Kim are true pros; great to work with! Your suggestions for 'Curing Adultitis' were life changing for me personally and I know they made a big impact on our attendees. This will leave a lasting impression on your attendees and leave them saying, 'Wow!'"

-Sarah Sorum, Vice President, Professional and Educational Services, Pharmacy Society of Wisconsin
Contact Us
Want to start talking about giving your people the Escape Adulthood Virtual Experience? Fill out this quick form and we'll get back to you right away!