Interested in having Jason speak to your group? Here's the nitty gritty…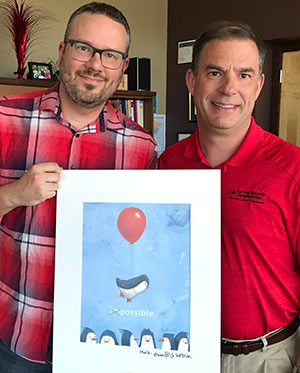 We want to create the perfect presentation for you and your organization. The dynamic, engaging, downright fun kind that participants can't wait to share with long-lost relatives and make you look like a hero. Drop us a line to talk about how we can put together something that will best meet your objectives and wow your crowd.
contact us
If you are interested in booking Jason to speak to your group, or have any questions, click here!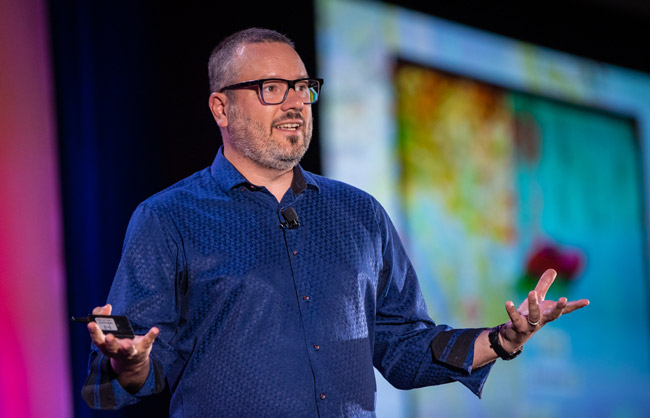 ---
jason's bio & introduction
For Jason's bio, click here.
Please email Kim to receive a customized introduction for your event.
---
a/v requirements

Jason will provide:
His Apple MacBook Pro running Keynote software and the adaptor for the Mac to your projector (with both a VGA and HDMI adapter)
Wireless Remote. Jason will advance his own slides.
You will provide:
LCD projection system (with backup bulb).
Screen(s) large enough for all to see (preferably off-center so that Jason will not be standing in front of the screen)
Microphone: 1st choice is lapel wireless. 2nd choice is a wireless handheld. (Jason prefers to avoid headsets.)
House sound (connecting Jason's laptop to the speaker system in the room, 3.5mm or 1/8" plug for audio to run out of the laptop).
In audiences of 200+, Jason recommends additional lighting on the stage.
Table for computer and projector. Jason doesn't use a podium or lectern. He requests that the table is located 10 feet in front of the stage, where he can place his laptop and connect to the projector.
That's it. A couple bottles of water would be nice, but it doesn't need to be imported from Timbuktu.
---
pre-program questionnaire
Once Jason has been hired for your event, we will provide you with a pre-program questionnaire in order to make sure that we have all of the nitty-gritty details in order. This will ensure that Jason will knock your socks off and make your attendees smile with delight.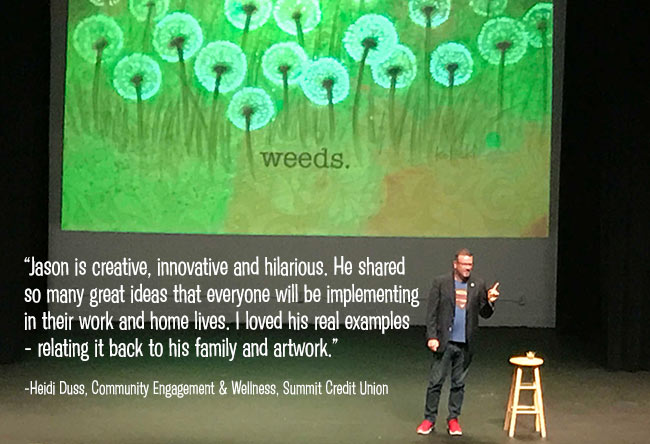 ---
---
promotion & themes

We're happy to assist you in promotion. When you hire Jason to speak you receive complimentary licensing of his artwork to be used in conjunction with your event. Print and online promotion has never been so easy and fun, giving your attendees the opportunity to experience his powerful artwork in advance of the presentation. This license grants the free use of Jason's images in any printed or electronic promotional materials that directly reference the event, such as invitations, postcards, brochures, fliers, signs, name tags and program booklets.
Clients have used Jason's artwork as the cover for their conference program, in social media campaigns, on large banners and posters, and even in the staging elements for larger events. Check out this awesome case study to get an idea of what's possible!
Also, door prizes and gifts to attendees featuring Jason's content and artwork can be purchased at a discounted bulk rate. Here are some popular options:
Check out more options on our store.
Contact Kim to brainstorm promotional opportunities leveraging Jason's uplifting artwork, tying in your theme and/or messaging.