Art is propaganda for what really matters." –Alain De Botton, philosopher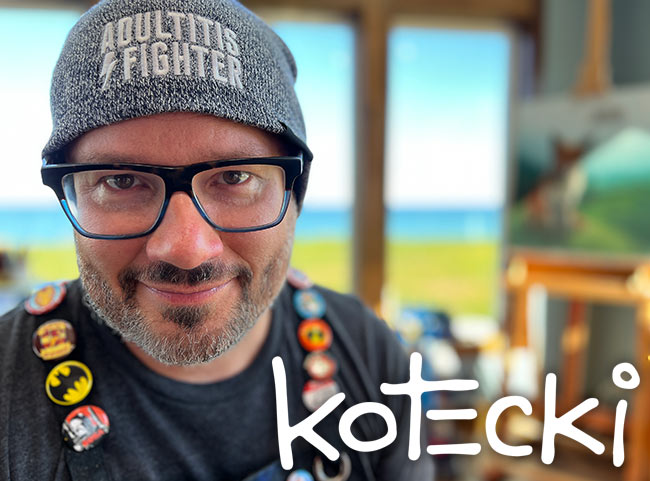 i like to think of my art as candy-coated whimsy sprinkled with profundity. My mission is to inspire, encourage, and entertain people. I see each work as a little reminder of something important, such as a feeling, a memory, or a great truth. It tends to be optimistic and happy, which works out ok, because our world is all stocked up on cynical.
I am inspired by pop culture, children, and the wisdom, wonder and nostalgia of childhood. I love alternating between analog media (real paintbrushes with oils, acrylics and colored pencils) and the digital realm, which includes Photoshop, a Cintiq display, and my trusty Mac. I love incorporating texture in order to add energy, depth, and humanity. My art is often colorful and sometimes humorous, but if I had to describe it in one word, it would be whimsy. I hope it brightens your day.

P.S. I regularly share my newest art in our weekly newsletter, and subscribers get access to art that I give away in the form of downloadable printables and wallpapers for various electronic devices. Sign up here!
---
behind the scenes


Studio Sneek Peek is a video series in which my wife Kim takes you behind the scenes of my studio and process. Check it out here!
Take a tour of Echo Base, Jason's art studio, maker space, and secret hideout overlooking Lake Michigan. 
---
own an original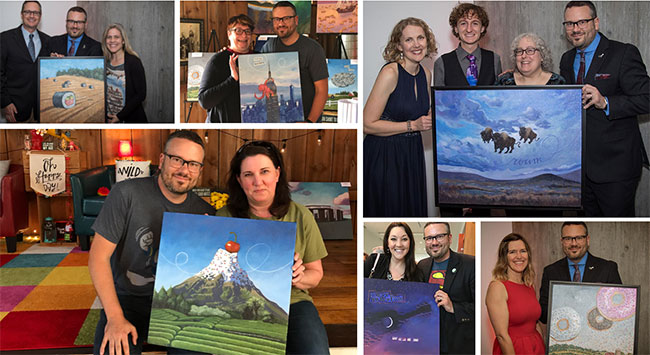 Own one of my original paintings!
Check availability here
.
---
portfolio
landscapes of whimsy
Enter a delightful world filled with surprise and magic, where scale is distorted and nonsense serves to inspire questions and challenge assumptions.
---
life's a zoo
This series features friendly animals representing various facets of the human condition, including joy, sorrow, hope, and love.
---
corona blessings
The Coronoavirus (COVID-19) pandemic of 2020 brought so much loss, pain, conflict, and confusion. Painting was great therapy for me, and although I was often feeling anxious and overwhelmed by all the feels, I was surprised to see the art emerging from my studio was filled with light, positivity and hope. These are the paintings that emerged from that time, reminders that many good things came from it that changed our world and our lives for the better.
---
living things
Inanimate objects spring to life and serve as mirthful messengers of encouragement and inspiration.
---
food at play
An entertaining collection of sweet and savory food that delivers delicious morsels of whimsy and wisdom.
---
music to my ears
Every piece in this collection was inspired by a song lyric. Sometimes the painting that emerges is in harmony with the message of the original song; sometimes it takes on a whole new meaning.
---
scratch that
A series that turns conventional wisdom upside down, suggesting that while it may be conventional, it's not always wise.
---
penguins
Cheerful and curious, the penguins represented in this series embody a spirit of optimism and unconventional thinking.
---
pop culture people
This exhibition features celebrities and important pop culture icons reimagined as nostalgic vintage Fisher Price Little People toys.
View the entire gallery.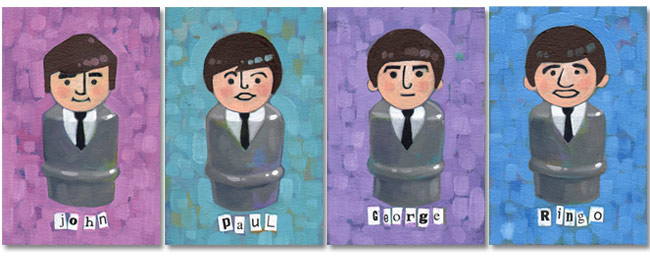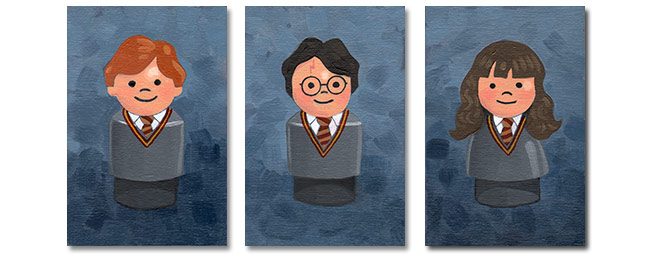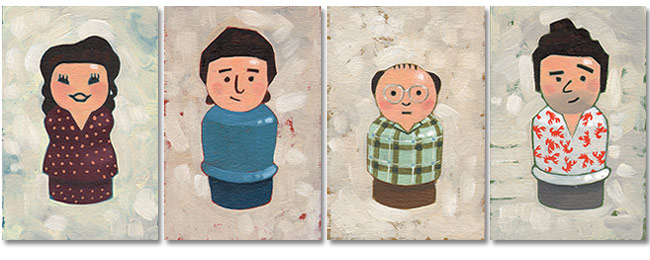 ---
best friends forever
A collection of winning combinations, an exploration of relationships, and how joining forces can make something greater than the sum of its parts.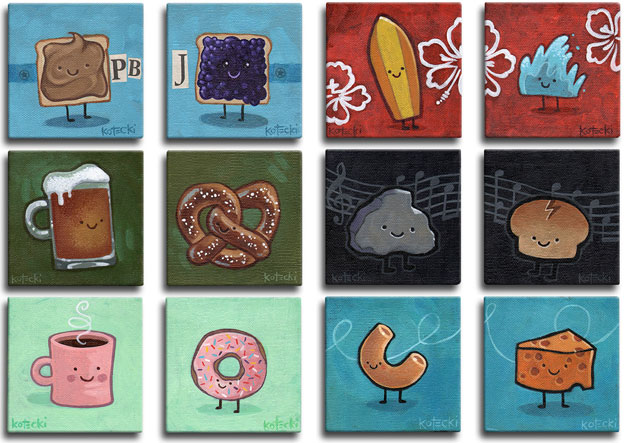 ---
You can also find Jason's art on Tumblr, Pinterest, Flickr, and Deviant Art.

Originals and prints are available at The Lemonade Stand, but you can order a print of almost anything in his ever-growing portfolio! Printed on archival quality paper with Epson UltraChrome K3 pigment ink, each print comes packaged in a protective plastic envelope, ready to frame. Just pick your size and let us know what art you want!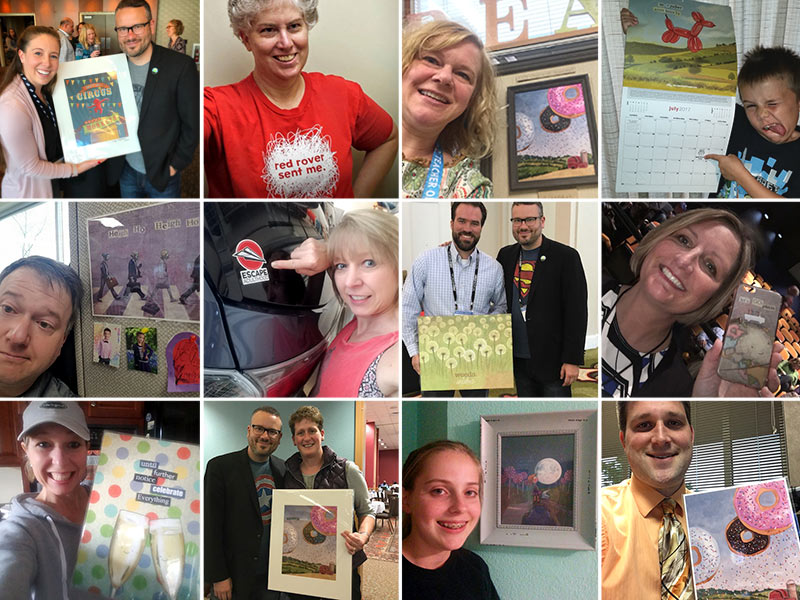 ---

influences
I love lots of artists! A few of my favorites include: Charles Schulz, Drew Struzan, Bill Watterson, J. C. Leyendecker, Norman Rockwell, Sam Butcher, Hugh MacLeod, Alfonse Mucha, Claude Monet, Michael Jantze, Mark Johns, and Scott C.
---
Kim & Jason is the comic strip that started it all. First published online in 2000, Kim & Jason ran for over six years on this web site and in a variety of publications around the world. In 2007, creator Jason Kotecki decided to retire the strip, electing to break free from the comic strip format and take the characters and their stories in new directions. Over the years, the lovable characters Jason created to win over his now wife Kim have taken on lives of their own, and they continue to delight and entertain readers worldwide.
Art Gallery | Cast | Comic FAQs | Comic Process | Publish K&J
kim & jason comic archive
Every single comic strip is now online for your enjoyment — 2,163 to be exact! Relive the adventures of Kim, Jason and Stinky via the comfort of your computer screen. Just select a year below to get started…
Select a Year: 2000 | 2001 | 2002 | 2003 | 2004 | 2005 | 2006 | 2007
---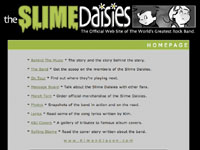 other goodies
The Band
Inspired by the big summer Hollywood blockbusters, this is the first "Epicsode" – an episode on steroids. The Band evolved into its own entity, complete with a nine-week story, animated Flash trailers, merchandising campaign and companion web site. It covers the rise and fall of the Slime Daisies, the world's greatest band (according to at least two people.)
---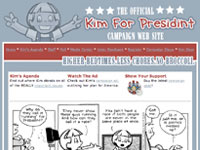 The Candidate
During the 2004 Presidential hooplah, Kim decided she would throw her hat into the ring and make a run for the White House. The Candidate is the Epicsode that resulted. Who would be her campaign manager? Her running mate? What issues would she run on? The mini-website features her agenda, a poll, campaign propaganda and more!
---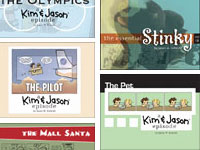 Kim & Jason eBooks
We've got a growing collection of classic Kim & Jason episodes, dusted off, painstakingly restored, and digitally remastered for your reading pleasure. Download 'em, print 'em, share 'em with friends!They can be purchased individually for a reasonable fee at the
Lemonade Stand
. Or download
Unfit for Syndication
– the FREE eBook featuring over 30 comic strips!
---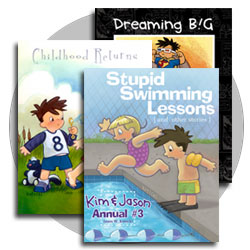 Kim & Jason Annuals
Read Kim & Jason on the go! You can purchase old fashioned printed books at the Lemonade Stand. Browse the selection.