a video series for organizations serious about keeping Adultitis on the sidelines
---
The Adultitis Interventions video series is a remarkable tool for organizations looking to beat burnout, become more innovative, and develop resiliency in the midst of change.
Each engaging video features Jason and his wife Kim sharing a short but powerful message, made sticky by Jason's colorful art and reinforced by discussion starters that spark intentional thinking. Add in a practical action step at the end and you've got an engine that empowers your people to become more passionate, productive, and profitable. Like Jason's keynote presentations, this video series combines the rarest blend of inspiration, entertainment, and education.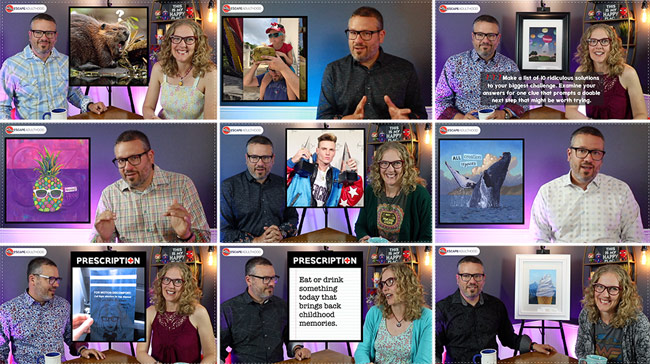 ✅ Organizations with smaller budgets utilize this video series as an affordable but effective alternative to one of Jason's custom programs.
✅ Others use it as a follow-up to his keynote presentation, powerfully reinforcing the message long after the event is over.
✅ It can also be used to build anticipation in advance of one of Jason's presentations, priming your people for lasting change.
Available as a 6-week, 12-week, or 26-week series, each 5- to 9-minute video features:
an important concept delivered by Jason in his warm and humorous style, reinforced by his whimsical art
a discussion question designed to prompt next-level thinking
a practical, actionable, and fun tip to annihilate Adultitis at home and work
Here's a look at the first video in the series:
Whether you include them in all-staff communications or play them during a team meeting, these videos are guaranteed to bring hope, inspiration, and positivity while delivering real-world results.

Contact Kim today to discuss licensing this powerful tool for your organization today!