Our featured fan is Chris Hinton, who was our March S.W.E.L.L. prize winner. He won a limited edition Cure Adultitis T-Shirt. Only a few of these were ever made, and his was signed by both Kim and Jason. Chris shared,
Thanks! Looking forward to the shirt arriving. The photo is of me having a fantastic time at a local racing circuit. One of the things I've always wanted to do, for as long as I can remember, is drive a racing car. My in-laws treated me to a day of driving for my Christmas a few years ago and I had the time of my life! Thanks for all you guys do!
• Hometown… I've moved houses often, so that's a toughie. I was born in Falkirk, pretty much in the centre of Scotland, but I count my home as Kirkwall, in the Orkney Islands.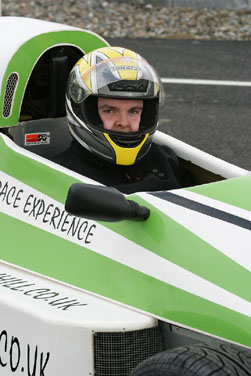 • My biggest dream… I'm married to a lovely woman, and we have a gorgeous baby daughter, so some of my biggest dreams are already being fulfilled. But if I had to choose something I would say my biggest dream is to go on a round the world trip and visit places I've only seen on TV, and meetup with some of the great people I've come into contact with through the internet.
• My inspiration… Is Jesus, who holds the highest influence in my life. I can't discount the inspiration of my parents, though, who brought me up to believe I could be whatever I wanted to be and taught me to enjoy being myself.
• When I was a kid, I… thought I would try riding down the stairs in a cardboard box but I didn't count on how steep they were. Before I knew it I had shot down them and hit the front door! It's still one of the funniest memories myself, my sister, and my parents share about when I was little. Oh, and for some reason, when I was a kid I wanted to be a garbage man when I grew up!
• One way I stay childlike is… Having a baby daughter means I get to play with loads of great toys, which keeps me childlike. It's hard to take yourself too seriously when you're playing with things meant for a 6-month old, and you realize she's been asleep for half an hour while you carried on playing.
• What I know so far… is that relationships take effort, and that if I want to enjoy deep friendships I need to take the time to cultivate them. That means that there will be times when I need to prioritize "social" time above "work" time.
• My favorite thing about "Kim & Jason" is… The podcasts! I love being able to hear Kim and Jason's energy, and I love the breadth of thought that comes from the guests.