This week's Escape Plan challenge (aka our Tip of the Week) is: #13: Backyard Adventurer: Spend ten minutes doing something outside that you have never done before.
As a kid I spent most of my summer vacation outside. All it took was a simple prop and I would be inspired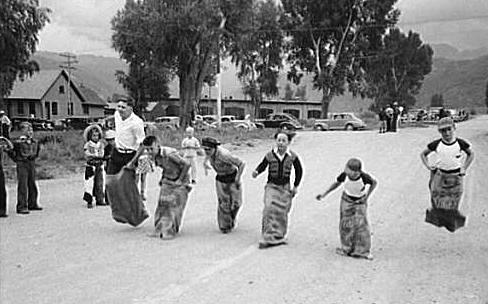 for hours and hours, engaged in imaginative fun. For instance, one time my sister and I found two potato sacks in our garage… two hours later our front yard was adorned with an elaborate obstacle course. Of course, one of the many elements happened to be a potato sack race. I'll never forget the scratchiness of the bag against my legs.
Another time my mom gave me an empty jar with holes in the lid. For the next few days I was quite the insect explorer- catch and release style, inspecting my finds in the peanut butter jar with my dad's magnifying glass. Usually my "props", as I call them, were quite trivial and almost always on their way to the garbage – like the refrigerator box or an everyday egg carton.
Think about the last few things you did outside?
My guess is many of you are recalling common chores like mowing, pulling weeds, or washing your car. We're asking for ten minutes this week. The kicker is that is has to be something you've never done before. If you need a "prop" to get you started, try exploring your basement or garage… or your local dollar store. We can all be inspired by the way Jason's dad, Walt, accomplished this challenge a few years ago. If you haven't read his story in the comments yet about shooting free-throws with a football, I highly recommend it, as it will definitely get you thinking in a childlike way.
Leave us a comment on the Escape Plan Blog to tell us what you tried outside for the first time this week.