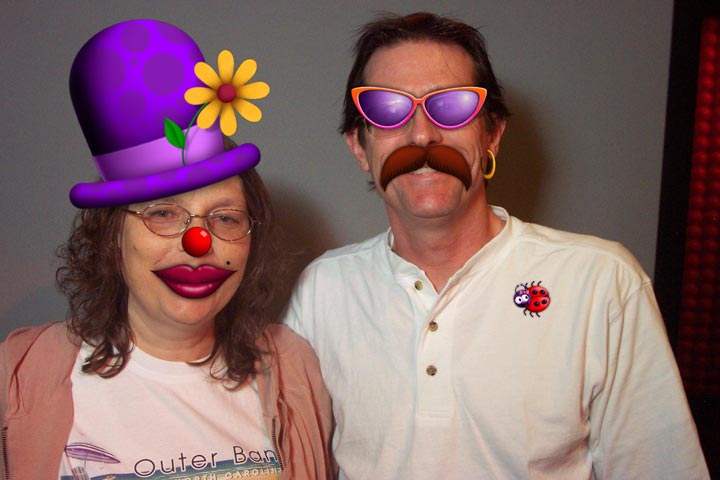 Our featured fan is Jenny Lewis. Jenny shared,
This picture is my husband Chuck and me at Epcot on our Disney vacation.
• Hometown… Lake Wylie SC, although I was born and raised on the coast of Virginia.
• My biggest dream…To own/open a game store. Where folks, families could come in, sit at a table and play a game together, laugh and have fun. I would also host tournaments and promote family togetherness and well as having fun!
• My inspiration… My great-great-great-grandmother. Although, I never met her, I admire the strength and courage she showed. She was born in Germany in 1835. She had 15 children. She also saw a number of them die before the age of 10. Having lost a child of my own, I know the heartbreak of losing a child. I can't imagine losing more than that. Her family came to America in the 1870's. There she and her family had to literally carve a life from the wilderness. Life was extremely tough. They first lived in a one-room cabin. It was smaller than my living room. (Now image all those kids!)
I can't fathom the hardships that woman went through in her life. However, I do know that her children loved her dearly. She inspired each one to do their best. I think she also had a great sense of humor. One of her sons wrote a very moving poem that is engraved on a large monument at her grave site. That poem spoke of her qualities as a mother and friend. It is from that poem that I gain a sense of her. While I have been through very trying times in my life, I try to put it into perspective based on her life. How little I have struggled, how little I have suffered. If she can pick herself up each day, put on a smile, and do what needs to be done without complaint, so can I. Well… maybe with a little whine every now and then.
• When I was a kid, I… thought 30 was old… really old. I often thought about how old I would be in the year 2000. (39!) I believed that I would be ancient. I vowed that I would not grow old. In a way, I really haven't strayed much from that vow. I still love the innocence of childhood and I try to capture it as much as possible.
• One way I stay childlike is… I enjoy watching "G" movies. I hate PG and R movies. They skew my view of things that are bad. They make me more tolerant. G movies spell it out more simply. Good is right, bad is wrong. I also love the Disney channel and Saturday cartoons (although I admit, l like the older ones like Smurfs, Jonny Quest, and Underdog. My personal favorite – Davey & Goliath!)
I love to play games and laugh at silly jokes. I also play Disney songs on my MP3. I refuse to move all the way into the world of adult media. I can't think of a more sad thing to do than to never watch, listen, sing or play anything but adult stuff. I love to day dream. I still like to pretend that I am kid rock star or the princess at the ball. How much fun can you have pretending to be the CEO of a multi-billion dollar corp?
• What I know so far… is that life is too short to worry about stuff that has already happened or yet to happen. Sure it is good to plan for tomorrow, but to spend time fretting about it and not living for today is a waste. Time it seems is shorter than ever these days. When I was a kid, it seemed that time almost stood still. How I long for those days. Your life is what you, I repeat you, make of it. If your life isn't what you dreamed it would be, it isn't anyone else's fault. Maybe some dreams won't come true, that doesn't mean you give up completely. Maybe you need to compromise. Make a few changes that are achievable and go for it. You never know, you may just make that great dream come true after all.
• My favorite things about "Kim & Jason" is… finding others who have the same need to view the world through play-dough-colored glasses. I love that I can say that I am not the only one. I rate Kim & Jason up there with chocolate pudding, banana popsicles, and a good round of tag!