Our featured fan is Oscar Pinto. Oscar shares,
The two images are of me blowing bubbles for my son, Marcus.
• My hometown is… Mumbai, India, but I currently live in Hackensack, NJ.
• My biggest dream… is for my wife and son to always be happy. I'd also like to one day move closer to the Midwest where my wife's family lives.
• My inspiration… is my mom, who supported me so much in life and did all she could to make sure I had a great education.
• When I was a kid, I… wanted to be a professional cricket player.
•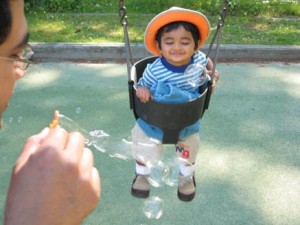 One way I stay childlike is… making my son laugh. He loves bubbles, so I spend a lot of time blowing bubbles for him to pop.

• What I know so far is… to appreciate what you have and to not think the grass is greener on the other side.
• My favorite thing about "Kim and Jason" is… the Lemonade Stand. It makes me feel good knowing a percentage of the purchase price goes to charity.