Thanks to Tinye Harding for sharing yet another fun story and recipe from childhood! Tinye wrote…
When my brother and I were kids I remember my mom making a cake called Coca Cola Cake. As a child, that amazed me that an adult would come up with such a wonderful cake. To my childlike imagination it sounded like something from Willie Wonka's Chocolate Factory!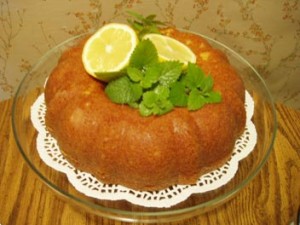 Recently I found a Paula Dean version of a similar cake called Mt. Dew Cake. My sons love it. Mt. Dew is their favorite "kick start" beverage, much like my first cup of coffee in the morning. Having that soda and the sugar from the cake really gives them a sugar/caffeine high. I really like the lemony flavor.
Here is the recipe and a picture I took of the first of many Mt. Dew cakes I have made.
Mountain Dew Cake
1 Lemon Cake Mix (store brand – cheap!)
1 Box Instant Lemon Pudding (store brand – cheap!)
3/4 cup vegetable oil (cheapest brand and smallest bottle I could find.)
4 Large eggs (you can buy a dozen at most stores) *
1 can Mt. Dew Soda Pop
* If you only have medium eggs just use 5 instead of 4.
Preheat oven to 325 degrees.
Lightly grease and flour cake pan. **
(I used bunt pan, but a 10"x 13" would work also.)
** You could use about 2 tsp vegetable oil or margarine and 1 Tbl. cake mix.
Mix all ingredients thoroughly (no dry bits) and pour into cake pan.
Bake 45 minutes or until toothpick comes out with no crumbs.
Let it cool 10 minutes after you remove it from the oven.
ENJOY!