Our featured fan is Steven Sauke. Steve shares,
The picture of me standing next to a statue of a thumb was taken in Honfleur, France… right on the mouth of the Seine.
• My hometown is… Do you want the whole list? :) I live just north of Seattle right now, although I was born in Missoula, Montana, and have lived in Hong Kong; Manila, Philippines; and several towns/cities in Washington State.
• My biggest dream… is to live in France. I feel that God is calling me to minister there someday, although I don't yet know what kind of ministry that would be. I would also like to record a CD someday… I love singing.
• My inspiration… definitely Kim and Jason… Hey, what's this brown stuff on my nose? Weird. One of my biggest heroes is my grandpa. He fought in WW2, and then came home and raised a family of 5 on a pastor's salary, moving around Alberta, Montana, North Dakota and Washington. The way he has defended our country and lived as a great man of God is truly inspiring. I want to be like him when I grow up.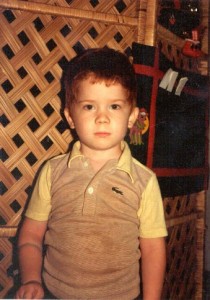 • When I was a kid, I… What's this "was" business? I still am a kid! That Christmas song tells about "kids from 1 to 92", and I'm definitely between those ages. :) I grew up as a missionary kid, so I had a rather unusual and exciting childhood. Perhaps one of the most unusual injuries I had was when I was was attacked by a monkey (I like to use the word "mauled" when I'm playing that "2 truths and a lie" game… and I think "mauled" is an appropriate word). Since they don't have snow in the Philippines, I especially enjoyed sledding and making snowmen when we were back in the States.
• One way I stay childlike is… coming to kimandjason.com, of course! :) I like to make puns a lot. I get a lot of joy out of making people groan.
• What I know so far… God is good, and that's a huge understatement.
• My favorite things about "Kim & Jason" is… raindrops on roses and whiskers on kittens…oh wait… The cartoons make me laugh, and the articles are really fun to read. I also enjoy the podcasts and the videos and the Lemonade Stand… and the fact that the last time I ordered from the Lemonade Stand, the delivery person left the box on its side so that the cartoon on the side was facing up. I also enjoy the bubble wrap in the Lemonade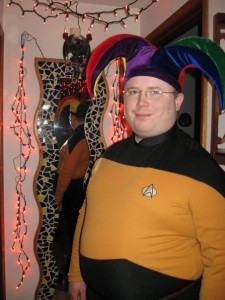 Stand deliveries. One of the pictures is of me wearing my jester hat that I got from the LS. You can't see it in the picture, but I was also wearing my Mixter Max socks and the little skull ring that came in the little prize egg in the box with the jester hat. Oh, and my duck slippers.
(OK, so in case you're wondering, I was a crewmember of the Starship Enterprise, and we went on a mission to a medieval castle. Unfortunately, a Borg snuck on the ship and succeeded in assimilating the real jester. We had to send the jester back to the Enterprise to be un-Borged, and so I was the substitute jester in the meantime.)