In an article in the January 2009 issue of Woman's Day magazine entitled "Ring In The New You," Kim shares some Adultitis-fighting advice with readers.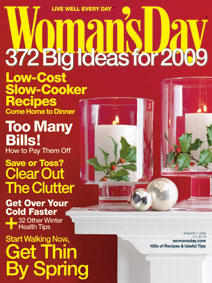 "When I taught kindergarten the kids would make up holidays, like the 100th day of school, and we'd have cupcakes," says Kim Kotecki, coauthor of The Escape Plan: A 40-Day Plan to Annihilate the Adultitis in Your Life. Do the same: Cheer because it's a sunny day. Have a cupcake just because it's Wednesday.
Read all the other great ideas here.
That's the scoop! ~Jenna :)