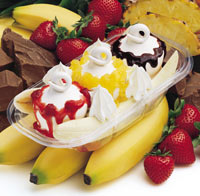 Banana splits were a real treat from childhood. They certainly weren't an everyday snack. Turn them into smoothies, however, and you can have one every day and it transforms into a healthy choice. Woo hoo!
Ingredients:
• 2 bananas
• 8 oz. crushed pineapple, drained
• 1 1/4 cup of milk
• 1/2 cup of unsweetened strawberries (frozen or fresh)
• 2 tbs. honey
• 6 ice cubes
Garnish
whipped topping
chocolate syrup
maraschino cherries
Preparation
Combine bananas, pineapple, milk, strawberries and honey in a blender. Blend until smooth, no lumps. Start adding ice slowly and blending until slushy. Pour into large glasses, preferably chilled then garnish with whipped topping, chocolate syrup, and maraschino cherries. The perfect banana split in a glass.
[Hat tip to smoothieweb.com]