Viddler blogger Derek is a connoisseur of online video content. He shares high praise for The EA Show:
This is where The Escape Adulthood Show comes in! Colin (our Technology Evangelist) recently told me about the show and I love it! Kim and Jason are out helping grown-ups of all ages to slow down and Escape Adulthood.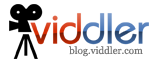 Check out his full post and see other referrals for great online TV viewing.
Thanks for including us among your favs Derek! ~Jenna :)