One last tidbit to share with you from my interview with Jason from last week:
Don't forget to follow us on Twitter or become a Kim & Jason Facebook fan. All the cool kids are doing it.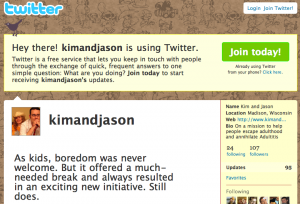 There are lots of fun ideas and insight on the kimandjason Twitter feed. Start following today to get little Adultitis fighting tweets.
Kim and Jason mentioned Facebook in this week's episode of the Escape Adulthood Show. There are often great extras on our Kim & Jason page including Lucy photos and Lemonade Stand info. Become a fan and get some inside information.