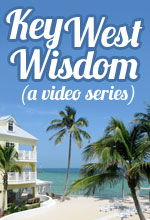 We recently celebrated our 10th wedding anniversary in Key West, Florida. With the little one in excellent hands back home, we had a chance for some good old-fashioned doin' nothing.
While soaking up some rays and enjoying the surf, we were hit with some bits of wisdom regarding stressing less and having more fun. So we decided to create a six-part video series sharing some of the thoughts we had while we were in a Key West state of mind. In this tip, I explain a little known superpower called anonymity, and why life gets better once you embrace it.
Sign up to receive our free newsletter to get regular reminders and tips for stressing less and having more fun. Consider it a well-deserved jolt of happiness for your inbox.