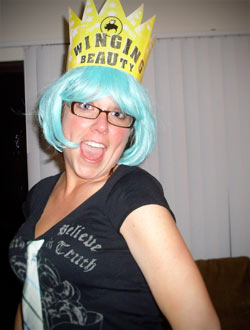 Kim & Jason Nation is a playful group of rebels who share a joyful, indomitable childlike spirit and are not afraid to let that spirit come out to play! They're united by a common goal of fighting Adultitis and the doo-doo heads who embrace its ideals. Quite frankly, they're pretty much the coolest people on the planet. Here's one right now…
• My hometown is… La Crescent, Minnesota
• My biggest dream…to raise my boys to grow up to be wonderful men, remembering their inner child of course.
• My inspiration… is my mom. I look up to her every day for raising me and my brothers on her own for so long and always putting us first.
• When I was a kid, I… was allowed to be a kid. I remember playing outside until dark and sometimes even after dark. I may not have had the newest and latest, but I have memories that will be with me forever.
• One way I stay childlike is… taking great advice from Kim and Jason and remembering not to take myself so seriously.
• What I know so far… life is short and you need to cherish every minute that you are blessed to have.
• My favorite things about "Kim & Jason" is… that it's ok to try things and have fun!
We saved a space just for YOU in Kim & Jason Nation — join the small rebellion and sign up to become a K&J Insider today!