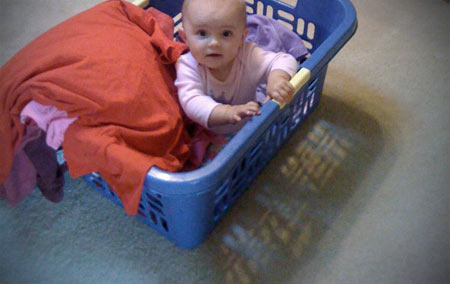 July 3, 2009: Okay, we're a few days shy of seven months as parents. I feel guilty even typing this, because I love Lucy so very much, but I am a bit overwhelmed right now with the 24-7 aspect of parenthood. During pregnancy we got A LOT of advice from people warning us to have fun, take naps, and go to movies before the baby came. Their tone indicated that our life would be over once the bundle of busyness arrived. Upon hearing these remarks I remember being a bit confused, thinking, "We will still make the time for fun things, even with a baby."
Now, I believe that both sides have truth. The reality of 24-7 hits you fast; and by the time you know it, it's been two months since you had a free moment just for yourself – and I'm not counting going to the bathroom. I play peek-a-boo out the shower door, to keep Lucy entertained long enough to rinse the conditioner out of my long locks. Even as I type this, I am pumping milk for her; and she is sitting next to me grabbing at the keys and the tubes of my mommy cow machine. Yikes.
The days of bubble baths and reading in the evenings seem like a distant memory. Right now, as silly as it sounds, the thing I long for the most is a haircut. So, what do you do about it? Well, you have to have some hard, honest conversations with your parenting partner about giving each other what you need. It doesn't do baby any good if you're resenting her because you are a month overdue on a haircut. Whether it's hiring a babysitter for a night out or sneaking away for a Saturday-morning massage, treating yourself to some "me-time" every once in a while is just as important as food and water.
* * * * *
This post is an excerpt from our new book, Just You Wait, a collection of insightful, humorous, and totally unvarnished journal entries detailing our adventures in fighting Adultitis as first-time parents. Parents of all sorts – and especially first-timers – will enjoy the honest look at the roller coaster ride that is parenting. Buy it now!