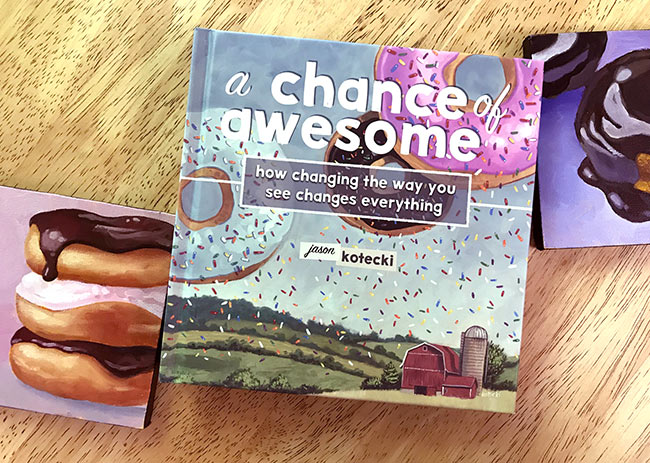 Sometimes in life, you just feel … stuck.
When you're stumped by a seemingly unsolvable challenge, sometimes all you need is a little nudge from an outsider with a fresh perspective, someone who points out the answer that was there the whole time.
This book is that little nudge.
If you're feeling discouraged, lost, or maybe even hopeless, this book is the spark you need to see the opportunity you've been missing and the inspiration to grab it.
One of Adultitis's best tricks is to affect your vision so you see problems as road blocks, risks as reasons to stay put, and dead ends as endings. The most successful people in life and business see opportunities that others miss. This book argues that it's not a talent; it's a habit. The difference between success and failure is not luck; it's about looking at your world in a whole new way. This book will help you do that.
Changing the way you see changes everything.
And increases your chances of awesome.
This gorgeous 240-page full-color book is bursting with Jason's whimsical artwork, which beautifully illustrates his witty anecdotes and wise insights. Featuring a hard cover with a spot gloss finish, this thoughtfully-crafted gem is sure to make a statement, whether it's as a gift or an inviting presence on your coffee table.

---
special packages!
A Chance of Awesome will be released on August 8, 2019. If you pre-order it now, your copy will be signed by Jason and you'll be automatically entered to win this sharp 20″ x 20″ framed canvas reproduction of the art on the cover!
We also have two limited edition packages that include some sweet bonuses for those who are interested in buying a bunch of books to share with friends, employees, donors, or clients…
The Baker's Dozen (only 250 available)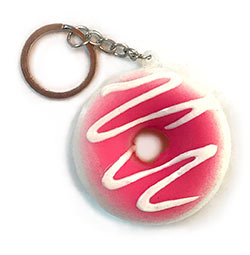 13 autographed books (1 free!)
Chance to win a 20″ x 20″ framed canvas of the cover art
Exclusive doughnut keychain
Limited edition 5″ x 5″ canvas mini of your choice

---
Fab Four Dozen (only 15 available)
48 autographed books (with a 20% discount)
Chance to win a 20″ x 20″ framed canvas of the cover art
Exclusive doughnut keychain
Limited edition 5″ x 5″ canvas mini of your choice
One original doughnut oil painting by Jason with display easel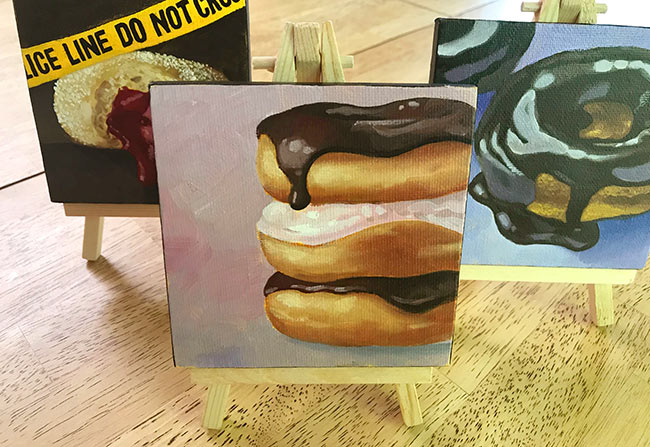 (Wondering what you'd do with extra copies of A Chance of Awesome? Here are some ideas.)
---
About the Author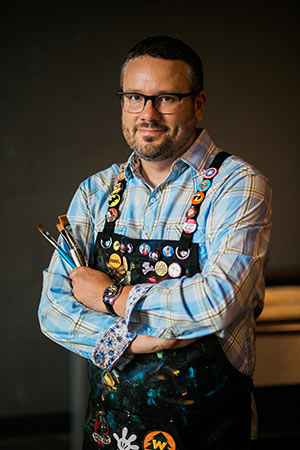 Jason Kotecki is a professional reminder-er and permission granter who moonlights as an artist, author and professional speaker. Jason and his wife Kim have made it their mission in life to help people and organizations break free from Adultitis to build better lives, businesses, and teams.

Jason's colorful art has been collected and licensed all over the world, and his insights have been featured in publications like Inc. and Woman s Day. He is the author of six books, including Penguins Can't Fly + 39 Other Rules That Don't Exist, which has been translated into languages he can't even read.

As a speaker, Jason works with organizations to beat burnout and become more innovative by breaking rules that don't exist. He is recognized by the National Speakers Association as a Certified Speaking Professional® (CSP). Only the top 10% of speakers in the world have this designation, which is the profession's highest earned international measure of platform competence, ethical standards, and proven track record of expertise and excellence.

Ultimately, Jason creates art, observations, and experiences that give people hope and the freedom to live joyfully. His greatest desire is to use his talents to share God's love and impact lives by inspiring, entertaining and encouraging people to rekindle their childlike spirit and create the life they were made for.

An avid eater of sugar-laden cereal, Jason enjoys Star Wars, soft t-shirts, and brand new tubes of paint. He and Kim homeschool their three weird kids and live in Madison, Wisconsin where they eat way too many cheese curds.