Welcome to Echo Base, my art studio, maker space, and secret hideout overlooking Lake Michigan. It's where I go to slow down, be quiet, and listen to God. It serves many purposes – it's my favorite place to sketch, brainstorm, write, paint, and design cool things – but it's basically my creative base of operations where I receive light and reflect it into a dark world.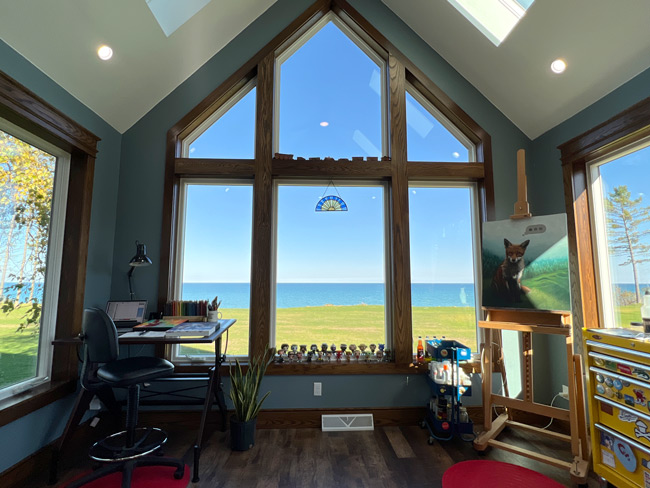 Every artist has a dream studio.
It might be an expansive loft with high ceilings in the warehouse district, a cozy enclave of dedicated space in a spare bedroom, or for plein air painters, a sun-drenched vista in Tuscany.
Most make do with what they have – the edge of a kitchen table, a spare closet stuffed with a small desk, or the corner of a bedroom – until they can level up to a place that started in the imagination as the ultimate place for art making.
I've been drawing my whole life, but it got serious when I bought my first drawing table in high school. I don't remember how much it cost, but it felt like it was the down payment on a house, the biggest investment I'd ever made in myself. I set it up in the corner of my bedroom, next to a poster of Michael Jordan, and it was settled: I was officially an artist.
That art table followed me to college, stuffed in the corner of my dorm room, and then on to Madison when Kim and I got married, where it found a home in the second bedroom of our apartment.
For as long as I can remember, my dream studio has been a light-filled escape with a lake view. I imagined banks of windows to welcome the sun, with lots of open space to sketch, paint and design cool things, with a vibe that was all my own.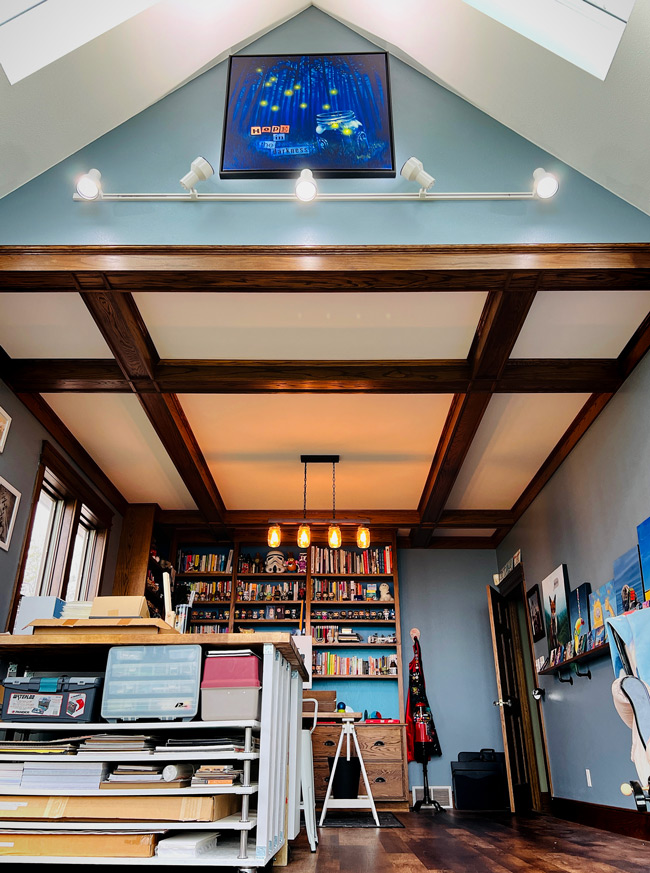 It took twenty-five years for the dream to materialize, and during that time, I waffled between doubling down on my vision and trying to convince myself that it was a stupid one, or at least outdated and irrelevant; a relic of a foolish young man who dreamed dreams too big for him.
And then finally, in the midst of a global pandemic, the dream house materialized in remarkable fashion. (I tell that story here.) Perched on a bluff overlooking Lake Michigan, the home we found was perfect in almost every way. Except for the studio, because weirdly, most people don't build expansive light-filled artist studios into the floor plan.
But it did have an office with room to expand. It looked more like the home base of an accountant than an artist – hunter green carpet, big wooden desk, the only thing missing was the accompanying green visor – but to me that just made the ultimate transformation more radical and the story better.

My Dad helped me draw up some plans to get the ball rolling. Between finding a contractor, completing a land survey, getting permits, ordering the materials, and actually building the darn thing, the process took well over a year.
It was worth the wait.

---
Take the tour…