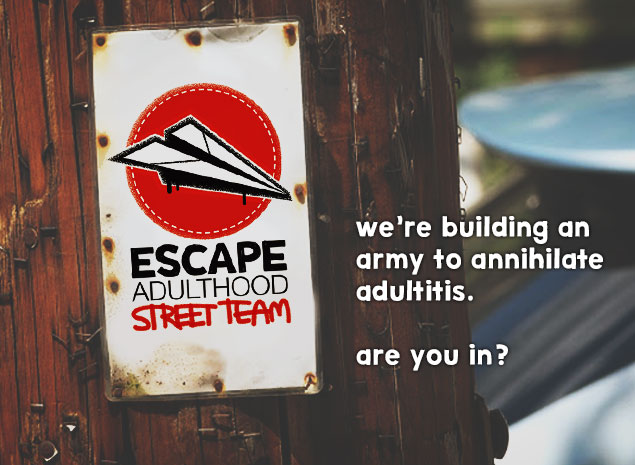 Adultitis is an enemy of epic proportions. We've dedicated our lives to annihilating this evil epidemic, but we can't do it alone. We need a team of Adultitis Fighters.
We need YOU.
The Escape Adulthood Street Team was created to leverage the awesome power of an elite group of remarkable people. It's a volunteer army made up of individuals instilled with the soaring spirit of childhood who know that we can accomplish more together than we ever could alone.
Perhaps you have what it takes to join the ranks.
As an Escape Adulthood Street Teamer, you will work with Kim and Jason and other Street Teamers on special behind-the-scenes projects. What kind of projects, you ask? The secret kind, of course. But like any good small rebellion, these projects will be humble in manner but mighty in impact.
We are looking for people who are creative, dependable, and good teammates. Although being extroverted is NOT a requirement, the best candidates are passionate about this cause and enjoy sharing cool things with others. The time commitment required is perhaps an hour or two a month. Plan on it being the best kind of work.
Not only will we have fun together, but we'll also share in the rewarding feeling that comes from making the world a better place by kicking Adultitis in the keister.
Think you have what it takes to be an Escape Adulthood Street Teamer? Fill out the application form below! Let's do this.