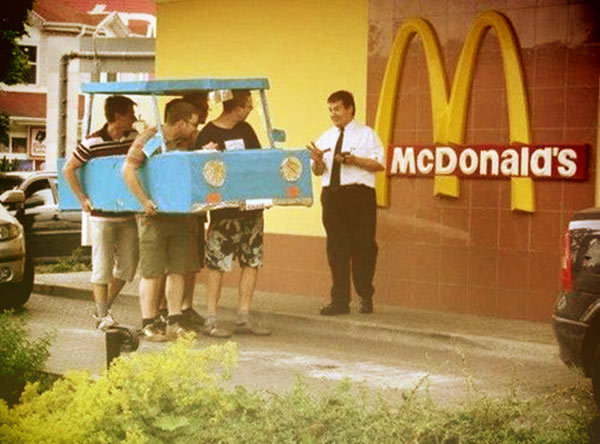 So here's what I want to know. Is the guy in the white shirt another customer asking to take their picture to show people at work? Or is it the manager from McDonald's? And if the latter, is he saying, "You guys are hilariously creative! How about we treat you to four Happy Meals?" or "We have an Adultitis-ridden policy against fun and that's why I have to tell you to leave the premises immediately."
Just wondering.
While this is a fairly elaborate stunt, here are a few other things you can do next time you're at McDonald's:
Order a hamburger with cheese. If they say, "Do you mean a cheeseburger?" calmly and politely say, "No, I want a hamburger with cheese." (Alternate: Order a cheeseburger without the cheese.)
Talk in a phony accent to the person taking your order.
Have someone in the car get out and direct you through the drive-thru is if he or she is parking an airplane at a gate. Take it to another level at night with a flashlight in each hand.
Order from the drive-thru and ask them nicely if they could make it "to-go." Repeat it several times throughout your order.
Two words: Sticky Cup.
Do you have any other fun drive-thru ideas to share?