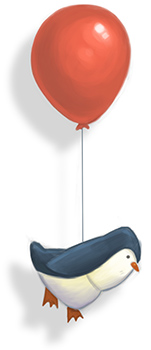 Not the kind of rules about taxes and speed limits, but the ones that keep you from living a life of awesome.
We are constantly bombarded with rules that don't exist:
• Thou shalt not eat dessert first.
• Thou shalt color inside the lines.
• Thou shalt hate Mondays.
They're stressing you out, sapping your energy, and keeping you from living your best life. Penguins Can't Fly by Jason Kotecki is a book for adults that uncovers 40 of the most useless of these so-called rules. It explores some small but mighty actions you can take to turn your life into the fun, adventurous and exciting story you deserve. This beautiful 240-page hardcover work of art is a magical combination of his whimsical illustrations, humorous wit, and poignant anecdotes.
It's time to stop living by someone else's rules.
"In order to innovate you have to break some rules. And if you want to have a great life, you need to create a widely diversified portfolio of unforgettable memories. Jason Kotecki's new book Penguins Can't Fly will help you do both."
-Daniel Burrus, Author of The New York Times best seller, Flash Foresight
bonuses!
"Penguins Can't Fly" now and get rad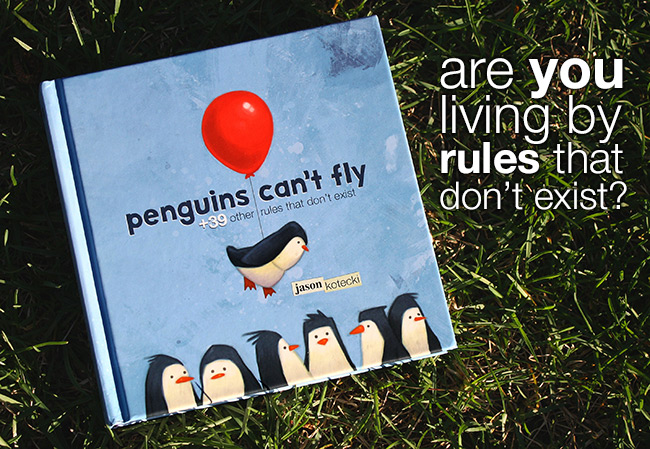 About the book
Life is supposed to be fun. We knew this instinctively as kids, but somehow forgot on the way to adulthood. We got busy and overwhelmed, started valuing things that don't matter, and learned to follow a ton of so-called rules:
Hate Mondays
Only celebrate when the calendar gives you permission
Don't make a mess
Don't play hookey
Hide your weirdness
Hide your wrinkles
Care what other people think
Following these rules is a terrific way to stress you out, sap your energy, and ensure a boring life. But there's a better way. In this enlightening and beautiful full-color book, author and artist Jason Kotecki uncovers some of the most useless rules so you can shift perspective and start seeing the world with wonder once again.
It's time to stop living by someone else's rules. Your life is a story, and a short one at that. Discover what small but mighty actions you can take today to turn your life into the fun, adventurous and exciting story you deserve.
"Penguins Can't Fly" has a 5-Star Rating on Amazon.com…

"The thinking that goes into Jason's work—his art, his words, his imagination—is touching at a level that most people hoping to make a positive difference in the world only dream about." –Matthew Gartland

"Jason wrote the perfect book." –Chris Clarke-Epstein

"Brilliant art and playful writing." – P. Maurer

"It's funny and fascinating." –J. Petz, Author, Boring Meetings Suck

"I like this book so much I bought a case to send to clients!" –Laurie J. Guest

"A book you truly have to see to believe. It's everything a self-help book should be, and so, so much more!" –Michelle

"A magically whimsical self-help guide." – Aron Row

"Filled with reasonable rules that if you break, can lead you to live a remarkable life." –Philip Gerbyshak

"Slaps conventional wisdom in the face with a codfish." –M. Eickemeyer

---
How to order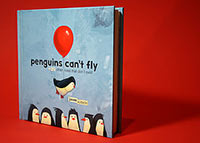 Penguins Can't Fly is available at The Escape Adulthood Lemonade Stand, as well as any of the fine retailers below, and wherever books are sold. Regardless of where you buy it, if you email a copy of your receipt to penguins@escapeadulthood.com, we'll send you a link to a top secret page where you can get some free digital bonuses!

Wondering what you'd do with extra copies of Penguins Can't Fly? Here are some ideas.
---
Sweet Bonuses
Regardless of where you order the book, if you email a copy of your receipt to penguins@escapeadulthood.com, we'll send you a link to a top secret page where you can download some awesome stuff:

| | |
| --- | --- |
| | |
| Penguins Can't Fly Extended Cut: A special ebook containing five bonus rules that didn't make the original cut but probably should have. | Permission to Break the Rules Coupon Book: This hilarious yet handy coupon book provides the nudge you need to break some of the most common rules that don't exist. |
| | |
| Once Upon a Time Video: Access to a 70-minute presentation from Jason about Adultitis, the rules that don't exist, and simple tips for living a better story. | Digital Wallpaper: Spruce up your favorite digital doohickey with some official wallpaper featuring art from the book's cover. Specially formatted for a variety of devices! |
---
About the author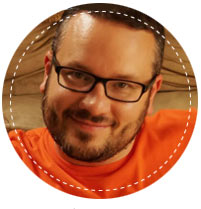 Jason Kotecki is an artist, author, and speaker who considers himself a professional reminder-er and permission granter. He is also a husband, dad. Batman fan, Star Wars watcher, retro T-shirt wearer, and avid eater of sugar-laden cereal.
Jason and his wife, Kim (a former kindergarten teacher), are the dynamic duo behind Escape Adulthood. As partners in crime on a crusade to annihilate Adultitis, they believe that a life that embraces a childlike spirit is a life that is less stressful and way more fun. The couple inspires and encourages people to live amazing stories and make memories with the people they love.
Besides making art that inspires and delights people all over the world (all of the illustrations in this book are his), Jason is in high demand as a professional speaker. He works with all kinds of organizations, sharing real-world strategies and practical ideas for restoring balance, preventing burnout, and achieving new levels of productivity. His content-rich programs are balanced with a refreshing mix of humor and emotion, serving as the perfect antidote for people who find themselves in a personal or professional rut.
Jason lives with his family in picturesque Madison, Wisconsin, where they enjoy long walks by the lake and eat way too many cheese curds.
---
Help Us Spread the Word!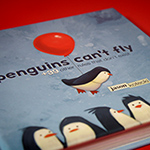 Adultitis is a fan of complicated things. I am not a fan of Adultitis, so in an effort to make blogging and spreading the word about Penguins Can't Fly as simple as possible, here are some handy photos and tools to help. If you are a blogger, or work at the Daily Planet or some other awesome media outlet, feel free to use them for online or print use with proper attribution (Jason Kotecki) and a link back to: rulesthatdontexist.com
For photos with higher resolutions, go here.
If there is anything else I can do to help you out, let me know!
Sample Tweets for Your Convenience:
Break rules. Live a better story. Give #Adultitis the atomic wedgie it deserves. Buy #penguinscantflybook today!
Click To Tweet
Are you living life by someone else's rules? Stop that already! Buy this fun book and live by YOUR rules!
Click To Tweet
Breaking rules that don't exist is the best way to live a life of awesome. Get #penguinscantflybook now!
Click To Tweet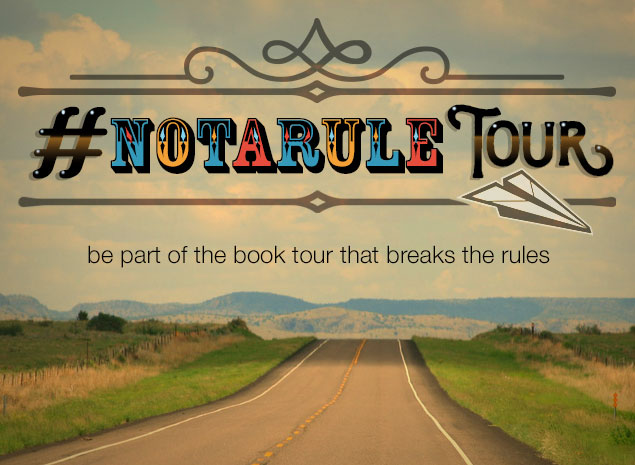 The 2015 #Notarule Tour was a curious cavalcade of unusual events united in the purpose of helping you break rules that don't exist. Fueled by the message of Jason Kotecki's newest book, Penguins Can't Fly, this was one unconventional book tour. There were stops at zoos, ice cream parlors, national landmarks, a few bookstores, and even an art fair!
Facebook Users!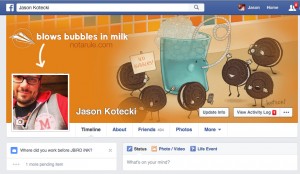 Want to show the world your rebellious side? I designed 8 different graphics that are specifically formatted to work as an epic Facebook Cover Photo, fearing some classic rules that don't exist. (Check out how the arrow aligns perfectly with your Profile Picture!) Just download your favorite graphic and upload it to your profile on Facebook.
---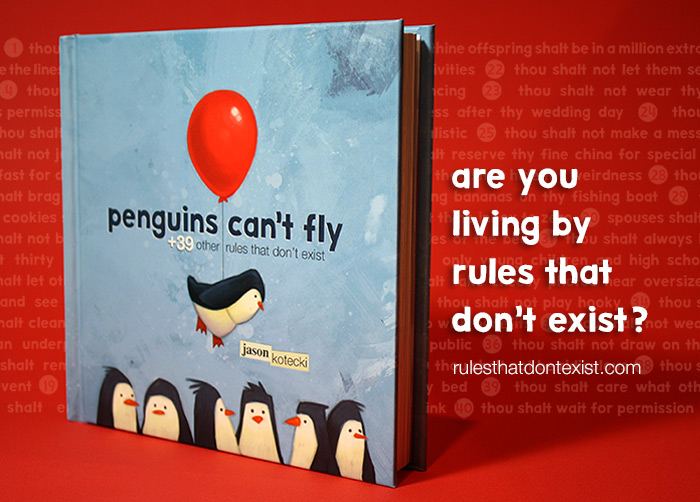 Download a FREE preview.