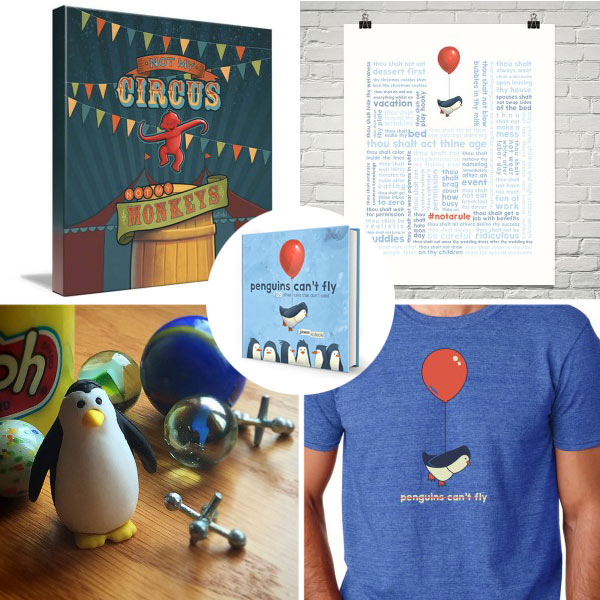 First of all, anyone who orders at least one book from anywhere can email their receipt to penguins@escapeadulthood.com and get a special e-Book containing five bonus rules that didn't make the original cut, a Permission to Break The Rules Coupon book, access to the video of one of my 70-minute speaking programs, and a cache of digital wallpaper. (Details here.)
Wondering what you could possibly do with all those books?
You could just give them out to strangers on a random street corner or build a little fort for your Lego minifigs, but here are some more practical suggestions:
Use them as client gifts.
Give them to people you'd like to become clients.
Reward employees for being awesome.
Give one to your boss for extra brownie points.
Use them as end-of-the-year gifts for your kids' teachers or coaches.
Gift them to the people who make your life better, such as your postman, pastor, chiropractor, hairdresser, yoga instructor, or barista, or butler.
Start an epic book club with your friends.
Send them to all of your grown children or grandkids.
Help fight Adultitis by randomly giving one to the person sitting next to you on the bus, train, or plane.
Use them as favors for a grown-up's birthday party.
Include them in care packages you send to long-distance friends or relatives.
Finish your Christmas shopping in April.
Graduation gifts!
Raffle prizes!
Housewarming gifts!
Silent auction items!
Host or hostess gifts!
Donate them to your town's Little Free Library.
Put one in every room of your house to fight Adultitis at a moment's notice.
Share it with your super famous celebrity friend and ask him or her to tweet about it.
You can order books here. Thanks for your support!