I got a chance to dust off the ol' illustration skills while working on this past week's strips. Of course, I'm always in drawing mode, but it's been awhile since I've actually done some more photo realistic renderings. In a few weeks, you'll be treated to another epic adventure in which Kim & Jason climb into their trusty cardboard box and fly off to some uncharted territories (at least for them.)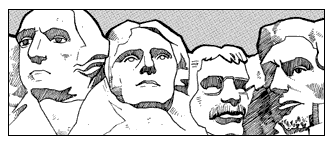 What strikes me is how different technology has made things since I was last in school a little over five years ago. In the old days, illustrators and cartoonists would have bulging files bursting with photo references. Advertisements and portraits ripped from old magazines, pages depicting people, clothes, cars, and furniture torn from discarded catalogs. A plethora of subject matter was saved and safeguarded just in case a project called for an accurate rendition of a llama.
The computer (and Google specifically) is one area where technology has actually made good on it's promise to eliminate paper. Thanks to the Google Image Search, my image morgue is deceased and buried. When I need to reference what a goose looks like when it's flying, I let my fingers do the walking, and before long, I've found the perfect image. Kim often jokes that she's never sure what she'll find on my computer screen when she walks into my office. Just in the last few weeks, an unsuspecting observer might have seen not only images of geese in flight, but also a close-up of Mount Rushmore, a diagram of Stonehenge, and various views of the Great Wall of China.
What a fun job indeed to spend an hour trying to get Abraham Lincoln's nose just right.