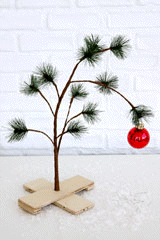 In three days there will be hundreds of thousands of Christmas trees being put up and decorated. When I was little we always put our Christmas tree up the day after Thanksgiving. While searching shoppingblog.com I found that this year you can actually put up the Charlie Brown Christmas tree. Shoppingblog.com shares,
'Well, Urban Outfitters has recreated that same little Christmas Tree. For $24 it can be yours: to display in all its pathetic misery, or to turn into something wonderful yourself.'
Charlie was so sympathetic to that little tree. I'll never forget how Linus used his blue blanket for the tree skirt and the disappointing sound of that heavy red ball ornament drooping to the ground. To me that tree is a symbol of childlike hope and innocence. What a cool thing to have around at Christmas.