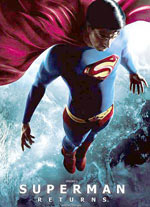 Kim and I finally had a chance to see Superman Returns this past weekend. (Tip: matinees are a great way to cool off when your apartment's thermostat has melted.) I hadn't heard too many reviews or read too many articles before the viewing — I didn't want to spoil my own experience — other than hearing that its box office take dropped off the second weekend.
Well, I for one thoroughly enjoyed it. I thought director Bryan Singer did a nice job of sticking to the main points of the Superman legend. (I actually read that one of the cast aside scripts involving Tim Burton floated the idea of Superman having blue skin!) It had some nice nods to the original 1970s version starring Christopher Reeve, including the opening credits and the epic Superman theme by demigod John Williams (Star Wars, Indiana Jones, etc.)
Here are some other thoughts:
Brandon Routh did a terrific job resurrecting Reeve's performance as Superman/Clark Kent.
Kevin Spacey was an intense and well-played Lex Luthor, but I would've liked to see just a bit more goofiness, a la Gene Hackman. Maybe that's just nostalgia talking.
Lots of interesting parallels to Christ (Youth leaders: a perfect movie for your discussion group!)
Still wondering how Clark is able to seamlessly hide his cape underneath his business suit, but I've decided to file that in the "Don't Think About It Too Much" folder with the unexplainable inability for anyone to recognize him as Superman when he's wearing the glasses.
The story was very interesting from the standpoint of dealing with the emotional side of Superman, a hero who is often seen as boring because he's so indestructible.
While I enjoy Batman's "dark side," I found myself inspired by Superman's genuine goodness.
The action scenes — especially the one involving the airplane — were top notch.
I think Margot Kidder did a better job as Lois Lane in the original Superman. She was much more charismatic and spunky.
All in all, I thought it was a great effort; definitely more in line with Batman Begins and the Spidey flics than the uninspiring The Hulk and The Fantastic Four. If you haven't seen it, go check it out. It's definitely worth seeing it on the big screen. It certainly brought out the little boy in me… and it even gave me some new ideas for my speaking presentations.
[tags]Superman Returns, Brandon Routh, Brian Singer, Lex Luthor, Lois Lane, movies[/tags]