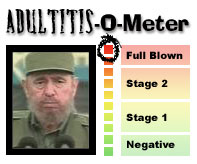 Fidel Castro says his problems were brought on by stress.
I for one have never served in the role of dictator for any small island nations, but I can see how that job — not to mention maintaining one's position on the list of world's top ten biggest jerks — might be a bit taxing. I want to help, I really do. I thought about sending him a copy of Escape Adulthood, but ultimately decided it probably wouldn't do much good. Not that the book doesn't have some good things going for it. On the contrary, allow me to shamelessly and oh-so-proudly share a recent review I got the other day from a Floridian named Tracey Blum:
"I have begun reading Jason's book, and I really think it's great – an easy read, and very entertaining – and I especially love the sidebar endnotes, they crack me up! So often I see parents pushing their kids to grow up so fast, to stop 'playing around' and be mature – when they are all of 9 yrs old…this book is an excellent reminder for adults to #1 allow their children to BE children, and #2 remind them to take time to relax and enjoy life in all the beautiful ways a child is able to."
Ah, if only the tyrants of the world would "take the time to relax and enjoy life in all the beautiful ways a child is able to." I shall unequivocally state right now that we'd definitely have less wars. (Or at least they'd be decided with snowballs or water balloons.) Pipe dreams, I know, but that doesn't mean we can't dream, eh? In any case, Castro gets a 10.0 when it comes to Adultitis, and I don't see much hope for recovery.
I shall now get back to work on my new manuscript, tentatively titled "Escape Adulthood: 8 Secrets from Childhood for Stressed-Out Dictators."
[tags]Fidel Castro, stress, dictators, war, water balloons[/tags]