After celebrating the sixth anniversary of Kim & Jason in grand fashion (that's the strip, not the people), I am happy to say that at long last, Annual #4 is nearing completion. The complete collection of the strip's fourth year should be out sometime this fall, definitely before the holidays (hint, hint).
The interior layout is complete and is currently undergoing major and rigorous quality control tests. (Which means there will only be a few typos in the finished product.) The title also has been finalized… Tales from a T-Ball Outfield: Kim & Jason Annual #4. It will of course feature the big T-Ball episode and over twenty others, including "The Ghost Patrol" and "The Elf Job." Here is the newly scribbled cover sketch: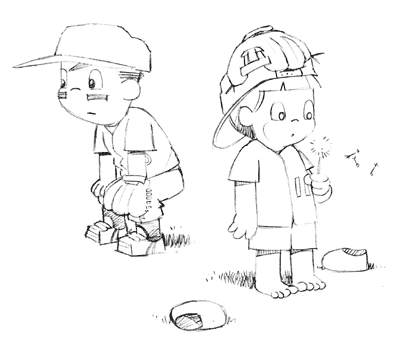 By the way, more copies of Annual #3 are on their way to the Lemonade Stand. However, Annual #1 and #2 are dangerously close to running out of stock (way less than 20 copies each), and I'm not sure when we'll reprint those. So, if you don't have either one of those by now, well, you've been warned.
[tags]Kim & Jason, comics, comic strips, cartoons, t-ball[/tags]