In this super scary Halloween podcast, brought to you from the haunted studio 203 in Madison, Wisconsin, we talk about memorable Halloween costumes. We will also discuss Pee-pee Teepees, grown-ups who celebrate Halloween, and give you tips on how to look like a zombie.
Listen now by clicking play below.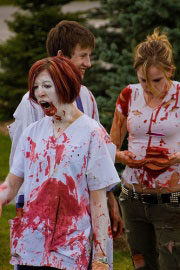 Show Notes:
• Listen to Big Orange Monster, ©Copyright by the DVDs (we discovered them on Oddiooverplay.com)
• Halloween's a Big Deal
• How to Look Like a Zombie: a complete guide to look, walk, and talk like a zombie! Don't miss the recipe for fake blood!
• Learn more about booking Jason to speak at your group's next get together.
• Visit the brand new Kim & Jason Lemonade Stand…where there's a promotion going on every day of the week!
• Watch the video created by Jason and his brother Doug…featuring a celebrity appearance and a secret coupon code.
Show Music: The Same by Terrace
Show Length: 45 minutes, 45 seconds
Shout Outs: Spooky thanks to Bob from Madison, Jason from Colorado, the DVDs (David G., Victor, and David B.), and everyone who submitted stories on the Kim & Jason Chalkboard.