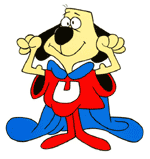 When you're a little company, you have to do things differently than the big guys. Trying to compete with Wal-Mart on price is about as smart as licking a hot waffle iron. I like being the little guy. I've always been a sucker for underdogs…
There's no need to fear! Underdog is here!
when criminals in this world appear
and break the laws that they should fear
and frighten all who see or hear
the cry goes up both far and near
for Underdog! Underdog! Underdog! Underdog! (listen to the whole theme song)
Ahem. I digress.
So, yes, we are the underdogs in the world of Amazon.com and Hallmark and Yankee Candle Co. Don't get me wrong, I'd like to be bigger than we are — someday we may be able to own a real home and have a real family just like real people! — but it's more fun being the underdog. You don't have to be such a slave to the status quo. You can be more creative and take more risks. In a world ruled by grown-ups with Adultitis, kids are the ultimate underdog.
We utitlized that childlike, underdog spirit when creating our new candle line. It was a longer process than I anticipated, a process made necessary when our old candle manufacturer discontinued the glass jars we were using. It was a perfect example of a problem turning into a great opportunity. We were able to find a new manufacturer from Montana who has been a joy to work with. Heather, the owner, has an amazing knowledge of the chemistry behind candles — I've learned that there's a lot more to it than a wick stuck in wet wax! We also used the opportunity to try and stand out from the big dogs and select a creative container of our own choosing, and settled on little steel paint cans, wrapped in colorful retro labels. And we were certain that we wanted not only the labels, but also the scents themselves, to reflect our childhood theme. And so we ended up with candles like Toasted Marshmallows, Ice Cream Cone, Dirt, and my favorite, Clean Underpants. (And get this — Buttered Popcorn is on it's way!)
Earlier this week, after returning from Colorado, I put the finishing touches on the label designs and did a photo shoot for the store. Even though the entire process took longer than I anticipated, it still happened much more quickly than it would take Yankee.
Perhaps the best thing about being the underdog is that there's a lot less red tape.
[tags]scented candles, toasted marshmallows, dirt, clean underpants, underdog, candles[/tags]